In the last decade, a new reality gradually became clear: Restaurant designers have to re-evaluate the way they create their interiors, and pay attention to their appeal to social media users. With a large number of customers choosing dining venues based on their online presence, and with the constant hunt for the next best Instagram picture, they are forced to consider how to do restaurant design for social media.
Photo above: 3D Pizza Shop Wall Art by UniSinda Home Decor on Etsy
There are few ideas that have proved to work in making your restaurant, cafe or dessert shop perfectly Instagrammable. Here are only a handful of them that you could implement as a way to attract the visually hungry customers.
1. Bring in the color
Yes, neutral colors are elegant and classy, but it's harder to fawn over them online. While many proved that traditional designs with sophisticated, toned-down colors are definitely beautiful, your best chance to online fame is chromatic bravery. Bright colors translate extremely well in eye-catching pictures, so give the eye what it desires.
Penny Lane frozen yogurt shop design by Mindful Design Consulting
Especially when you own a dessert, ice-cream or frozen yogurt shop, choosing bright, vibrant colors not only makes for excellent photo material, but also suggests the abundance of flavors in your treats.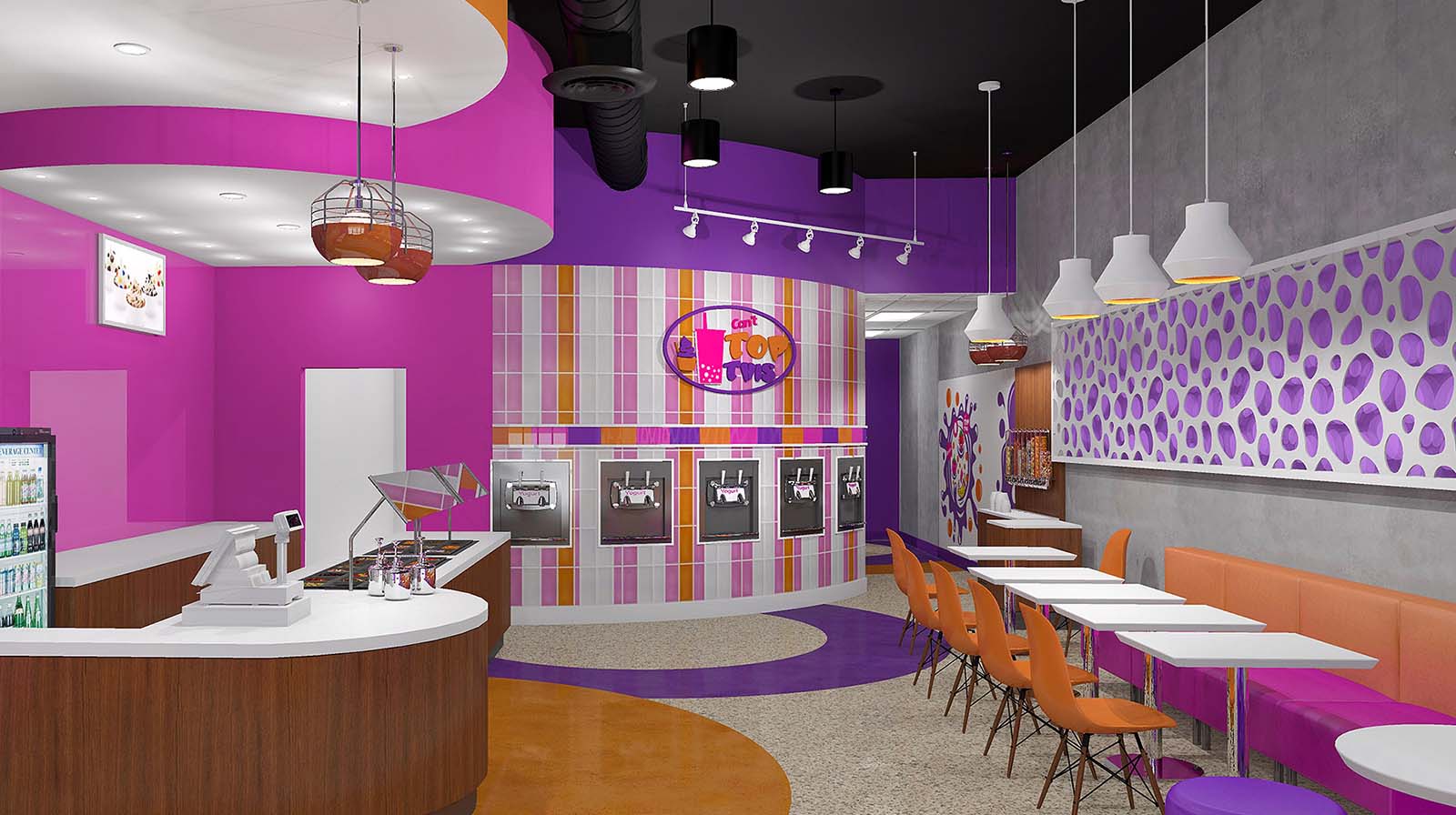 Can't Top This boba tea and frozen yogurt shop design by Mindful Design Consulting
2. Use plants
While green plants have a place in almost any interior design, one or two isolated pots of unremarkable size won't turn you into a social media darling. Like with everything else in the age of visual supersaturation, you may have to go over the top. That doesn't mean that you are to turn gaudy, but that you can create an enchanted, magical place that is irresistible to the eye.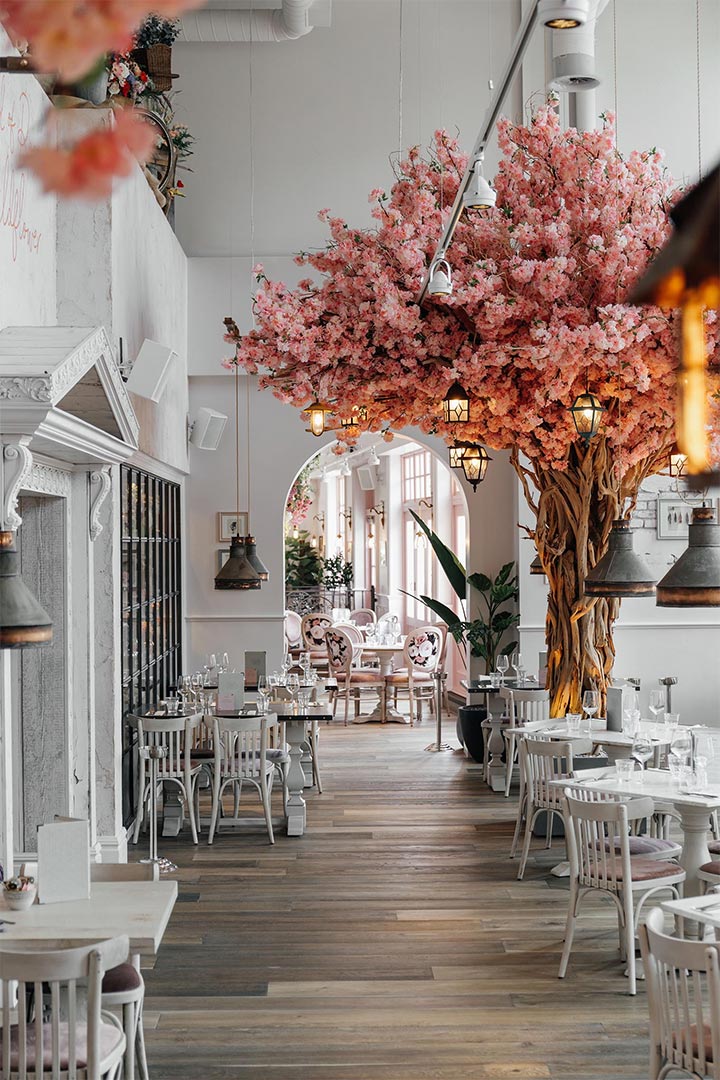 The Florist, Watford, England. Photo via venuereport.com
When planning your restaurant design for social media, going for the unexpected has more impact, so surprise yourself. Flowers growing upside down? Why not? Arch trellises leading to your seating area? No problem! Trees inside your restaurant? Bring it on!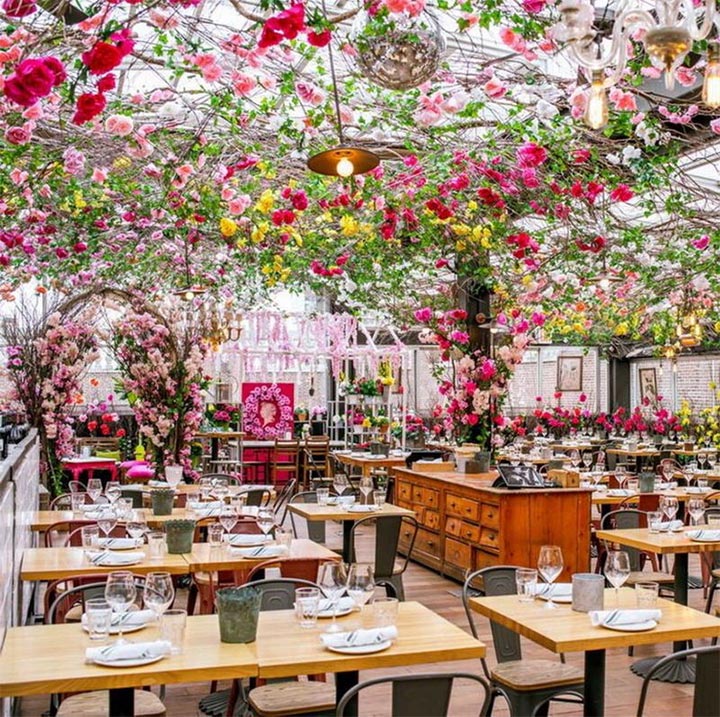 SERRA Fiorita, NYC. Photo via Pinterest
3. Define a theme
Deciding on a clear restaurat theme helps you create an unambiguous design that doesn't look accidental and that has something to say. Your theme can be related to your cooking philosophy, your ingredients, your location, your passion, a certain period in time or anything that makes your heart jump with joy.
Designed by Mindful Design Consulting, Besties Cool Treats ice-cream parlor in San Diego, California, adopted a mid-century design theme and successfully catered to customers' nostalgia for simpler times.
Besties Cool Treats ice-cream parlor, San Diego, California, by Mindful Design Consulting
Every corner is filled with color and details that ask for an Instagram voice. An overload of pastel colors, wall art, rotary phone, diner-style upholstered benches, striped scalloped awning, retro-camper playhouse, carefully selected finishes, window frames that induce happy domestic memories, generous lighting and a lot of character come together into an tempting combination of photo opportunities.
Besties Cool Treats ice-cream parlor, San Diego, California, by Mindful Design Consulting
4. Show your secrets
The best way to make your restaurant worthy of a picture is to offer an irresistible view. However, great views are a high commodity, and this is often not possible. If you are operating on a small budget, and if your location doesn't come with such views, you must think outside the box.
An alternative is to show your customers something that they don't have access to in other restaurants or shops. This may be your kitchen, your ingredients, your cooking process, or anything that you can find worth sharing. Ninina Bakery in Buenos Aires, for example, offers a full view of the kitchen.
Ninina Bakery, Buenos Aires
Customers can relax on a padded chair and watch while the magic happens under their eyes.
Ninina Bakery, Buenos Aires
The inner workings of a building are sometimes well worth exposing. Inspired by the greenhouse concept, Madero Cafe in Guatemala City turns the watertanks used for collecting rain water from the roof into colorful pieces of background decor.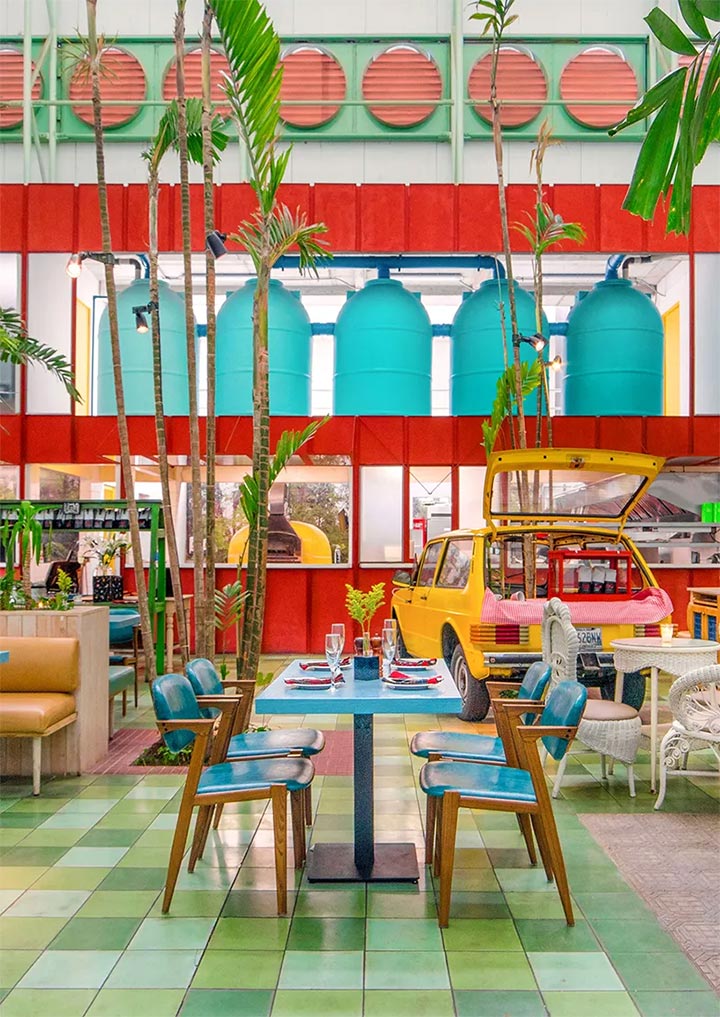 Madero Cafe, Gutaemala City, by Taller KEN. Photo: Marcelo Gutierrez via designboom.com
5. Mind your floors and finishes
You would be surprised how many customers take pictures of their feet against your floors. So make your floors count. Remember that Instagrammers are not only looking for a wonderful dining experience, but also for great shots to populate their online accounts. Give them an interesting background and let them use the time before their order arrives to snap some colorful photos.
In the same line of thought, think patterns, patterns, patterns. Don't waste your wall space. Instead, use it wisely (even when it comes to your restrooms) to appeal to enthusiastic picture takers.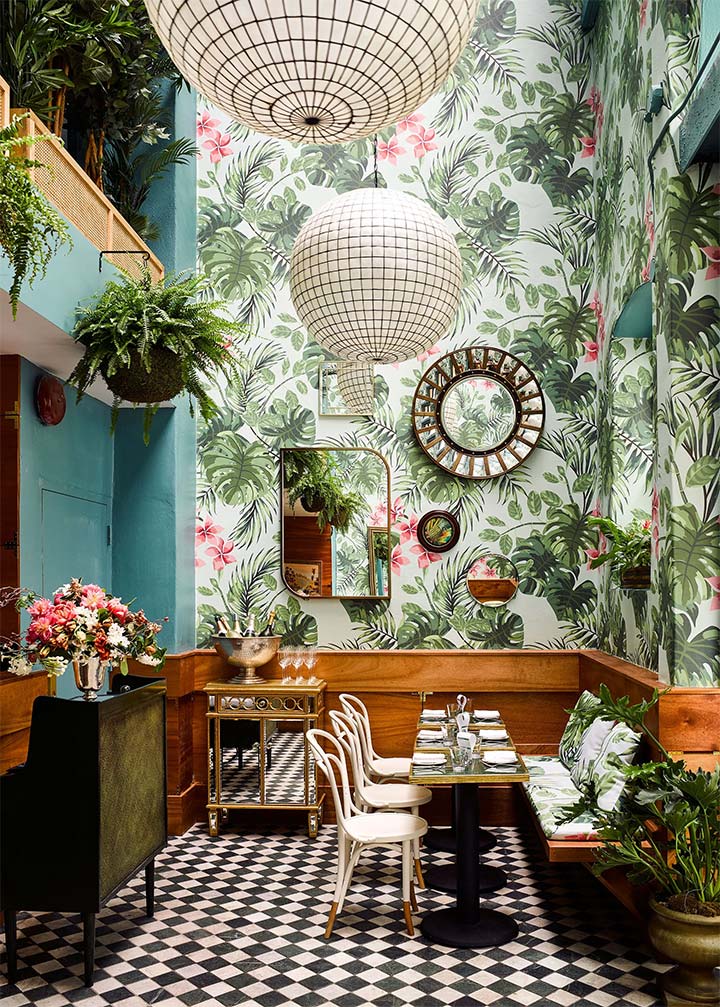 Photo: Douglas Friedman via architecturaldigest.com
6. Design a social media wall
Designing a social media wall or a selfie wall is an extensive topic about which we wrote before. Murals, photo props, decals and neon signs are just a few of the tools you can use to create selfie-taking opportunities.
Urban Bubble, San Diego, California, by Mindful Design Consulting
If you don't have the room for a wall entirely designated for picture taking, don't worry. You can get creative with placing your smaller-scale Instagrammable wall art in any accessible corner.
Pizza Wall Decal by Brooklyn Sticker Shop on Etsy
7. Have good lighting
When doing restaurant design for social media, you need to pay extra attention to lighting. This is because Instagram-worthy pictures need to be clear, and because you need to put your customers in the best light. Nobody wants to post a bad selfie or the confusing photo of a barely visible plate of food online.
While warm and romantic, dimly illuminated spaces are not the best for taking pictures. LED lights are another option that will not give your customers the best shot to a great photo. Your best choice is plenty of natural light enhanced by indoor lighting. You can even use adjustable light fixtures to allow your customers to control their lighting.
The light fixtures themselves can become the main point of attraction and feed the desire to capture a unique or creative design.
Book Lamp by ElephantCollection on Etsy
8. Have beautiful menus
Using every tool at your disposal to create a pretext for a photo means making sure your menus, coasters, loyalty cards and all other pieces of your marketing collateral are worthy of a picture. A coaster with an inspiring message, a cake box with a fun shape, a glass with your etched logo, or a sleek menu that complements the colors of your restaurants, all make for good photo props.
Menu of So 9 Vietnamese restaurant, Waterloo, Sydney. Photo: retaildesignblog.net
9. Take it outside
Instragrammers love taking pictures outside and using natural light to come up with great photos. A colorful mural or some bold or dainty signage may convince them to stop for a picture and enter your business.
Photo: Pinterest
10. Be unique
In the end, nothing counts in your attempt to do restaurant design for social media if you are not creative. Ideas are copied and rehashed, and their appeal fades in time. Yes, finding inspiration in what others do is good, but failing to use this as a springboard for your own unique creations is not. Look around – the ideas are everywhere. Create an atypical menu board. Use unique wall art or an unexpected wall finish. Incorporate a chandelier made of musical instruments into your design.
Starbucks, New Orleans. Photo: Matthew Glac for Starbucks
Also remember that, if your idea is successful, chances are you will be copied. While the Instagram crowd is large and hungry enough to still serve your marketing purposes even if you stop being the only one with a clever selfie wall, it's even better if you give them something harder to copy.
Madero Cafe, Gutaemala City, by Taller KEN. Photo: Marcelo Gutierrez via designboom.com
If you are thinking to open a new business or are in the process of rebranding and remodeling your existing business, contact us to get a free consultation from Mindful Design Consulting. Click HERE to price your project design.
Also, take a look at the "Branding By Interior" e-book, the only book written on this subject at this time. It brings insight into how you can turn your business into a market-dominating competitor by using human cognitive responses.
https://mindfuldesignconsulting.com/wp-content/uploads/2022/10/Wallpaper-for-Pizza-Restaurant-Social-Media-Wall.jpg
460
720
M T
https://mindfuldesignconsulting.com/wp-content/uploads/2015/07/mindful-design-consulting-logo.png
M T
2022-10-26 21:29:17
2022-10-26 21:59:55
10 Ways to Do Restaurant Design for Social Media