Photo: Pantone Color of the Year 2019 via pantone.com
Following trends in fashion and decor, as well as industrial, product and graphic design, Pantone chose Living Coral as the 2019 Color of the Year. Happy and vibrant, this sunny hue borrowed from the hidden beauty of the undersea, bringing into human spaces a beauty that was both rare and captivating.
It was not a hue that played on subtlety, even though it had a certain softness, nor one that invited to passive relaxation, even if it had a sort of contemplative vibe. Rather, it was an energizing color that instantly breathed life into interior spaces, demanded attention and colored the room with joy and playfulness.
Photo: Pantone Color of the Year 2019 via pantone.com
So how can you incorporate this shade into your interior designs today, and what is the effect you can obtain by doing it? As usual, you can create the strongest visual impact by using coral paint on your walls. This is a choice that goes well with white or gray furnishings and accents, or other soft neutrals that allow the coral to shine.
Do not assume this is a feminine hue. Combined with darker accents or restricted to a singular accent wall, coral is a dynamic choice for an elegant interior that can also please masculine tastes.
Photo: Celebrity by Crown Paint at House to Home UK via remodelaholic.com
Coral is spectacular when used in combination with geometric patterns, especially the ones in which white is the secondary color. The pair is both fresh and dramatic, as in the case of the trellis wallpaper below.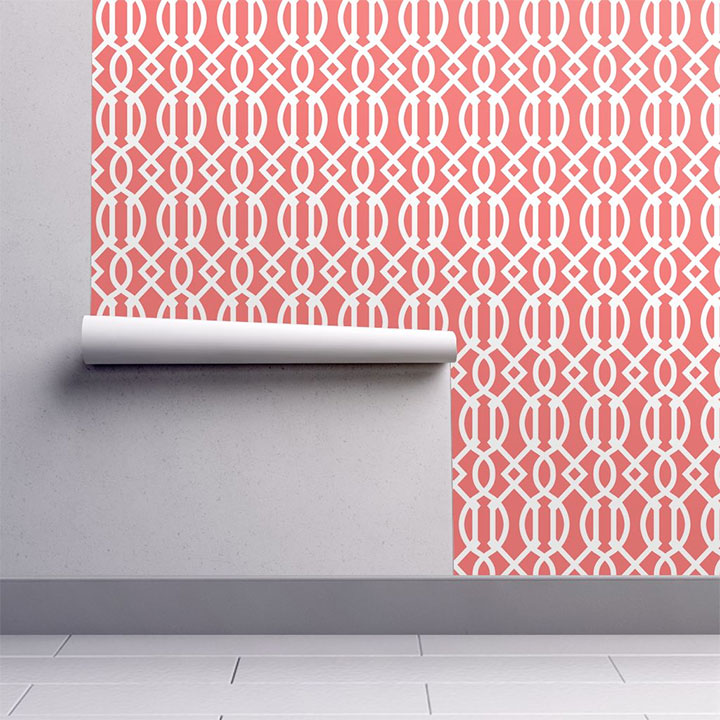 Photo: Coral Trellis Wallpaper from spoonflower.com
The best way to use such a combination without overwhelming your space is to combine it with white wainscoting, apply it only on an accent wall, or use it only in a small space like a bathroom.
Photo via homedit.com
If not ready for such a dramatic change, yet anxious to bring coral shades into your space, small accent pieces are an easy and fast solution. Combine the color with images of corals – and you made your point.
Photo: Coral Wall Art Prints by Coco and James Home from etsy.com
In a space where the main elements (from walls to furniture) are neutral, a single piece in a solid or patterned coral tone, such as a lamp or a decorative pillow, can change the entire mood and give the eye some rest. Remember that neutrals become tiring when not mixed every now and then with a dynamic shade. Coral is the perfect addition to such interiors.
Photo: Coral Outdoor Pillows via buttercupforrest.com
If there is one piece of furniture that looks made for a coral shade is the armchair. There is nothing more inviting than a plush, velvety armchair designed in this exquisite color.
Photo: Octagonal Coral Velvet Tub Chair from Graham & Green
The color looks equally inviting when used in conjunction with more modern designs.
Photo: Bent Steel Chair Coral from Folly & Muse
Finally, in terms of color combinations, coral is making a fantastic pair with any kind of blue, from dark shades to turquoise. It is not surprising, after all. The color of corals and that of the sea are the power combination from which the Pantone Color of the Year 2019 draws its charm and natural appeal.
Photo via Pinterest
Please take a look at the Before and After images of some of our selected projects.
If you are thinking to open up a new business or in a process of rebranding and remodeling your existing business, contact us to get a free consultation from Mindful Design Consulting. Click HERE to price your project design.

Also, take a look at the "Branding By Interior" e-book, the only book written on this subject at this time. It brings insight into how you can turn your business into a market-dominating competitor by using human cognitive responses.
https://mindfuldesignconsulting.com/wp-content/uploads/2019/01/Pantone-2019-Color-Year-Living-Coral.jpg
211
720
M T
https://mindfuldesignconsulting.com/wp-content/uploads/2015/07/mindful-design-consulting-logo.png
M T
2019-01-09 19:53:35
2023-08-07 18:42:50
Snippets from the Past – Pantone Color of the Year 2019 and the Beauty of the Undersea