When competing with all the beautifully designed commercial spaces out there, the best way for a designer to create an interior that inspires and captures the attention is to incorporate the surprise factor into its work. With their often untapped potential, ceilings are an excellent background for such endeavors. Here are a few ideas of successful designs and a few examples of what we see emerging as ceiling decor trends with great appeal.
Photo above: Meshmatics Chandelier by Moooi via Pinterest
Metal Chains
While "graceful" is hardly the first word that comes to mind when talking about metal decor, things change when delicate metal ornamental chains meet a creative mind. The structures built this way are mind-blowing and exquisite. In addition, a designer can control how much space to fill by just opting for different chain lengths.
These 3-D concentric bands of vertical metal chains from Kriskadecor vary in tones, creating an elegant and shiny display of luxury.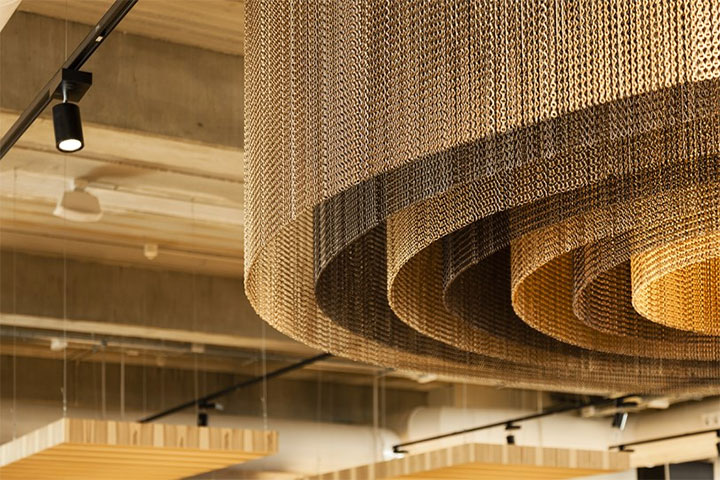 Photo: Kriskadecor
Contrasting with unfinished ceilings and wavy light fixtures, these metal-chain veils successfuly replace the typical chandelier, bringing in intimate reflections of amber light and creating a view of artistic beauty. It is suprising to notice the way that metal softens the look of a room when used right.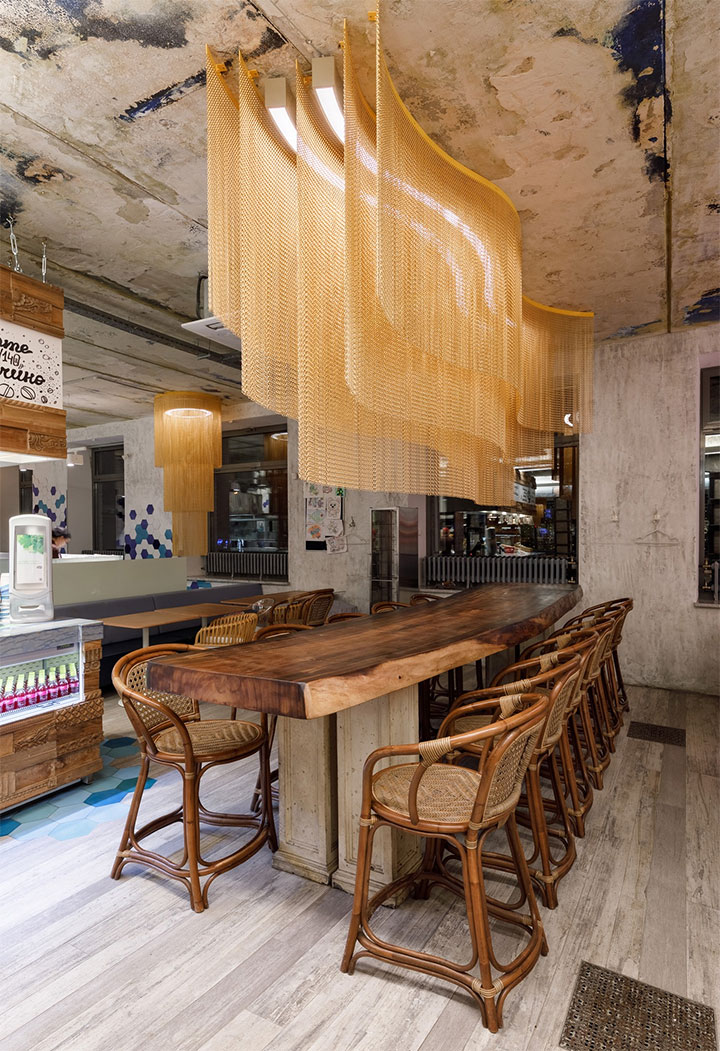 Photo: Denis Vasiliev via Kriskadecor
Fringes
For those who prefer a softer, more flowy material, fringes are an option that is as full of potential as it is unexpected. While this solution seems better suited to a traditional, detail-filled space, a modern or contemporary interior can greatly benefit from such designs.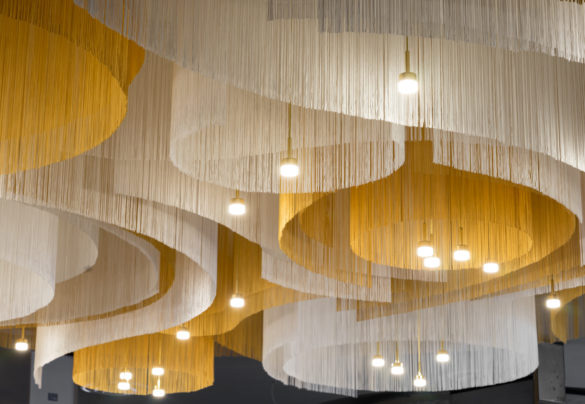 Photo: Rakumba
Large Light Fixtures
Whether customized or not, large light fixtures have always had the power to draw attention, make a statement and completely redefine a space. This is especially the case when such fixtures take unexpected shapes or are used in large numbers. These Amica Cloud Lamps, for example, give shape and body to the space between the ceiling and tables.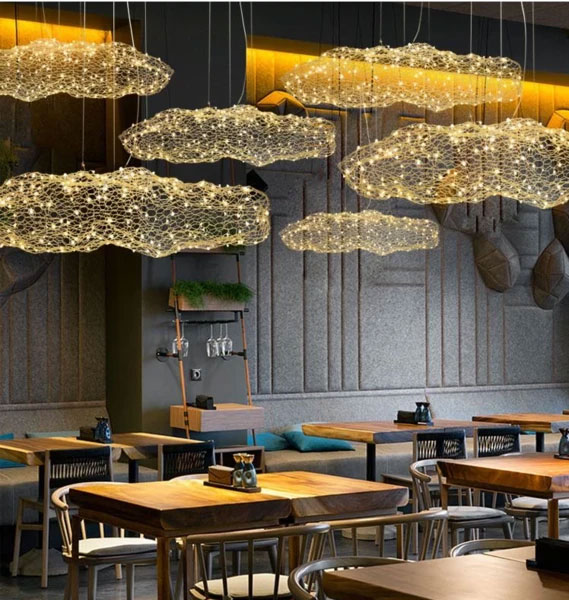 Amica Modern Art Deco Star Light Dotted Cloud Lamps from Warmly
Going back to metal-centered ceiling decor trends, the fabulous Meshmatics Chandelier by Moooi succeeds in combining nesting steel-mesh structures into a large fixture that preserves a delicate, dainty and airy vibe.
Meshmatics Chandelier by Moooi via Pinterest
Used in large numbers against a dark ceiling, these oversized tear-shaped chandeliers evoke images of a lantern-filled sky.
Photo by Andrey Avdeenko for Sergey Makhno Architects, via domino.com
Creative Sound Dampening Panels
It is even better when a well-designed ceiling combines beauty and functionality, as in the case of commercial spaces that use sound dampening panels made of noise-absorbing materials. These reduce the unpleasant echo created by high ceilings while adding to the aesthetics of the room and camouflaging ceiling imperfections.
Designers and manufacturers have already realized the aesthetic potential of such systems that are part of today's ceiling decor trends. This Zintra Acoustic Baffle System from Baresque, for instance, creates a visually interesting grid that completely changes the look of the restaurant, enhances the light and saves an otherwise dark space from becoming gloomy.
Zintra Acoustic Baffle System from Baresque
Such systems are perfect for commercial spaces like restaurants, where they reduce the background noise and allow for more intimate conversation. However, they are ideal in offices or schools where they can turn an uninspiring ceiling into a fun display of colors and shapes, while creating a more calm atmosphere by controlling the noise. The MDC Zintra Ceiling Clouds perfectly illustrates the decorative virtues of these solutions.
MDC Zintra Ceiling Clouds via Pinterest
When made from unexpected materials or displayed in unexpected configurations, sound-absorbing panels can, in fact, become the visual focus of the room. Designed by Thaipan Studio for Mr. Eak Noodles restaurant in Thailand, these weaved rattan circular objects hide the dull ceilings of a former warehouse and create a warm 3-D display of color, texture and light.
Photo via designboom.com
A similar idea is used for the ceiling of a residential space in Hanoi, designed by V-Architecture. Heat-absorbing bamboo baskets line the ceiling and give character to an otherwise simple interior. In a commercial project, the organic look of such ceiling treatments would be very appealing to an environmentally minded clientele.
Photo: Hiroyuki Oki via afamiliy.vn
A luxury hotel in Phuket, Philippines, designed by Italian designer Paola Lavone, gives the same idea a special twist. Here, the woven panels are large and used in smaller numbers, which gives the ceiling an extra note of elegance.
Photo: Giorgio Baroni via trendland.com
Finally, the Dionisos restaurant in Barcelona, Spain, adopts another solution. Long rectangular panels cover the entire ceiling in a relaxed fashion, while continuing as wall decor. When treated this way, the ceiling turns from the forgotten element of design into the defining decorative ingredient of a well-designed interior.
Photo via marset.com
If you are thinking to open up a new business or in a process of rebranding and remodeling your existing business, contact us to get a free consultation from Mindful Design Consulting. Click HERE to price your project design.

Also, take a look at "Branding By Interior" e-book, the only book written on this subject at this time. It brings insight on how you can turn your business into a market-dominating competitor by using human cognitive responses.
https://mindfuldesignconsulting.com/wp-content/uploads/2020/04/Metal-Mesh-Chandelier-Ceiling-Trends-2020.jpg
763
720
M T
https://mindfuldesignconsulting.com/wp-content/uploads/2015/07/mindful-design-consulting-logo.png
M T
2020-04-22 10:00:21
2023-06-29 05:59:50
New Ceiling Decor Trends