At the beginning of every new year, there is an increasing appetite for letting go of the old and embracing the new. So, here is something new and worthy of attention in the world of interior design: The 2023 Pantone color of the year has been finally announced – and it is magnetizing.
Viva Magenta comes from the world of red tones, known for their energizing vibes and unapologetic presence. This is exactly what this newly crowned color is. Vibrant, audacious and demanding attention, Viva Magenta never fails to be noticed. There is something unique about it, however: Despite its bold presence, it retains a certain dark richness that, in the right light, gives it a mesmerizing touch of mystery. It also brings forth an opulence of tone that comes straight from nature, similar to that of an old wine or a ripe fruit. This makes the eye gravitate towards it and gives it great visual power.
Here are a few instances that illustrate the impact Viva Magenta has in interior design. Accent pieces such as chairs or barstools are the best way to introduce it into interior spaces, since its power needs to be kept from becoming overwhelming. Especially when combined with gold accents, it creates a sense of luxury that completely changes its surroundings.
Donata Barrel Chair by Karat Home
When combined with darker or lighter tones in patterned upholstery fabric, the 2023 Pantone color of the year gains in depth and beauty.
Cole & Son Pink Cow Parsley Velvet Fabric from Chairish
Other accent pieces that can benefit from the energy of Viva Magenta are light fixtures. This is because of their small size, very appropriate when trying to incorporate such a strong shade into an interior without allowing it to become oppressing. It is also because light elevates its beauty and can emphasize its natural vibes.
Modern Brass Sputnik Chandelier by Indian Handy Shop on Etsy
In commercial spaces, the combination of magenta tones and light is of great effect. Neon signs with a magenta background make for attractive signage that have the added benefit of lending warmth to a space.
LED Neon Sign by Neon for You on Etsy
In restaurants, bars or dessert shops, the 2023 Pantone color of the year can easily become the main character, even when used in small doses. Solid-colored light fixtures or decorative details are easy ways to incorporate it into the design.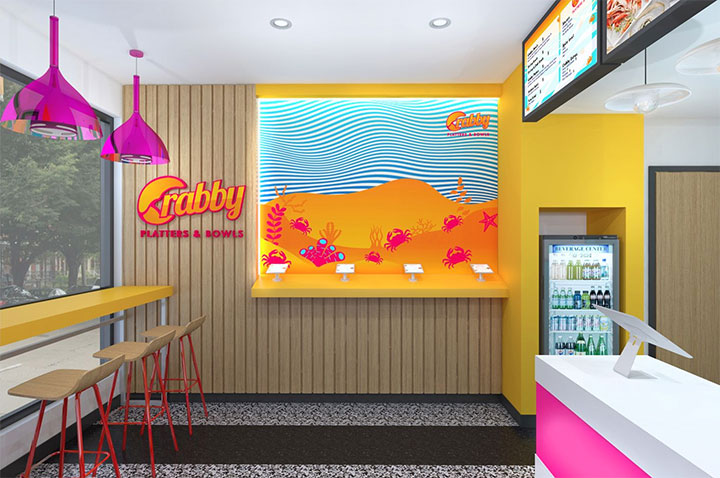 Crabby restaurant in Richmond, Virginia, by Mindful Design Consulting
Accent walls or small structural elements painted this color tone can ground a space while providing enough color to infuse it with energy.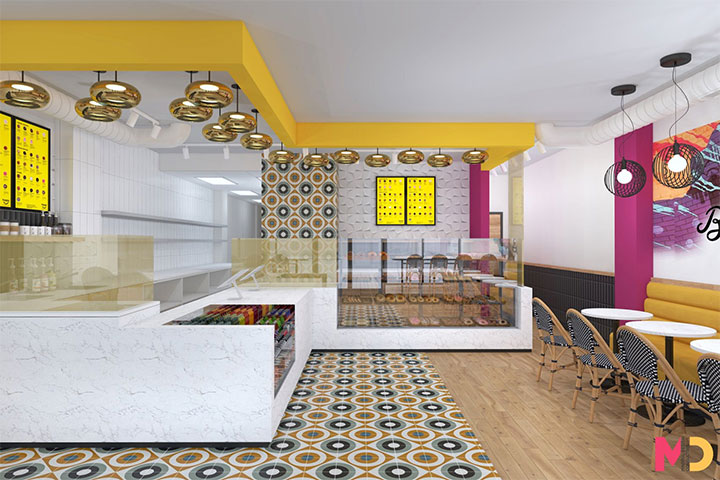 Blondie's Doughnuts shop by Mindful Design Consulting
When combined with other warm tones, especially in the yellow family, the contrast is uplifting. The similarity between this mix and images of ripe fruits basking in the sun may be the reason why the eye is satisfied by it.
Blondie's Doughnuts shop by Mindful Design Consulting
In ice-cream, frozen yogurt or dessert shops, Viva Magenta can be used to evoke the fruity flavors of the sweet treats. This has even a greater impact when used in a chromatic mix that suggests the various flavor options and their freshness.
Sprinkles on Top frozen yogurt shop on Elk Grove, California. By Mindful Design Consulting
Even in a bold mix of bright colors, Viva Magenta tends to be the one that demands notice. To achieve a fresh palette, a white or light background is an excellent choice. It allows the vibrant magenta tones to shine and offers the eye a rest from their strong presence.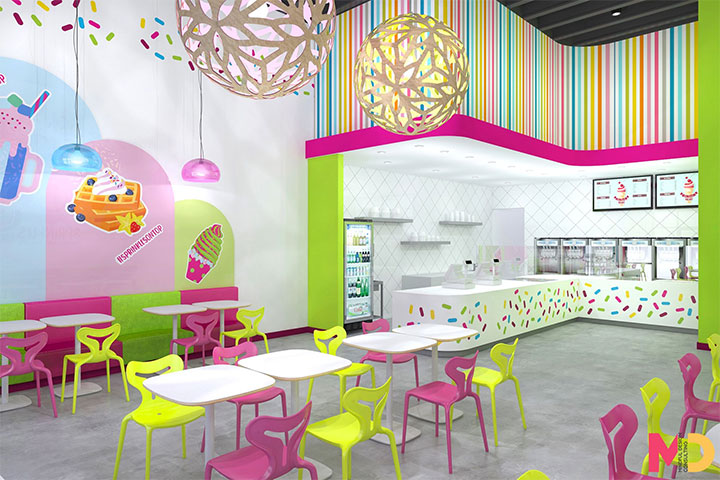 Sprinkles on Top frozen yogurt shop on Elk Grove, California. By Mindful Design Consulting
If you are thinking to open a new business or are in the process of rebranding and remodeling your existing business, contact us to get a free consultation from Mindful Design Consulting. Click HERE to price your project design.
Also, take a look at the "Branding By Interior" e-book, the only book written on this subject at this time. It brings insight into how you can turn your business into a market-dominating competitor by using human cognitive responses.
https://mindfuldesignconsulting.com/wp-content/uploads/2022/12/Pantone-Color-of-the-Year-2023-for-Interior-Design.jpg
356
720
M T
https://mindfuldesignconsulting.com/wp-content/uploads/2015/07/mindful-design-consulting-logo.png
M T
2022-12-21 21:55:03
2023-01-27 20:06:07
2023 Pantone Color of the Year is Bold and Energizing