Every commercial interior design project, from retail stores and restaurants to dessert and froyo shops, involves many steps and the ability to work across multiple disciplines. Among these steps, 3D visualization of the future interior space is what helps our clients understand our vision and see the final result before it comes to life.
So, how do we do it? Sometimes, we tackle different tasks simultaneously. As we start with space planning for any future business, we work at the same time on the overall concept and interior design of the space. This typically involves researching the right colors, finishes, materials, lighting and furniture. This is also when we start creating some visuals for our clients, in order to help them see how our ideas will look in the physical space.
This is where the skills of our 3D artist come into play. We communicate all our preferences, and we work closely with our 3D artist in creating the space we envision. Working on 3D renderings is a tool as much as an intermediary product. It allows us to try different colors and textures, play with lighting or visualize different furniture pieces. In short, it offers us the opportunity to sculpt the interior space almost in real time.
When collaborating with our 3D artist, we make sure that our ideas look appealing. We use these 3D models to confirm that our vision agrees with that of our clients. We work closely with them and make appropriate changes until everyone is happy. The 3D visualization of the space is an ideal tool that ensures that the final result is exactly what our clients want, since it shows exactly what will be built.
Here is an example of 3D renderings we created for Beauty Bakerie, a cosmetics store in San Diego.
Compare these beautiful images with the final Beauty Bakerie space. The similar look and feel gives you an idea about the importance of 3D models in our interior design process.
About Our 3D Visualization Artist Maja
So who is the talented artist that puts our vision into wonderful images? One of our leading 3D artists is Maja, a Serbian-Hungarian architect from Novi Sad, Serbia. As most of our designers, Maja has an European education, which she pairs with an amazing ability to create fast and accurate 3D renderings. She can produce realistic, photo-like visuals in as little as 2 to 3 days, which keeps our projects on a consistently fast track.
With a Master's Degree in Architecture and years of experience working for an Italian design company and cooperating with multiple Italian furniture manufacturers, Maja allows us to benefit from her experience and talent drawing from fields as diverse as construction, architecture, interior design and furniture design. For drafting and 3D visualization, she uses AutoCAD, SketchUp, Artlantis and Photoshop.
Across the years, Maja has helped Mindful Design Consulting visualize hundreds of projects – and she is still going strong. Only this year she worked on creating 3D renderings for businesses such as Sprinkles on Top frozen yogurt shop, Crabby restaurant, the Kung Fu Tea boba shop's third location, The 20 Boba Tea store, the Boba Spot store, Leafly Boba Bar and others.
Next week, we continue to introduce you to both our team and our process – so come back if you like what you see! Meanwhile, here is another example of 3D visualization for Scoop La Jolla, an ice-cream store in La Jolla Shores, San Diego, together with images of the finished store.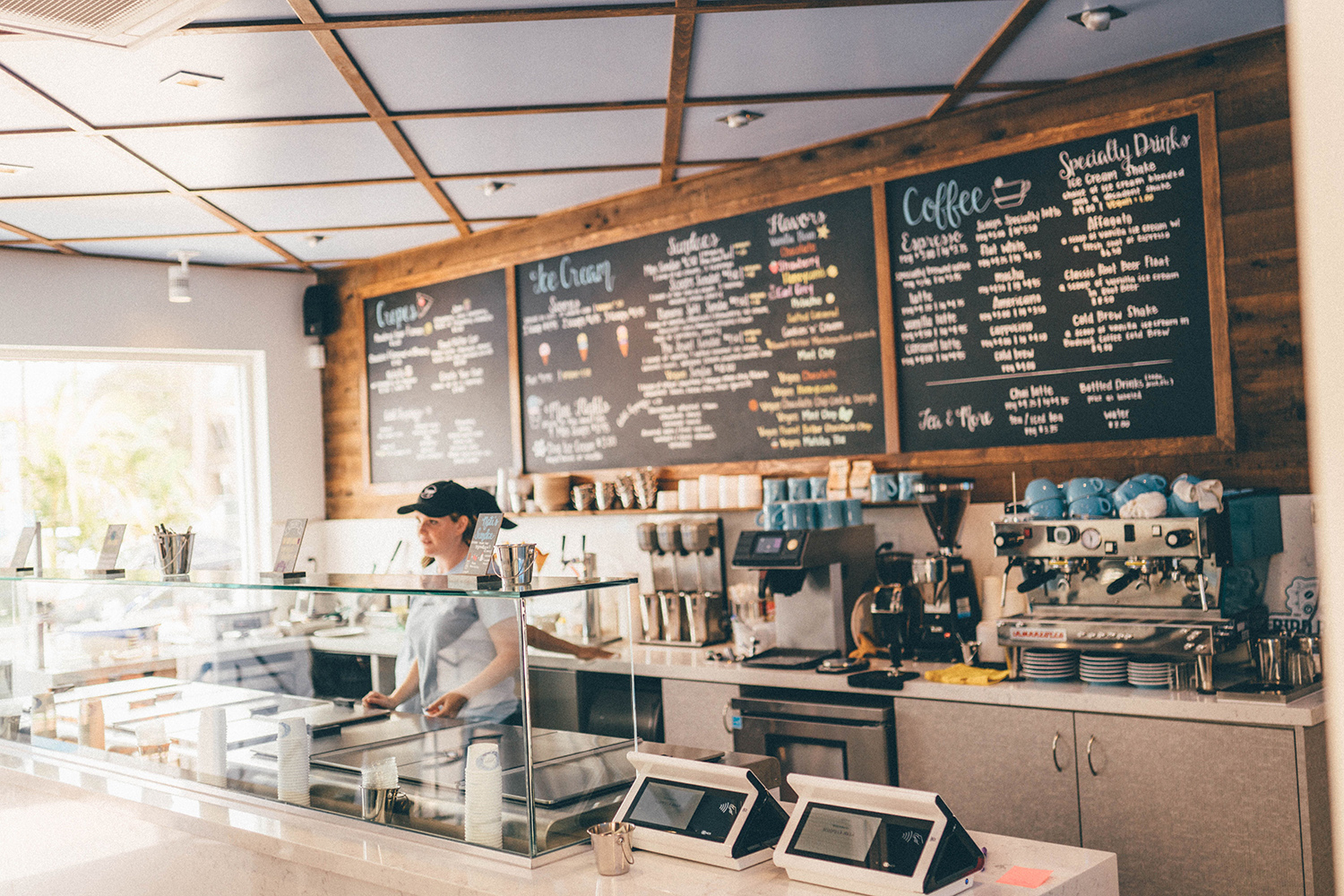 If you are thinking to open a new business or are in the process of rebranding and remodeling your existing business, contact us to get a free consultation from Mindful Design Consulting. Click HERE to price your project design.
Also, take a look at the "Branding By Interior" e-book, the only book written on this subject at this time. It brings insight into how you can turn your business into a market-dominating competitor by using human cognitive responses.
https://mindfuldesignconsulting.com/wp-content/uploads/2010/12/Beauty-Bakerie-store-interior-design-02.jpg
851
1276
M T
https://mindfuldesignconsulting.com/wp-content/uploads/2015/07/mindful-design-consulting-logo.png
M T
2021-11-24 22:13:43
2021-12-09 18:59:48
3D Visualization for Retail and Restaurant Projects – How We Do It