Summer is the perfect time for your customers to enjoy your outdoor area, but battling the harsh sun and elements can be a challenge. If your business has such a space, outdoor umbrellas are a must. Whether adorning a bustling sidewalk cafe, a poolside lounge, or a serene restaurant terrace, they ensure your customers can savor their stay. Because of their imposing size, umbrellas can also enhance the appeal of your commercial space and help you create a look that can define and help your brand.
Below, we put together a list with a few outdoor umbrella ideas that you might want to consider.
1. Small Umbrella with a Twist
For small areas or individual tables, an umbrella such as the Sirocco can give you a burst of color, an elegant shape and the appeal of a unique bamboo side pole unlike the typical metal ones. Its sturdy construction allows for a 45 degree tilt that offers protection from the shade as the day progresses. Standing on a versatile 360-degree rotating base, the bamboo pole gives this umbrella an upscale look that can make your outdoor space appear well-thought and chic.
Sirocco Bamboo Side Wind Umbrella from Bambrella
2. Giant Umbrellas
When the area you need to cover is larger, you may need an umbrella that works harder. TheFrankford G Series umbrellas can extend to 13 feet in leght and come in different shapes – octagonal, rectangular and square. The 2-inch diameter aluminum pole has excellent strength, while the 0.75-inch fiberglass ribs maintain the rigidity and stregth of the top.
Frankford G Series Giant Umbrella from Resort Contract Furnishings
3. Funbrella
If a fun or atypical look is what you're looking for, the Funbrella can deliver. Unlike its less stable counterparts, this umbrella is a permanent solution and a fitting replacement for gazebos or pavilions in areas where there is no natural shade. Once the framing is in place, you can replace or switch the tops according to the season, event or mood.
The FUNbrella can be customized with different colors, patterns or graphics, making it a fun piece of outdoor decor to play with, and one more tool you can use in defining your brand. Its curved shape is reminiscent of rain umbrellas and makes for a difficult-to-ignore and fun structure.
4. Umbrellas with Interesting Shapes
Sometimes, the most spectacular outdoor umbrellas are the ones whose simple shapes makes them more interesting. The commercial umbrellas from Advanced Shade Systems, for example, are reminiscent of the elegant shade sails that create gorgeous patterns above outdoor spaces. In addition to their graceful contours, the umbrellas have the ability to withstand strong winds, which means you don't have to worry about closing them. The company can also manufacture umbrellas that can withstand snow accumulations, which makes them the perfect choice for cooler-climate areas.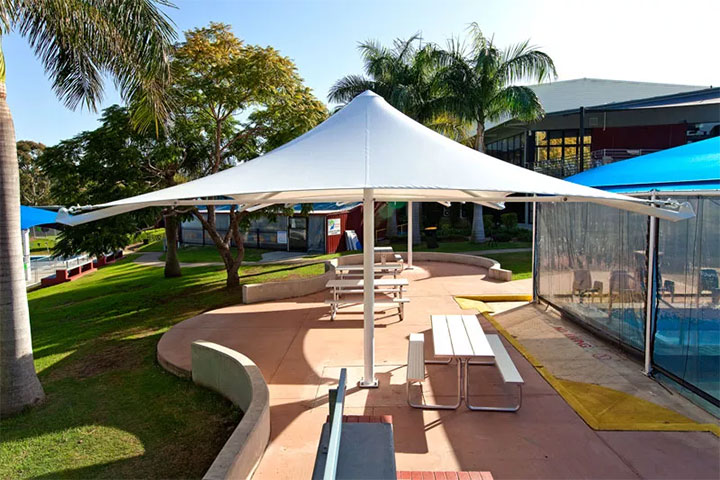 Commercial Outdoor Umbrella from Advanced Shade Systems
5. Umbrellas with Built-in Lights
The elegant construction of the Shadowspec outdoor umbrellas makes them perfect contenders for when you need to create a clean and sleek look. The innovative opening mechanism allows you to open them without effort in just 3 seconds. A central hub with built-in LED lights and a rechargeable smart battery can be easily controlled from a phone app that gives you options such a dimming and auto-timer functions.
Shadowspec Serenity Outdoor Umbrella from SelectSpace Partitions
6. Cantilever Umbrellas
Cantilever umbrellas are an excelent option if you want to create an area uncrowded by central poles. Modern versions can step away from the classic umbrella shape and create a sleek, thin and elegant roof over your outdoor space. Two-post umbrellas allow you to cover a larger area, look and feel more stable, and are visually ensuring and relaxing.
Flex Offset Two-post Umbrella from Allegro Classics
One-post cantilever umbrellas with double canopy and the same sophisticated flat shape give you more coverage with only one central pole. The look is simple yet refined and keeps the outdoor area free from visual clutter.
Flex Twin Offset Outdoor Umbrella from Allegro Classics
The symmetrical look of the one-pole, double-canopy outdoor umbrellas is reminiscent of a bird's wings in full flight. This gives them a note of graceful elegance and almost a dynamic vibe. When the canopies take on other shapes, their contours call to mind the top of some exquisite building with its delicate angles and slopes.
Shadowspec Unity Outdoor Umbrella from SelectSpace Partitions
7. Split Umbrellas
For the best coverage of a large area, split umbrellas are the best option. A sturdy singular frame can balance multiple canopies that can be raised independently and used as needed. This frees the area from unsightly poles and offers almost perfect coverage. Their impressive size creates a comfortable outdoor space that is inviting and safe from the harsh summer sun.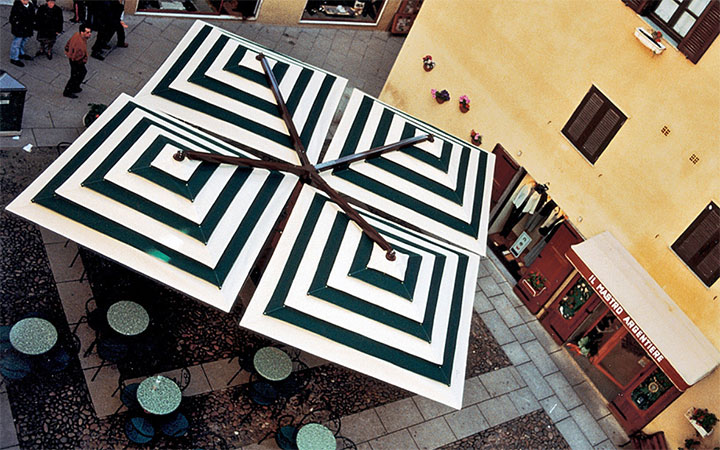 Alta Quad Split Offset Umbrella from Allegro Classics
If you are thinking to open a new business or are in the process of rebranding and remodeling your existing business, contact us to get a free consultation from Mindful Design Consulting. Click HERE to price your project design.
Also, take a look at the "Branding By Interior" e-book, the only book written on this subject at this time. It brings insight into how you can turn your business into a market-dominating competitor by using human cognitive responses.
https://mindfuldesignconsulting.com/wp-content/uploads/2023/07/Two-Post-Outdoor-Umbrella-for-Commercial-Spaces.jpg
444
720
M T
https://mindfuldesignconsulting.com/wp-content/uploads/2015/07/mindful-design-consulting-logo.png
M T
2023-07-26 20:11:30
2023-07-31 11:52:56
7 Gorgeous Outdoor Umbrellas for Your Commercial Space