While you are carefully choosing your color scheme, furniture and lighting for your small dessert shop, cafe or restaurant, don't tread lightly on your menu boards. As the one element that all people who enter your business will carefully measure and analyze, your menu display is not just a functional detail. So, think hard when you toss around and examine menu design ideas – and make it good.
Of course, the sky is the limit when it comes to the ways you can display your menu. Whether you prefer a more traditional look or you are ready to change the rules of the game, here are a few options you may want to consider.
1. Chalkboards
Everybody loves a good chalkboard menu display. There is something familiar, nostalgic and very personal about a human hand carefully scribbling words on a board. It can also be fun for you or your employees to play around with, and it can turn into a happy medium for the occasional artist in your team that wants to show off some skills.
The main advantage of chalkboard displays is how easy it is to change your menu or prices on the go. They are great for highlighting daily specials or seasonal items, and are easy to keep clean by quickly wiping them down with water.
Menu boards that are customized with your logo and designs are already doing half the job for you. You can, of course, choose a chalkboard menu display with a classic black-and-white look, especially if you want to create and old-time vibe.
However, you can be more creative with both colors and designs, especially if a dark and heavy chalkboard doesn't agree with your lighter and more contemporary interior. Depending on the specific product you choose, this may turn out to be quite an affordable option.
Market Chalkboard Menu from George & Willy
2. Paper Rolls
Do you prefer a menu display that is even easier to set up? A paper roll may be the ideal solution: You can install it in no time and write your menu in a matter of minutes. Even though it can be more challenging to make small changes to the menu than on a chalkboard, occasional small corrections can give it a charming human touch and offer you the opportunity to use your sense of humor. Otherwise, you can just start over.
You can install one or more paper-roll menus, and even allow your customers to leave notes on a similar roll. This is a perfect way to both tie together your interior design and engage your customers.
Studio Roller from George & Willy
3. Stamped Card Menus
If you are concerned that your handwriting is not up to standard to be displayed on the walls of your restaurant or coffee shop, don't worry! You have some charming menu design ideas in the simple yet impactful stamped–card menu displays that give you a great opportunity to have some good old fun. Slide the cards into the rails and change them (or the order in which they are listed) as often as needed.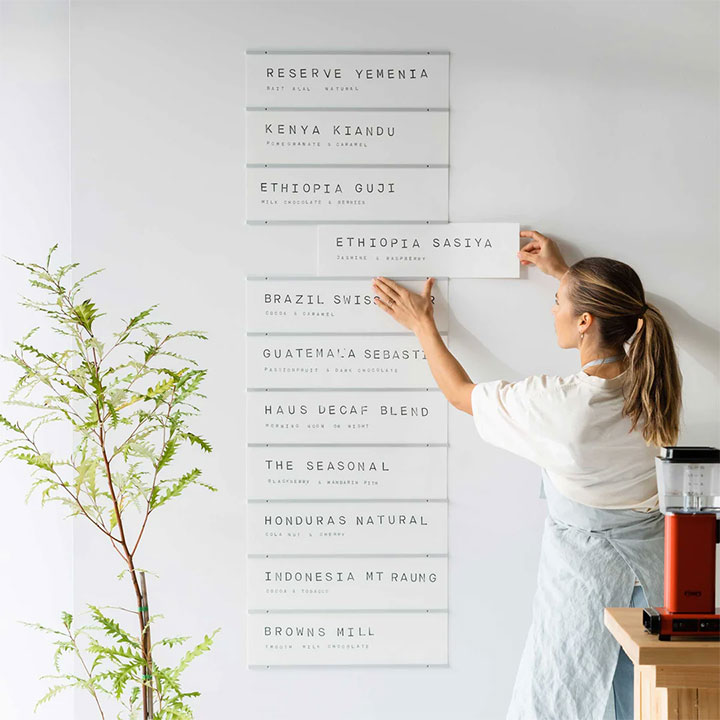 Stamped Card Menu from George & Willy
4. Letter Boards
Letter boards are an increasingly popular way to display your menu, particularly for small bakeries, coffee shops, dessert stores or restaurant with a more minimalist vibe. Their clean look suits well today's taste for simpler designs and your need to keep the menu and prices current.
There are many types of letter boards, from wooden to felt, and from metal rails to peg boards. They all have a distinct elegant look and provide a lightweight, easy-to-install and budget-friendly solution for when you are looking for menu design ideas.
Menu Letter Board with Movable Types from George & Willy
5. Magnetic Boards
A versatile subset of letter boards, magnetic boards have the distinct quality of fitting into almost every design style. Whether the letters are displayed against a solid background or on thin rails that make them look as if they are floating, they offer a clean, cohesive look while allowing for small eye-pleasing imperfections. Depending on their particular design, they can be nostalgic, modern, minimalist or elegant. However, their main advantages are their versatility and affordability.
6. Digital Menus
In the last years, the digital signage trend has changed the rules of the game and revolutionized the way businesses are displaying and updating their menus. Because updating digital menus is quick and virtually efortless, business owners have adopted them in order to reduce their employees' workload and save money.
The advantages of digital menus are evident. They allow you to easily change your menu or your prices if the costs of ingredients rises or if you get a good bargain. You can instantly remove a menu item if it's no longer available, or quickly add and run daily sales or flash promotions for food that you need to sell rapidly or otherwise throw out. Finally, you can use your digital signage to promote your loyalty programs, or to easily create ambiance with still images, videos or slides.
Screenly, DotSignage (formerly Voolsy Screen) and NoviSign are just a few digital menu companies that can help you with installing your screens and managing them from an online platform or in offline mode. You may opt for a company that helps you with buying the hardware, offers templates, stock images or interactive menus and content, and makes it possible to send orders from your tables straight to your kitchen.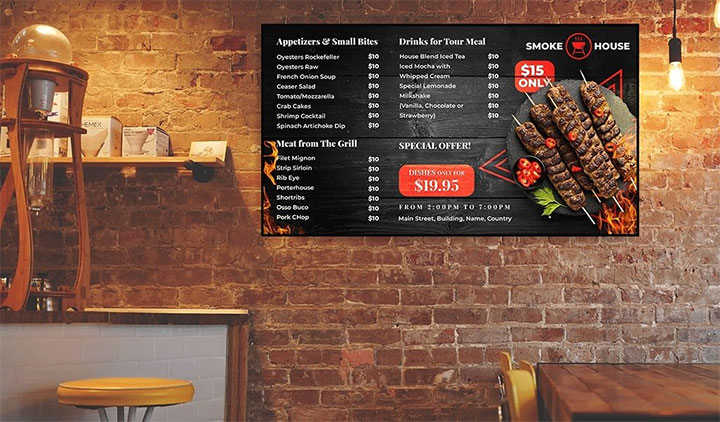 Photo via DotSignage
7. Interactive Tables
Interactive tables are the ultimate menu displays and the possible final answer in your search for menu design ideas. They can completely change the way you operate your business, as well as the way your customers experience their stay. In addition to providing your clients with digital lists of food options, together with detailed information about ingredients, nutritional value and method of cooking, they can take and place orders and accept payment and even reviews. They are also great entertainment devices, allowing your customers to browse social media, share content, draw, color or play games.
Our favorite interactive tables are the Interactive Restaurant Technology (IRT) smart tables by Kodisoft, a Kyiv-based company that has already placed itself at the forefront of intelligent furniture design. Their proprietary technology puts you ahead of the game, making possible features such as detailed order maps and table views, staff and client management, as well as discounts, statistics and social marketing.
IRT dining table via Interactive Restaurant Technology
If you are thinking to open a new business or are in the process of rebranding and remodeling your existing business, contact us to get a free consultation from Mindful Design Consulting. Click HERE to price your project design.
Also, take a look at the "Branding By Interior" e-book, the only book written on this subject at this time. It brings insight into how you can turn your business into a market-dominating competitor by using human cognitive responses.
https://mindfuldesignconsulting.com/wp-content/uploads/2023/03/Paper-Roll-Menu-Coffee-Shop-Design.jpg
457
720
M T
https://mindfuldesignconsulting.com/wp-content/uploads/2015/07/mindful-design-consulting-logo.png
M T
2023-03-08 20:49:02
2023-03-08 21:17:48
7 Menu Design Ideas for Small Dessert Shops or Restaurants