Since nature is the perfect backdrop for a great selfie, consider bringing it inside to attract social media-loving customers. A simple way to do this is using green walls to create an unexpected and irresistible decor element. The beauty of a green selfie wall lies in its surprising vertical design and the relaxing contrast that it creates with the built environment.
Photo above: Luxury Moss Art by MossPerfect on Etsy
Plants appeal to humans at an instinctive level, signaling the presence of food and shelter. In an office, they soften the atmosphere and have a comforting effect. In a restaurant, bar or cafe, they recreate the look and feel of the outdoors, reconnect customers with nature and simply look cool. When your display is carefully thought, it can be a major point of attraction for selfie enthusiasts and can help you spread the world about your business.
So, how can you incorporate green walls into your commercial space to create a selfie wall and use the power of social media?
Artificial Plants and Flowers Wall by Bitangwu on Etsy
1. Vertical Garden
The best way to do it is to use the real thing. Plants have always been great additions to commercial spaces, but vertical gardens take the concept to an artistic level.
The luxuriant look of a living wall is calming and reassuring. In its direct vicinity, customers feel as if they witness nature at work – and, in fact, they do. Such a wall comes with the added benefit of pumping out oxygen, cleansing the air and helping with noise reduction. For selfie takers, it is a great replacement as a background for the great outdoors, but also as an unexpected element of indoor design.
There are different green wall systems that can rely on structures such as panels, felt or trellises. They require different degrees of maintenance, depending on whether they have an integrated watering system or not. However, the look and feel is unmatchable, and the satisfaction of seeing it grow and change offer something to the business owner, too.
2. Moss Art
Moss wall art created with real moss has a very particular appeal. The soft texture almost invites customers to touch it, while different shades can be brought together into patterned pieces of living or preserved art. Stabilized moss doesn't need watering and is maintenance-free.
Moss Wall Art by Valentina Design Studio on Etsy
If you prefer a minimalist look, you can choose an openwork decorative panel where moss is sparingly used, yet equally effective.
Openwork 3D Decorative Panel by MossButik on Etsy
A moss selfie wall could be an innovative and eco-friendly way to create a stunning background for selfies, photoshoots, or events. By using moss in different colors, you can create a visually appealing and nature-inspired backdrop that is sure to impress. Moss is a versatile material that can be easily manipulated to fit any shape or design, making it an ideal choice for creating custom selfie walls. Additionally, as moss is a natural material, it is a sustainable and environmentally conscious option for those looking to reduce their carbon footprint. Overall, a moss selfie wall is a creative way to add a unique and eco-friendly touch to any event or occasion.
Uptown Muse Store Interior Design By Mindful Design Consulting
3. Customized Green Art
Your green selfie wall doesn't have to be entirely green. In fact, smaller customized wall art that include your logo, signage or some other visuals that capture what your business is about can fit even better into a selfie shot. The idea is to come up with an art piece that is visually unique, and where plants provide the surprise element, so that your customers will feel the instinctive need to take out their cameras.
Wall Moss Tree by MrWoodStudioUA on Etsy
4. Framed Mirrors
An interesting way to convince selfie enthusiasts to take pictures is to offer them a mirror. Few can resist inserting themselves into a ready frame, and green plants and live or preserved moss offer the perfect one.
Live Moss Mirror Wall Art by MrWoodStudioUA on Etsy
5. Artificial Green Walls
For less maintenance, an artificial green wall offers the same visual appeal for the busy business owners and for selfie takers who may not even tell the difference. A luxuriant green composition can be created without any need to consider water, fungus or the uncontrollable growth of vegetation.
For an elevated look or for more social media leverage, you can add lights or your oversized logo to your green selfie wall.
6. Seating Area Decor
You don't have to devote an entire wall to the purpose of attracting selfie enthusiasts. If you don't have the space (and even if you do), small areas placed strategically around your interior can achieve the same result without the need for a dedicated selfie corner. In fact, the green walls installed in the seating area of your restaurant give your customers the chance to snap some pictures while waiting for their food.
Curry Fusion restaurant in Texas by Mindful Design Consulting
7. The Wallpaper Alternative
Finally, we confess that we are very partial to gorgeous wallpaper with dramatic designs when attempting to create a great selfie wall. If a green wall doesn't suit your layout, style or function, a good compromise is a lush wallpaper that brings the colors of nature inside, minus the upkeep.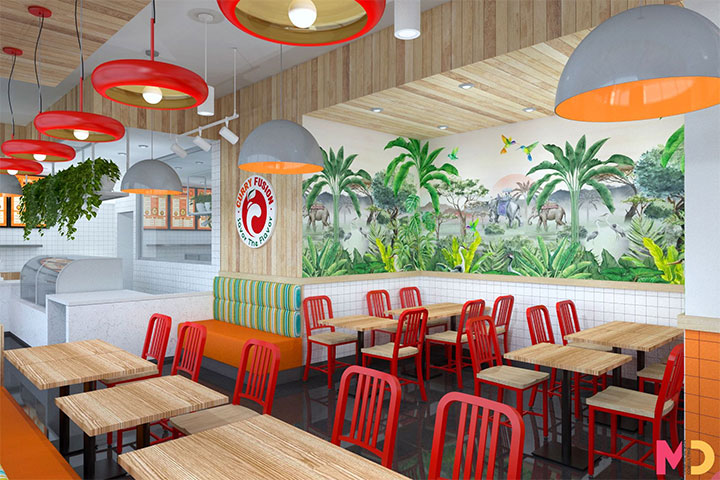 Curry Fusion restaurant in Texas by Mindful Design Consulting
If you are thinking to open a new business or are in the process of rebranding and remodeling your existing business, contact us to get a free consultation from Mindful Design Consulting. Click HERE to price your project design.
Also, take a look at the "Branding By Interior" e-book, the only book written on this subject at this time. It brings insight into how you can turn your business into a market-dominating competitor by using human cognitive responses.
https://mindfuldesignconsulting.com/wp-content/uploads/2023/04/Illuminated-Green-Selfie-Wall.jpg
528
794
M T
https://mindfuldesignconsulting.com/wp-content/uploads/2015/07/mindful-design-consulting-logo.png
M T
2023-04-19 01:13:13
2023-04-29 22:25:20
7 Ways to Design a Green Selfie Wall for Social Media Enthusiasts