During our 13 years in the interior design trenches, we worked with a lot of franchise businesses and helped new owners bring together unique interiors and the requirements of a well-established brand. We watched our clients build their successful ice-cream shops and learned what works and what doesn't during this complex process. This is why we think we are in the right position to offer those who are willing to take this path a few pieces of advice on franchising an ice-cream shop business.
Here is a short overview of what to keep in mind when launching into franchising.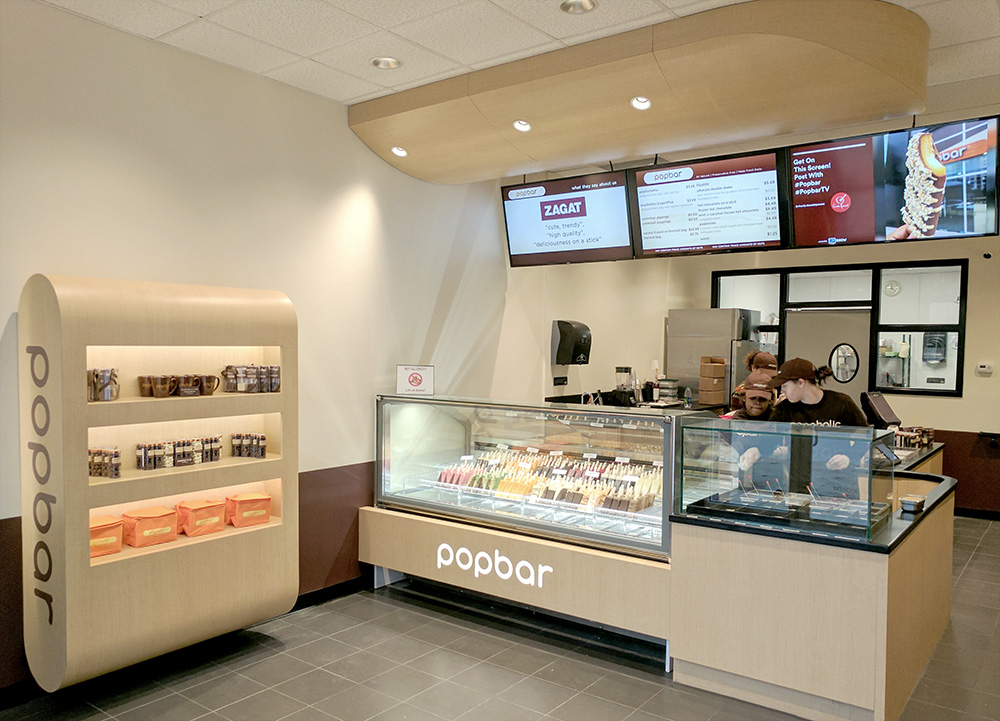 Popbar ice-cream franchise store has over 20 U.S. locations and has extended to Canada, Portugal, Panama, and Singapore.
1. Start with some serious self-reflection
While you may be a very successful ice-cream shop owner, franchising your brand is an entirely different business that requires a completely different type of acumen. If you like to come up with new ice-cream creations, excel in customer service and love getting into the nitty-gritty of your daily operations, keep in mind that a franchise business will have less to do with all these and more with recruiting, training and helping your franchisees develop their businesses. Do not start on this path before you are absolutely sure this is what you want to do.

2. Test the waters
While you reflect on all the above, also ask yourself if your business is right (or ripe) for franchising. First, your business should be successful in its own right and have a proven track record. Being in full operation for at least one year should be a minimum requirement for launching into franchising.
Second, while you may be successful in your specific location, this is not a guarantee that your products or brand will enjoy the same success elsewhere or that there is enough demand for what you offer in order to survive the competition. Having a unique product or take on the ice-cream business helps.
In order to find if your ice-cream shop business can successfully fit the franchise model, you may choose to first try expanding your business. Opening another shop in a new location will give you a few possible insights into your potential success as a franchisor. However, this is not a mandatory step, since many franchise businesses start with only one location.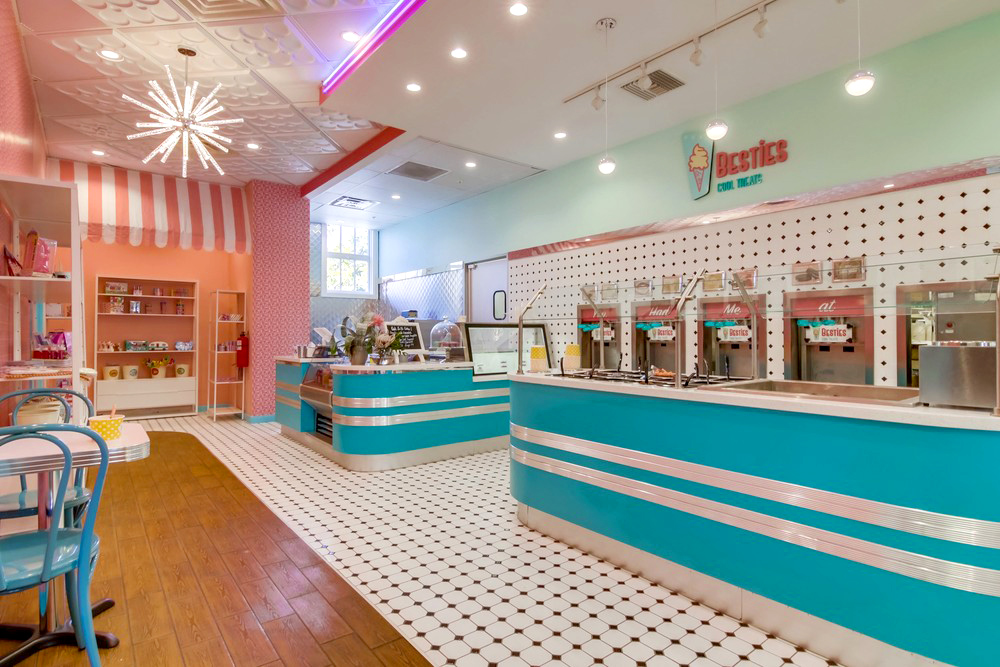 3. Hire a lawyer and a consultant
Once you are ready to take the plunge, it's time to get to work. It is very important that you do not start into this adventure alone. Franchising is a very complex process, during which you may become the victim of many fatal mistakes.
This is where a franchise lawyer and a consultant come into play. You can employ the services of a franchise development company that can guide you through the turbulent franchise waters on both the business side by helping you define the franchise structure and relationship, and the legal side by working with various attorneys.
Employing professional help can ensure that the process of setting up your franchise business is smooth and fast, so that you can complete it in as little as 3 months, even though the process is generally longer.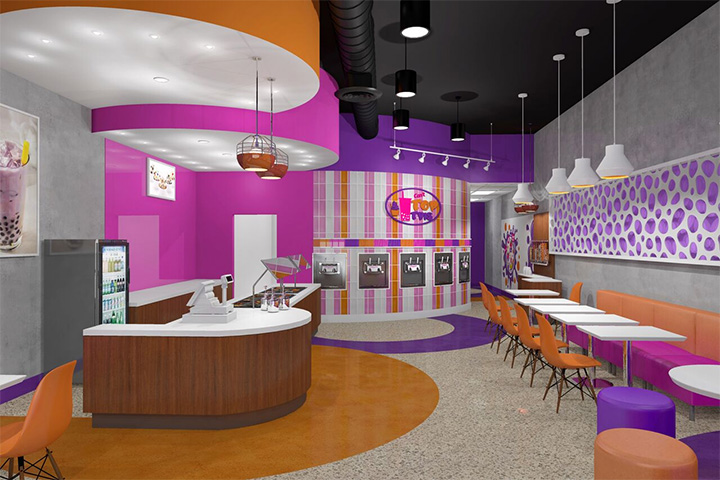 4. Set goals
You've done it with your ice-cream shop business, so you should do it before launching into franchising, too. Put together a 5-year business plan and clearly define your objectives. You should figure out the necessary initial investment and make sure you can afford the cost of franchising without putting your current business in danger. This cost must cover both the franchise development stage, when you set yourself up as a franchisor, and the following selling stage, when you start the marketing process in order to procure buyers.
5. Define your franchise structure and relationship
When selling franchises, you will have to provide your buyers with an operations manual in which you lay out all the information they need in order to open and operate as a franchise, as well as all the provisions and stipulations they need to abide by. From the support that you offer to the upfront and royalty fees you are paid, and from the approved vendors and suppliers to cleanliness and safety procedures, all details of how the franchise will work are detailed in the operations manual.
Now is also the time to think about how you envision your training programs in order to help your franchisees start on the right foot and succeed.
With tens of stores in the U.S. and abroad, Popbar knows a thing or two about franchising an ice-cream shop business.
6. Prepare your legal documents
Taking care of all the legal requirements for becoming a franchisor is a complicated process during which your franchise development company will be your best friend. From registering your trademark and setting up entities to preparing and registering a multi-state compliant franchise disclosure document, this is the step you do not want to plunge into alone.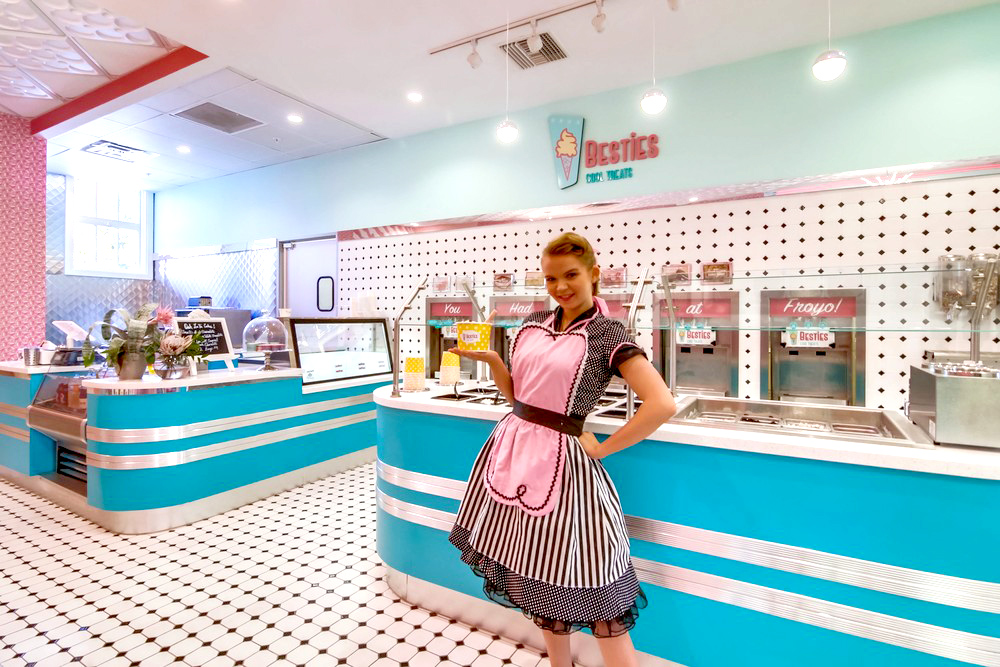 7. Create a branding and design package
It is very important that you develop a recognizable brand and that your franchisees' newly opened stores are in line with it, successfully promote it, and do not reflect badly on your business.
When it comes to their store's interior, franchisees need to see a clear path of action: what signage they can use, what graphics go on walls or windows, what furniture and lighting fixtures they should choose, where to buy it, even what paint colors to use in order to reflect your brand. You should never leave these interior design decision to your franchisees: Chances are the store will end up messy, uninviting, and completely lacking a clear message.
Instead, the best way to ensure a cohesive interior in line with your brand is to hire an interior design company that specializes in brand development. This is exactly our area of expertise. We help franchises develop brands that stand out from the competition and that tell a story worth discovering. Then we create interiors that translate this message into visual elements.
If you need our help, contact us and find more about our branding and design packages.
8. Put a marketing plan into action
Once all these details are taken care of, you enter the selling stage, in which you market yourself as a franchisor. By now, you must have paid attention to your competitors and analyzed the market in order to make your business attractive and competitive. You need to come up with a marketing plan, including relations, paid advertising, social media, online presence etc., that will help you reach potential buyers.
Not lastly, you need to develop the framework for both selling and supporting franchises, and find and train the people who will help you do that. Pay close attention to your budget during this phase, and make sure you distance yourself from your competitors by having a unique and distinct story and voice. If all pieces fall into place, you may make your first sale in as litle as 3 months from the time you established yourself as a franchisor with selling opportunities.
If you are thinking to open a new business or are in the process of rebranding and remodeling your existing business, contact us to get a free consultation from Mindful Design Consulting. Click HERE to price your project design.
Also, take a look at "Branding By Interior" e-book, the only book written on this subject at this time. It brings insight on how you can turn your business into a market-dominating competitor by using human cognitive responses.
https://mindfuldesignconsulting.com/wp-content/uploads/2018/05/Besties-Frozen-Yogurt-Shop-and-Ice-cream-Store-San-Diego-Liberty-Station.jpg
667
1000
M T
https://mindfuldesignconsulting.com/wp-content/uploads/2015/07/mindful-design-consulting-logo.png
M T
2021-07-21 23:18:44
2021-09-15 10:16:08
8 Steps to Franchising an Ice-Cream Shop Business