If you missed it, read our April Newsletter about choosing the right location for your next restaurant.
Creative Dessert Stores Around the World
Where do designers find inspiration for dessert store interiors? We took a quick visual tour of a few shops around the world and learned about some unexpected sources of inspiration. Some dessert stores recreate the looks of mountains to allow their customer an imaginary escape. Others pay homage to the humble (but tasty) coffee bean. Even more daring, we found an ice-cream store that looks like a chemistry lab.
Read here about all these shops where desserts seem to take a second place to the ingenuity of design. Finally, we added the latest of our projects, a frozen yogurt shop in Liberty Station that mixes mid-century nostalgia with modern touches. It is an excellent example of branding and how customized design can increase a store's chances to be remembered.
Want to learn more about what we do? You can always follow us on Facebook or see interior design news on our Blog.
Mixing Old and New in Frozen Yogurt Shop Interior Design
Mindful Design Consulting has completed another project in Liberty Station, this time a frozen yogurt shop interior design that we seasoned with a pinch of mid-century nostalgia. The store name, Besties Cool Treats, evokes images of lasting friendships and stories shared across the dessert table. We kept the design of the store in step with this idea of friendship …


Dessert Kiosk Design Makes Excellent Use of Small Space
When trying to fit a kitchen, a bar and a seating area into a small 215-square foot area, the solution seems to be a combination of simple lines, minimalist design and glass. Atelier TAO + C has achieved this impressive feat with the Lotus Dessert kiosk design in …


Coffee Shop Design Uses Chocolate Bars and Cocoa Beans as Inspiration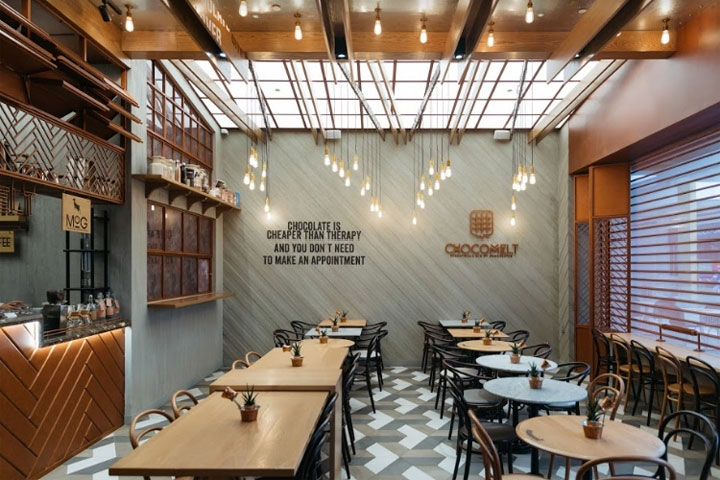 For the interior designer who also happens to be a passionate chocolate lover, there are few things more inspiring than the texture, color and aroma of this fabulous sweet treat. These combined passions can lead to beautiful results, as in the case of this coffee shop design in Kuwait. The …


Ice Cream Store Design Makes Chemistry Fun
If you are an ice cream lover with a secret passion for chemistry, the Glidium ice cream store design in Haifa, Israel, may be just the thing for you. Created (with a sense of humor) by Nir Portal Architects, this unique store is a sweet visual treat. The idea behind …


Yogurt Store Interior Design Recreates Mountainous Landscape
A unique yogurt store interior design in Mainland China proves that this healthy treat can successfully serve as muse for interior design work. Inspired by the shape of cupped yogurt, the Shanghai-based design company Triad created the branding and interior space for Stone Fresh, an American healthy lifestyle brand. Finding the …


If you are thinking to open up a new business or in a process of rebranding and remodeling your existing business, contact us to get a free consultation from

Mindful Design Consulting.

Click

HERE

to price your project design.
Also, take a look at

"Branding By Interior"

e-book, the only book written on this subject at this time. It brings insight on how you can turn your business into a market-dominating competitor by using human cognitive responses.
Find more news and information on what we do: