If you missed it, read our June Newsletter about creative dessert store around the world.
New and Fun Interior Design Materials to Try
One of the joys of interior design is to discover and work with new materials. Every day, some new imaterial finally solves a functional problem or comes with a surprising decorative potential. The ideas are endless. Curtains out of metal mesh? Why not? Wall decor made of printed metal sheets? Absolutely possible. White 3-D bamboo wall tiles with a geometric design and paintable surface? Yes, please!


Here are a few fun materials that only need your imagination to turn into stunning elements of decor. Use these ideas for inspiration and as another reminder that in interior design everything is possible.


Want to learn more about what we do? You can always follow us on Facebook or see interior design news on our Blog.
While metal finishes in interior design call to mind images of industrial spaces, they are more versatile than they appear. Metal finishes can give a space an unexpected glamour through their light-reflective qualities and sleek appearance. Furthermore, when metal meets creativity, the results can be spectacular. The North Carolina-based company Specified Metals takes a new approach to …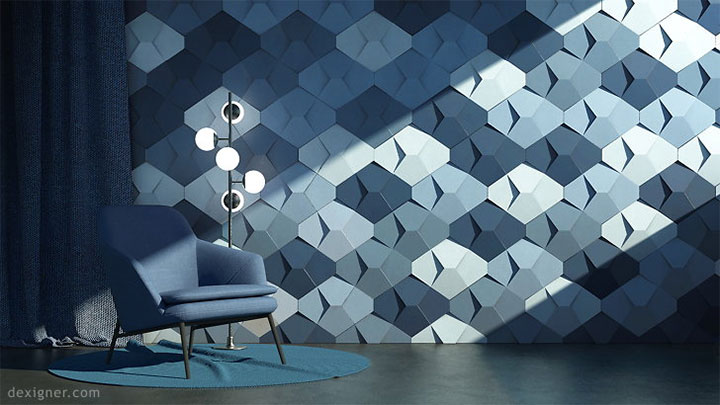 There are many ways tiles can stand out in an interior design, from color and texture to sheen and pattern. Two companies, however, decided that this can be achieved by other means – one, by turning them into 3-D tiles; the other, by hand-painting them. The Monterrey-based company SHIFT, in collaboration with Opticretos' concrete …


Bamboo wall coverings usually call to mind images of rooms dressed in neutral colors and reminiscent of spas. However, bamboo is more than just that. You can enjoy the benefits of this natural and sustainable material without defaulting to any type of overused decorative pattern. For instance, designer J.W. …


When designing a commercial interior, do not miss on the great opportunity to use metal mesh. While the concept does not initially call to mind images of artistic interiors, the designing world has been slowly woken up to the wonders of this underrated material. It turns out that using metal mesh in interior design …


If you are thinking to open up a new business or in a process of rebranding and remodeling your existing business, contact us to get a free consultation from

Mindful Design Consulting.

Click

HERE

to price your project design.
Also, take a look at

"Branding By Interior"

e-book, the only book written on this subject at this time. It brings insight on how you can turn your business into a market-dominating competitor by using human cognitive responses.
Find more news and information on what we do: