Maintenance and repair are crucial in ensuring your building is safe and functional. Neglecting issues such as exposed HVAC units or unprotected controlled systems jeopardizes your property's safety and diminishes its value, potentially resulting in costly service visits. Access doors and panels help minimize these problems by securely protecting the building's vital components from unauthorized access. They also facilitate the work of the maintenance and repair team, allowing quick access to critical systems for efficient repairs.
Vent Fan Coil Door from Best Access Doors
Understanding Access Panels
Have you ever been to hotels or art museums and wondered how architects and interior designers work with engineers and construction builders to conceal the building's vital components neatly?
With the help of access panels, construction professionals can turn a structure into a majestic building that efficiently hides the components installed behind walls, ceilings and floors to ensure an uninterrupted architectural flow while providing entry points to concealed spaces within the building.
Access doors are available in various types, each serving unique purposes. Some are LEED certified, while others have fire ratings and advanced security features that enhance the building's safety and security by preventing the spread of fire and adding an extra layer of protection.
Manufacturers design these doors with a focus on precision, efficiency and durability. Their ergonomic and sleek designs seamlessly integrate into the surrounding surfaces, ensuring the structure and overall aesthetics remain intact.
These panels are constructed using durable materials such as metal or plastic to withstand accidental impact, warping and varying weather conditions.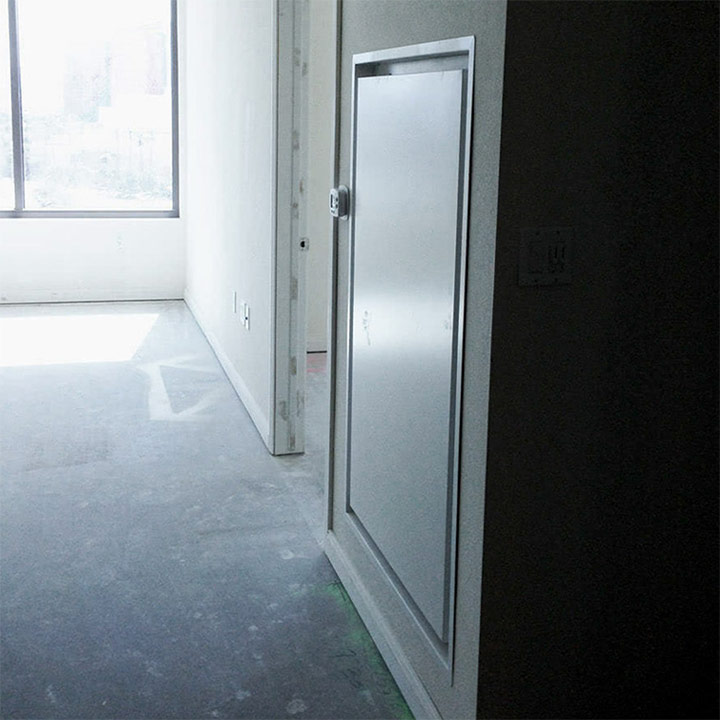 Metal Air Handler Access Door from Best Access Doors
4 Key Benefits that Enhance Building Maintenance and Protection
Here are the secrets to preserving the structural integrity and aesthetic appeal of your building while enhancing its safety and security.
1. Convenient Maintenance
Access panels, such as the BA-AHD-SS general purpose access panel, hold the key to efficient maintenance and hassle-free repairs within a building without disrupting its interior design. Imagine the convenience of skilled technicians accessing the concealed areas and quickly diagnosing and fixing the HVAC problems, almost like magic.
Gone are the days of spending hundreds and thousands on labor to tear down walls and ceilings to access components. With these ingenious panels, service teams can swiftly complete their tasks, maintaining the building's smooth operation.
Removable Access Panel with Detachable Hatch and Drywall Insert from Best Access Doors
2. Streamlined Repairs
Access doors and panels facilitate quick and direct access to building systems, allowing technicians to efficiently reach cables, wires and vital components during the repair process. This streamlined approach expedites repairs, minimizes damage to walls and design elements, and ultimately results in cost savings for repairs and renovations.
Efficient repairs also lead to reduced downtime, a crucial factor in residential, commercial and industrial settings. With the help of access doors, building occupants can work comfortably and efficiently, enhancing productivity by avoiding prolonged interruptions caused by faulty equipment or components.
In addition, streamlined repairs in healthcare and institutional settings, especially those with safety-critical equipment, are essential for preventing accidents or harm to patients.
Flush Plastic Panel from Best Access Doors
3. Enhanced Building Protection
Access panels act as physical barriers to specific areas, restricting unauthorized access to components and reducing the risk of theft, vandalism or tampering. By combining their protective prowess with their ability to enhance aesthetics, access panels provide a comprehensive solution for building owners—ensuring a safe, visually appealing and welcoming environment for everyone within the premises.
Exterior Door from Best Access Doors
4. Compliance with Safety Regulations
Ensuring compliance with safety regulations is paramount to safeguarding your building. Access panels play a crucial role in meeting these requirements by providing easy accessibility for routine maintenance tasks.
By incorporating access panels into your construction, you create a seamless pathway for service teams to promptly address maintenance needs, and therefore keep your staff and guests safe within the premises. Moreover, access panels are designed with safety features that enhance the overall security of the building, further contributing to compliance with safety regulations.
Aluminum Frame Drywall Inlay Access Panel for Walls from Best Access Doors
Installation Tips
Installing access doors requires careful planning to ensure their efficiency. Here are some general installation tips that may help you when mounting your access doors and panels.
Choose the ideal spot for installing the access door.
Remember that their primary purpose is to provide entry to HVAC units, control systems, cables and wires, plumbing and ductwork, and even personal belongings. Therefore, it is crucial to strategically install the access door. Choose a location where you can quickly reach and smoothly open its panel, and avoid areas with barriers.
Drainable Large Equipment Hatch from Best Access Doors
Accurately measure both the access panel and its opening.
An essential factor for access doors to prevent air and water leakage is achieving a perfect fit between the frame and the opening. This ensures the absence of gaps that could allow air or water to enter, potentially causing damage to the components.
Precision in measuring the access door's opening also allows the door to seamlessly blend into the design and style of the room.
Stainless Steel Equipment Roof Hatch from Best Access Doors
Select the right door for your needs.
With many makes and models available in the market, choosing the appropriate access door can be challenging.
Always have guiding questions to determine the purpose of the access door before making a purchase. Do you need it for your home, a commercial complex or an institution? What are the primary features that the building needs?
For commercial buildings and contractors that need to meet Platinum Level LEED certification, it is best to choose LEED-certified products. For facilities that require added security, select the medium and high-security access doors. For institutions or production buildings, choose fire-rated access doors to protect occupants, workers and products from the spread of fire.
Removable Access Panel with Detachable Hatch and Drywall Insert from Best Access Doors
Insulate the access door's surroundings.
Insulating the access doors is also essential to prevent any drafts, moisture infiltration, heat gain and heat loss. By properly sealing the frame and its surroundings, the HVAC system can operate smoothly to maintain the indoor temperature without overdriving—resulting in lower energy consumption and monthly bills.
Flush Plastic Panel from Best Access Doors
Conclusion
Access panels are a game-changer in the construction industry when it comes to maintaining and protecting the building from unauthorized access and keeping the interior design visually pleasing. They provide convenient access to concealed areas, streamline repairs, and enhance building security.
Their installation avoids costly and disruptive measures like tearing down walls. Access panels save time and money and minimize inconvenience for occupants. They also help comply with safety regulations and offer insulation benefits for energy efficiency. So, upgrade your building's maintenance now and unlock the full potential of access panels for your facility.
Metal Air Handler Access Door from Best Access Doors
If you are thinking to open a new business or are in the process of rebranding and remodeling your existing business, contact us to get a free consultation from Mindful Design Consulting. Click HERE to price your project design.
https://mindfuldesignconsulting.com/wp-content/uploads/2023/11/Access-Doors-Samples-for-Interior-Design.jpg
232
720
M T
https://mindfuldesignconsulting.com/wp-content/uploads/2015/07/mindful-design-consulting-logo.png
M T
2023-11-10 02:03:45
2023-11-16 00:24:21
Access Panels Unveiled – Your Gateway to Easy Maintenance and Enhanced Building Protection