Operating a food truck business have always been a common dream of cooking aficionados who yearn for the freedom of working for themselves. When they are part of an established businesses, food trucks also help in reaching more people, marketing services and increasing brand recognition.
Photo above via made-in-china.com
In 2020, however, adding a food truck to an existing business has become more than just that. Due to the restrictions imposed by COVID-19, it turned into an escape route for food businesses that could not afford to keep their physical locations opened and had to be creative in order to survive.
In other words, food trucks turned out to be vital. The trend has rapidly gained popularity last year and into 2021, so we are prepared to see more food business owners tackling the job of designing their food trucks in such a way that they make a visual impact and ensure a good stream of customers.
Emack & Bolio's ice-cream truck. Photo via Pinterest.
If you are one of them, you may have purchased a new or old food truck, or even a van or a truck that you intend to redesign. Regardless of where you start, the design of your food truck – especially the exterior – needs to attract customers, inspire confidence and be in line with your brand. The theme of your exterior design, your colors and your logo should all be consistent and give your potential customers a clear idea about the products you offer.
Moo Moo Udderly Twisted ice-cream truck. Via The Highlander.
Your best bet is to hire a designer to take your vision and turn it into reality. A professional will help you answer many questions you might have and put your ideas into practice. What do you want the exterior of your truck to convey? Fun? New experieces? The joys of comfort food? Do you want your truck to be elegant, intriguing, or downright amusing? What unique elements can you use to attract the attention of your potential customers? What colors are most suited to express what you are about, and how can you design or place a logo that is consistent with all this and easy to recognize?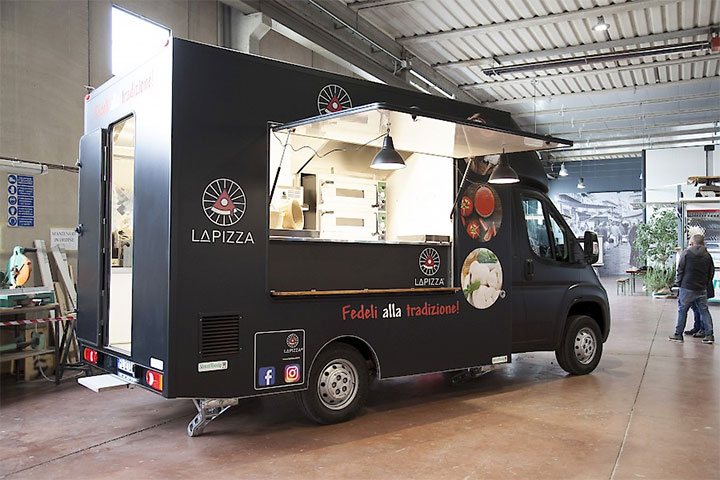 Photo via streetfoody.it
In terms of design elements options, you and your designer have to come up with other answers, such as choosing between painting your truck or using vinyl wrap. Your physical menu is very important, too. Whether it's just a chalkboard or another type of board, it must be easy to change, easy to read, and in line with your overall theme and design.
Other elements can help your customers feel well treated once they decide to patronize your business. Awnings for shade, music and speakers to create atmosphere, a fan to keep your customers cool, or even a TV screen to keep the menu in full view or simply for entertaining are just a few ideas.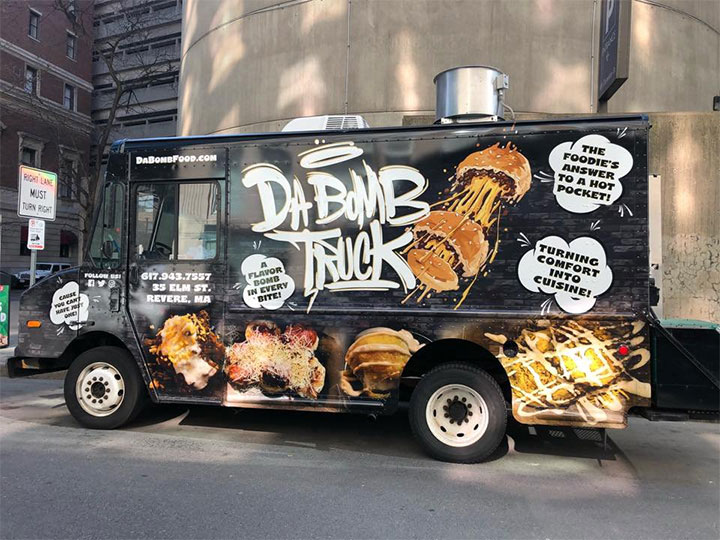 Da Bomb Truck via Roaming Hunger
Finally, don't forget about the design of your website. In today's business world, having a website is mandatory. One that announces where your food truck is every day is essential in making sure that, once you built your customer base, your followers know where to find you. Make sure that the design and overall appearance of your website is consistent with that of your truck, so that your visitors can easily recognize you and remember your brand.
If you are thinking to open a new business or are in the process of rebranding and remodeling your existing business, contact us to get a free consultation from Mindful Design Consulting. Click HERE to price your project design.
Also, take a look at "Branding By Interior" e-book, the only book written on this subject at this time. It brings insight on how you can turn your business into a market-dominating competitor by using human cognitive responses.
https://mindfuldesignconsulting.com/wp-content/uploads/2021/02/How-to-Design-a-Food-Truck.jpg
428
720
M T
https://mindfuldesignconsulting.com/wp-content/uploads/2015/07/mindful-design-consulting-logo.png
M T
2021-02-17 21:55:23
2021-02-17 21:59:57
Adding a Food Truck to Your Dessert Business