If you are a business owner who painfully felt the economic strain of 2020, coming up with cheaper options for your interior design may be more important than ever. An attractive interior is as essential as ever, but how can you do it on a small budget? To answer this question, we put together a few ideas that may help you – from how to decorate your walls to where to buy your furniture. It is a list of affordable trends in dessert shops, restaurants and retail that we noticed gaining ground lately.
Use this as a starting point in your search for inexpensive design solutions and as a reminder that "cheaper" does not have to be a bad word.
Unexpected Materials for Finishes
If you want to do something more than just painting your walls, wall finishes may put a serious strain on your budget. A simple idea is to use felt – a versatile option that allows you to play with patterns and colors, and that opens the door to limitless creative ideas.
Designer: OverUnder. Felt wall by filzfelt. Photo via contemporist.com
If you want to keep it even simpler, turning inexpensive everyday items into wall decor is an ingenious way to give your space the unique look that draws in customers and Instagrammers. For instance, the ROKA Japanese restaurant in London boasts a wall of LED lights and jars filled with a Japanese liquor called Shochu. It is a simple idea with a great visual impact.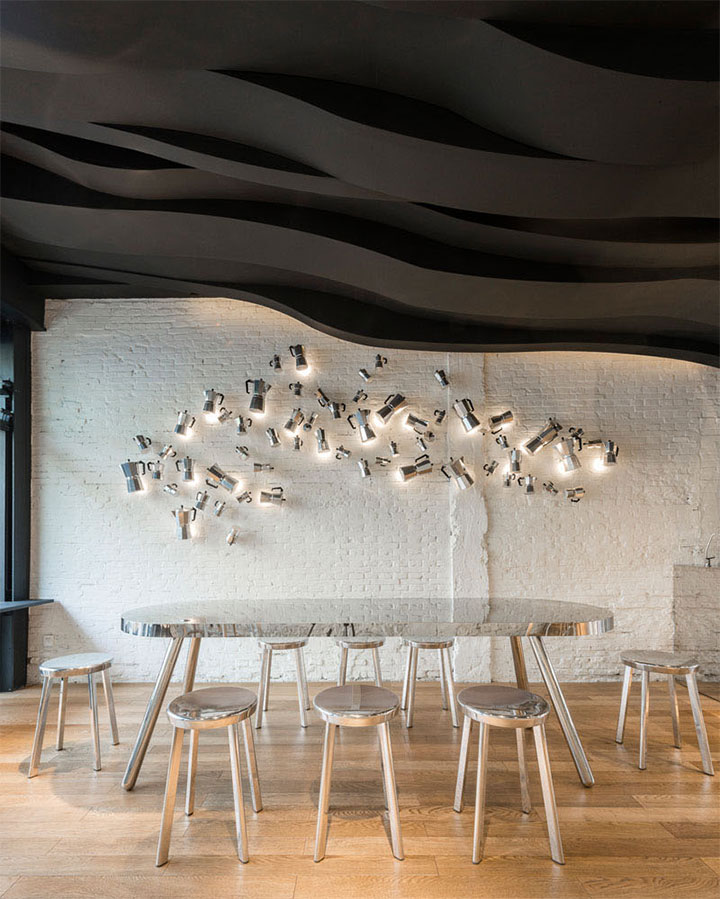 Fumi Coffee in Shangai. Designer: Alberto Caiola. Photo: Dirk Wieblen via contemporist.com.
Clean Minimalistic Design
As one of the most affordable trends in dessert shops and retail interiors, minimalistic design is more than just reducing the visual clutter. It would be a mistake to think that, just because of its simple look, this type of design is easy to do right. In fact, the presence of just a few elements of design means that choosing them requires even more care, since they have more say in the overall look of the interior.
However, choosing right and investing in fewer materials is still cheaper than the alternative. When done with creativity, talent and taste, minimalistic design is both an affordable and an appealing solution for commercial spaces.
Vivi's Patisserie in China is an excellent example of how to use minimalistic design to create an airy, clean-looking modern interior with a minimum of design elements and a very restricted color palette.
Vivi's Patisserie design by AW DESIGN. Photo via gooood.cn
A subtly painted neutral background, a simple glass display, ambient lighting and a touch of green is all this bakery needs to make its products shine.
TOPICS restaurant and coffee shop by estudyHac. Photo: german cabo via designboom.com
Creative Wall Graphics
When neutral tones are not enough, large oversized graphics in vivid colors can quickly change the look of your interior. You can go for the printed or painted option. If you choose the latter, an artistic hand, a few gallons of paint and a clear underlying message is all you need.
Photo via Pinterest
Large wall graphics are an excellent idea when your business caters to children. Remember that you don't have to cover the entire wall with color. Negative spaces have their definite role in resting the eye and keeping the room look uncrowded.
Photo via Pinterest
Using Logo Colors as Inspiration
As the most important and recognizable brand element, your logo is the perfect place to start the design of your store's interior and exterior. Use it when trying to choose the colors of your walls, furniture or accent pieces. For example, an easy way to create a coherent look for your storefront is to add a few accents elements in the same colors. This helps emphasize your logo, give your storefront a fun look and communicate to the prospective customer that you pay attention to detail.
Photo via Pinterest
The Tantrum kids store in San Francisco uses this idea and creates a fun storefront display by adding colorful chairs in front of its windows that tie in with its logo's chromatic palette.
Tantrum shop in San Francisco. Photo via remodelista.com
Buying from Alibaba
Finally, the one item that will always make our list of affordable trends in dessert shops and retail is making the most of your budget by buying quality furniture at a great price. Alibaba is one of the best places where you can find inexpensive furniture that is modern, functional and attractive.
Plastic stackable dining chairs from Alibaba
Since making the most of your space and ensuring easy cleaning are lasting concerns of every restaurant or dessert shop owner, plastic stackable chairs are a bargain that should not be missed. However, stackable plastic pieces do not have to be boring and uninspiring. With their pleasant pastel or vivid colors and a back design that gives you pattern without chromatic overload, these "bubble back" chairs may turn out to be the main actors in your interior design.
Bazhou BIAODIAN bubble back stackable chairs from Alibaba
Inexpensive yet modern and cool, these counter stools mix neutral tones with bright colors and promise an interior that doesn't lack any visual interest.
Counter-height stools from Alibaba
If you are thinking to open a new business or are in the process of rebranding and remodeling your existing business, contact us to get a free consultation from Mindful Design Consulting. Click HERE to price your project design.
Also, take a look at "Branding By Interior" e-book, the only book written on this subject at this time. It brings insight on how you can turn your business into a market-dominating competitor by using human cognitive responses.
https://mindfuldesignconsulting.com/wp-content/uploads/2022/02/Curved-Furniture-in-Dessrt-Shop-Interior-Design.jpg
480
720
M T
https://mindfuldesignconsulting.com/wp-content/uploads/2015/07/mindful-design-consulting-logo.png
M T
2021-02-24 18:17:01
2022-02-28 16:19:23
Latest Affordable Trends In Dessert Shops and Retail