Hoher Markt is among the oldest and most important meeting and marketing sites in Vienna. One of the things that attract tourists to the place is the popular "Anker" Clock. This is where Rewe Group has decided to open its new flagship supermarket.
There are strict regulations aimed at preserving peculiarity of the city, which rule out the erection of a usual supermarket featuring a bold and loud corporate identity. The store design had to allow its façade to integrate seamlessly with the environment.
At the same time, the interior designer had to ensure that the store represented modern delicacies in Merkur. The clients wanted a modern and visionary supermarket. This does not mean the store must have fully automated features, but that it must be responsive to its surrounding environment and place.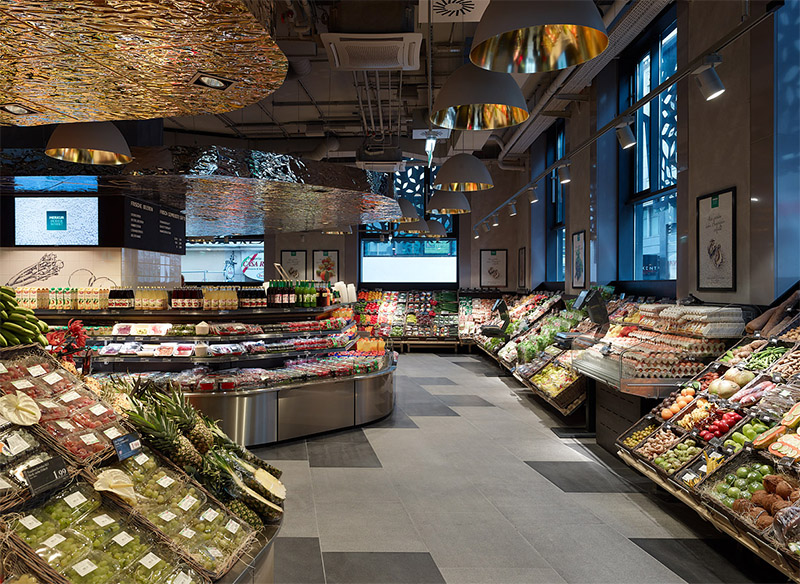 The interior design had to re-interpret the materials and ornamentation. The interior designer created a light and shadow effect on the pavement by breaking the sun protection panels on the façade by a leaf pattern. The panels, which are coated with verdigris, are made of pre-weathered copper.
The interior designer's use of green color helps to relate the supermarket to Merkur´s corporate branding in addition to blending the store into the surrounding.
The designer also used classic materials, which were re-interpreted by using different surface structures. Walls, floors, ceiling and furniture are mostly in shades of grey, with polished steel, brass, wood and stone complementing them.
The store design is meant to create an environment that highlights the values of different products and goods. The salesroom is separated into three different levels to display attractive products that entice customers to visit other levels. The customers can access different levels via three panoramic elevators or a staircase, all of which provide attractive views of the products.
To ask us questions about your commercial interior design project or to get a free consultation from Mindful Design Consulting, click HERE.
Also, take a look at "Branding By Interior" e-book, the only book written on this subject at this time. It brings insight on how you can turn your business into a market-dominating competitor by using human cognitive responses.
https://mindfuldesignconsulting.com/wp-content/uploads/2015/07/mindful-design-consulting-logo.png
0
0
Administrator
https://mindfuldesignconsulting.com/wp-content/uploads/2015/07/mindful-design-consulting-logo.png
Administrator
2014-07-31 17:32:01
2014-07-31 17:32:01
Amazing Supermarket in Vienna – Commercial Interior Design News