Review by Ekaterina Kohlwes – Mindful Design Consulting
During his last days, in August 2011, Steve Jobs was at the Cupertino City Council proposing a new campus building for Apple's headquarters.  The new building attracted a great deal of attention because of its shape ('spaceship' from the future) and the advanced technology involved in the design of the campus.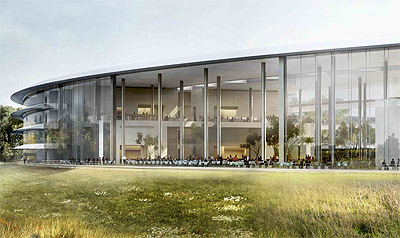 The two basement floors will house parking garage. The other 4 stories will have an open office space with circulation located at the outside and the inside perimeters of the 'craft.'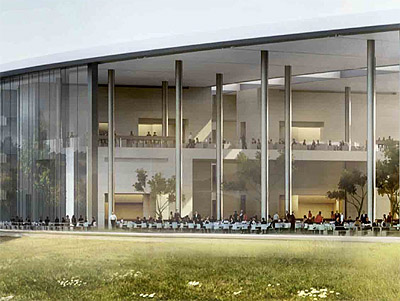 Three large design firms have their names on the design drawings presented to the city: London based architecture firm Foster + Partners, an international engineering and design firm ARUP and a civil engineering firm: Kier and Wright.
This campus will be environmentally friendly. The glass walls will deliver maximum amount of natural light throughout the internal offices. Extensive greenery throughout the entire campus ground is planned for the future to make it appear very natural.
Apple continues to be true to its brand with its innovative designs, even in creating healthy office spaces for its employees.
To see more images of Apple's new campus in Cupertino, CA and to read more about this project click HERE.
Learn more about 2011 design trends in Commercial Interior Design HERE.
See how different colors send us different messages HERE.
To request your project's personalized design quote from Mindful Design Consulting click HERE.
https://mindfuldesignconsulting.com/wp-content/uploads/2015/07/mindful-design-consulting-logo.png
0
0
Administrator
https://mindfuldesignconsulting.com/wp-content/uploads/2015/07/mindful-design-consulting-logo.png
Administrator
2011-10-10 16:50:48
2011-10-12 22:14:25
Apple's Spaceship Campus – Latest Design News