Sometimes, color is not just an aesthetic addition to an interior, but an integral part of the space itself. Created by In Situ Design together with Lilian B Interiors, the corridors and rooms of the William hotel in New York City are a splendid example of the use of color not only as a decorative detail, but as something more integral to the entire design concept. This is a colorful hotel interior indeed, yet much more than that.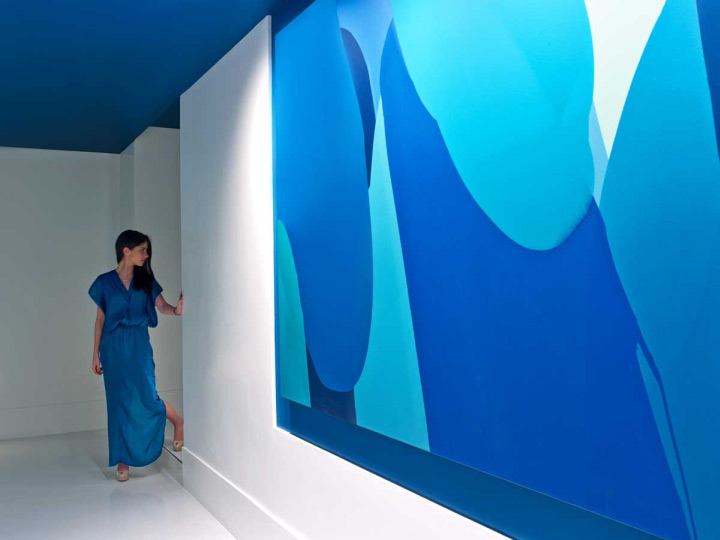 Here, color is an intrinsic part of the interior. If in most spaces, wall paintings are more of a final touch-up, in this case, the design and the art grew from each other. The idea was to allow the art to flow into the rooms and define the space. Large abstract paintings cascading with color populate the corridors, bleed onto the ceilings and walls, and continue into the guest rooms.

In the guest rooms, the color advances onto the walls and niches, then descends onto the fabrics, furniture and floor coverings. The sense of color flowing from one space to another gives the room the impression of an ever-evolving artistic composition.

This use of color is not simply a smart design trick used to create a "cohesive" interior. Color was nothing less but a tool in the creating process. Sharing a studio with the designers, the artist worked on the paintings as the design developed and evolved. The two creative processes mingled and fed on each other, with the rooms growing from the paintings and the paintings evolving with the rooms. The result is a colorful hotel interior in which the entire space is the artwork.

Each of the five levels of the hotel received a distinct color treatment in blue, teal, pink green or orange. Using the designers' expression, this is "unapologetic color" at its best.
Via retaildesignblog.net
Interior Architecture and Design: In Situ Design
Interior Design: Lilian B Interiors
Paintings: William Engel
All photos: Eric Laignel and Eric Striffler via retaildesignblog.net
Please take a look at our Before and After images of selected projects from 2015 HERE.
If you are thinking to open up a new business or in a process of rebranding and remodeling your existing business, contact us to get a free consultation from Mindful Design Consulting. Click HERE to price your project design.

Also, take a look at the "Branding By Interior" e-book, the only book written on this subject at this time. It brings insight into how you can turn your business into a market-dominating competitor by using human cognitive responses.
https://mindfuldesignconsulting.com/wp-content/uploads/2016/10/Colorful-Hotel-Interior-Design-720x427.jpg
427
720
Administrator
https://mindfuldesignconsulting.com/wp-content/uploads/2015/07/mindful-design-consulting-logo.png
Administrator
2016-10-15 00:02:13
2022-05-20 17:54:37
Art and Design Grow From Each Other in Colorful Hotel Interior