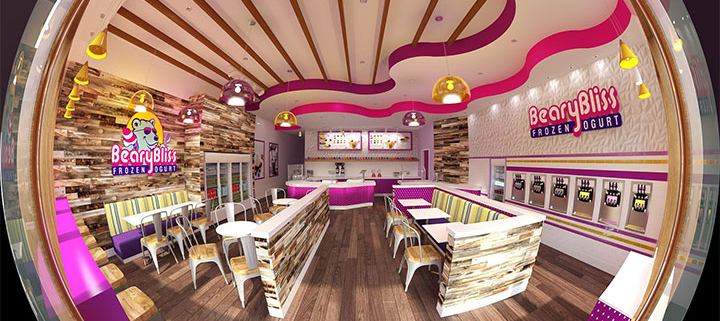 One of our latest project is a frozen yogurt shop design and branding for a store located in a newly raised building in a beautiful Californian tourist location. Big Bear Lake is a four-season destination for those who enjoy skiing, hiking, fishing, mountain biking or just the view of breathtaking landscapes. Close to both Los Angeles and San Diego, its mountains and lake are the perfect backdrop for the new Beary Bliss frozen yogurt shop.
The new building that houses the shop was constructed with its future use in mind, which made possible an interior design more in tune with the owner's vision, and less restricted by the inconsistencies of an old location.
While we view and design every dessert store as an escape for those in search of a few moments of relaxation, a fun interior was even more important in a tourist location where customers expect to be pampered. The image we came up with pays tribute to both the mountainous location and the fruity flavors of frozen yogurt, both cleverly captured in the very name of the store.
We achieved the goal of creating a fun, fresh and invigorating interior by using bold colors, daring patterns, a handful of architectural details, and a mix of textures that keeps everything fresh and interesting. Every corner of the store invites the eye to discover a new detail, a different use of the color palette, a unique finish or another kind of visual surprise, which makes for an energizing frozen yogurt shop design.
Small seating areas or "rooms" separated by half walls give customers a sense of privacy without closing the view. The knee walls are new opportunities for colors and patterns: Some of them are lined with the same polka-dot wall paper used on the sides of the front counter. This charming touch ties in with the spirit of the dessert store and its colorful treats, and adds a playful vibe that makes customers relax.
In each of these seating areas, tables of different shapes – square, round or rectangular – create a unique look. The half walls are also an excellent way of directing traffic and keeping the self-serve area easy to navigate.
Paint, white textured walls reminiscent of snowy mountains, and wood panels with a rustic vibe combine to give the walls plenty of personality. The wood floors and wood panels are inspired by the mountainous location. We chose chairs that mix white metal and wood to tie in all these elements together.
The ceiling landscape is as engaging as the rest of the interior. Wavy layered soffits enhanced by pink and purple pink tones mix with ceiling beams to shape its look and to define the functional areas below. Track and recessed lights combine with white, yellow and purple pendants to give even more character to the ceiling and bring in a delicate touch with their transparent glass shades.
We completed the Beary Bliss branding package with colorful business cards whose colors and graphics capture the energy of the place.
Beary Bliss is located at 685 Pine Knot Blvd., Big Bear Lake, California, 92315.
If you are thinking to open a new business or are in the process of rebranding and remodeling your existing business, contact us to get a free consultation from Mindful Design Consulting. Click HERE to price your project design.
Also, take a look at "Branding By Interior" e-book, the only book written on this subject at this time. It brings insight on how you can turn your business into a market-dominating competitor by using human cognitive responses.
https://mindfuldesignconsulting.com/wp-content/uploads/2021/09/Frozen-Yogurt-Store-Design-Mountain-Location.jpg
405
720
M T
https://mindfuldesignconsulting.com/wp-content/uploads/2015/07/mindful-design-consulting-logo.png
M T
2021-09-08 21:00:35
2021-09-08 21:11:40
Beary Bliss Frozen Yogurt Shop Design by Mindful Design Consulting