Beyond its "cool" factor, 3D printing is not only a convenient way to create objects like simple toys or beautiful furniture on the spot, but also one with great environmental implications. By using 3D printers to circumvent mass production and manufacture products on demand, the technology greatly reduces material and energy waste. It can also keep plastic out of landfills by reusing plastic waste turned into filament and into one of the most ubiquitous 3D printing materials.
However, as long as the technology primarily uses plastic, there is still tremendous room for improvement in terms of its eco-friendly virtues. Enter Emerging Objects, a San Francisco-based innovative manufacturer in the field of 3D printing, and one that takes upon itself to develop unique materials for this technology.
Emerging Objects, founded by Ronald Rael and Virginia San Fratello, is particularly interested in creating materials and designs for large 3D printed structures used in buildings – and taking a more "green" approach to this (still) new technology. The idea is to replace plastic with materials that are sustainable and recyclable, while improving on the strength and qualities of conventional ones.
So far, their portfolio is both impressive and fascinating. Using materials such as salt, sand, wood and clay, they created ingenious, functional and visually stunning objects.
Here is, for example, their 3D printed concrete planter brick. Perfect for building attractive planter walls, they also function as noise buffers and help in regulating the building microclimate.
The bricks can be used in conjunction with conventional bricks in old or new walls.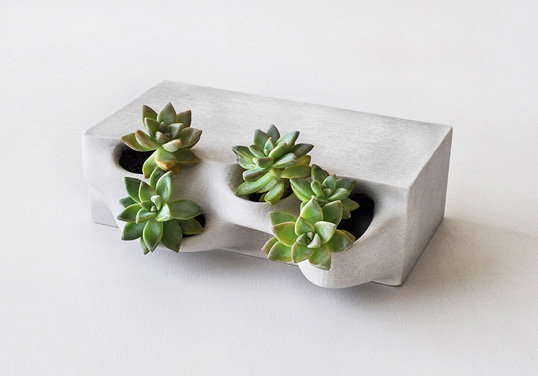 Made of recycle agricultural waste, this 3D printed wood block has a surface that mimics the look of real wood grain. Customized wood blocks can be used in masonry projects or in creating unique interior design elements.
Made of salt, this Haeckel Bowl is translucent and can be processed for added durability.
© Emerging Objects via treehugger.com
With the massive discarding of tires that takes place in the modern world, recycling this otherwise easily accessible material using 3D printing is a way to reduce its ecological impact. This Rubber Pouff is 3D printed using a powder obtained from recycled rubber tires. However, the possible applications of such a material are many – from outdoor furniture to noise-absorbing wall panels.
Via treehugger.com
All photos: © Emerging Objects
Please take a look at our Before and After images of selected projects from 2016 HERE.
If you are thinking to open up a new business or in a process of rebranding and remodeling your existing business, contact us to get a free consultation from Mindful Design Consulting. Click HERE to price your project design.

Also, take a look at the "Branding By Interior" e-book, the only book written on this subject at this time. It brings insight into how you can turn your business into a market-dominating competitor by using human cognitive responses.
https://mindfuldesignconsulting.com/wp-content/uploads/2017/09/Geen-3D-Printing-Materials-for-Interior-Design.jpg
557
720
M T
https://mindfuldesignconsulting.com/wp-content/uploads/2015/07/mindful-design-consulting-logo.png
M T
2017-09-27 19:28:54
2022-05-20 14:22:21
Beyond Plastic – New Green 3D Printing Materials for Eco-friendly Design