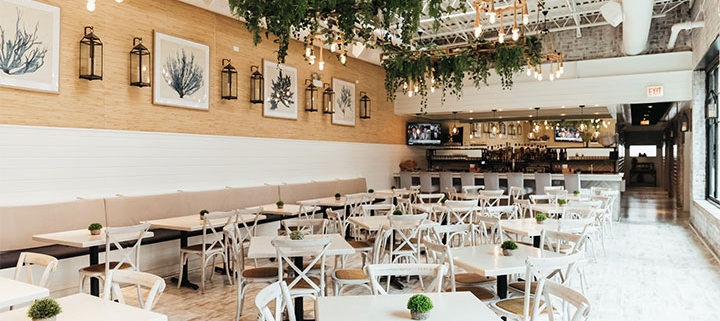 When working on your restaurant or dessert shop interior design project, you need to carefully consider your seating options. The reasons are simple. First, you need to purchase your chairs or bar stools in large numbers, so this will use a big chunk of your budget. Second, the type of chairs you buy influences your clients' behavior and especially how long they linger about.
In addition, it helps considering the new trends in restaurant furniture, especially when you want to create a hip or cool vibe and attract the Instagram-loving crowd. To make things easier for you, we put together a few resources you can use when looking for seating options, plus a handful of trendy ideas to spark your imagination.
(Photo on top by Jonathan J. Castellon on Unsplash)
Online Stores
For cheap, budget-friendly options, online stores such as RestaurantFurniture.net are great places to buy chairs, stools or booth seating items. Here, you can find trendy pieces with lots of character and easily suitable to specific types of decor. This industrial chair, for instance, is ideal for a retro or modern space, while its neutral-color version pairs well with wight walls and abundant greenery.
Mantis industrial-style metal chair from RestaurantFurniture.net
Do not ignore other general online stores, such as Pier1. Even though they carry residential-use furniture, these pieces can easily be adapted to commercial use. In fact, the meticulous design of some of these chairs, made to shine in small places, may show a very appealing attention to detail in a restaurant setting and fill your place with beautiful ornamental elements typically missing in a commercial space.
Photo: Pier1
While you may have to change such chairs more often than the ones designed for commercial use, you can choose less expensive pieces and go with a more contemporary style, typically more suitable to heavy use.
Specialized Stores
Of course, stores specialized in restaurant furniture are your best bet. If your budget allows you to invest more in higher quality pieces, consider stores such as Rustic Restaurant Furniture when you buy chairs. The store sells chairs made of reclaimed wood, a detail you can later use to attract an environmentally minded clientele. In addition, their chairs fit well urban industrial restaurants, farmhouse interiors and commercial spaces with a rustic vibe.
Brew House industrial-style bar stools with scooped backs from Rustic Restaurant Furniture
Industrial-style bar stools with red metal frame from grandrapidschair.com
Modern style bar stools with blue metal frame from grandrapidschair.com
Modern style bar stools with blue metal frame from grandrapidschair.com
Etsy
If you have not thought of Etsy as a source for buying restaurant chairs and stools, reconsider. Etsy chairs are of great quality, fairly inexpensive, often handmade and usually customizable. It is good to remember that, even when it comes to interior design pieces, the personal touch is not lost on your customers.
These handcrafted bar stools, for instance, are made or reclaimed wood, so each of them is unique.
Bar stool from Rustic Land on Etsy
To go with an industrial-style restaurant, these rebar stools, also made from reclaimed wood, can be customized to your bar height. Even better, the manufacturer offers volume discounts if you buy chairs in large quantities.

Reclaimed wood bar stool from Southern Steel and Wood on Etsy
Commission Salesperson
If you prefer the convenience of a personal relationship with your furniture provider, you can buy more sophisticated, high-quality furniture through a commission sales person. This comes with the additional advantage that, in case you need to return or replace damage products, the salesperson will do it for you.
You can purchase beautiful products from companies such as Malik Gallery, who loves pushing the envelope in the interior design world and experimenting with new materials, shapes and possibilities. For your bar lounge, for example, these upholstered lounge chairs create a modern vibe with their rectangular steel structure.
Memoria Lounge Chairs from Malik
These stackable chairs have an upholstered version and come in both neutral and bright colors.
Era Stackable Armchairs from Malik
Another company you should consider is Sandler Seating, with a heavy tradition in design awards and one-of-a-kind pieces.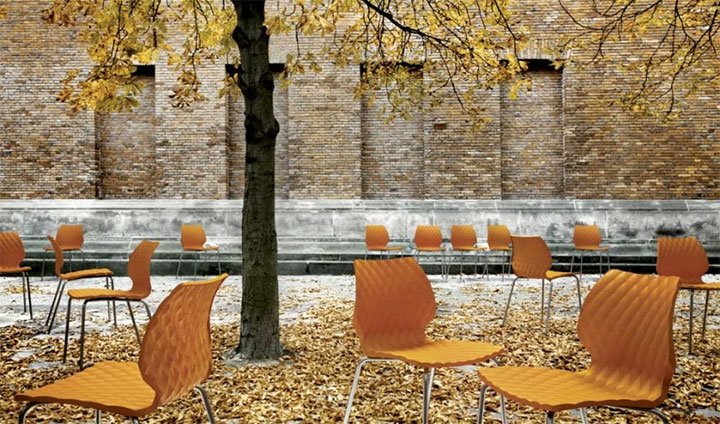 Oudoor Chairs from Sandler Seating
If you love unique pieces, here is an outdoor structure built by bringing together a series of Sandler Seating's River Snake stools.
River Snake stool from Sandler Seating
The same product in an indoor setting (and a monochrome combination) looks elegant and clean, replacing the customary chairs with a singular, cohesive piece.
River Snake stool from Sandler Seating
The company offers gorgeous upholstered bar stools with stitched details and wood or metal legs, that look elegant and inviting.
San Diego distillery furnished with Rose chairs from Montbel Collection, Sandler Seating
Finally, the Quo chairs from the same company can define a space as hip and modern with only their slim silhouette and singular shape.
L'Oréal Headquarters, New York, furnished with the Quo chairs from the Tonon Collection, Sandler Seating
If you are thinking to open up a new business or in a process of rebranding and remodeling your existing business, contact us to get a free consultation from Mindful Design Consulting. Click HERE to price your project design.

Also, take a look at "Branding By Interior" e-book, the only book written on this subject at this time. It brings insight on how you can turn your business into a market-dominating competitor by using human cognitive responses.
https://mindfuldesignconsulting.com/wp-content/uploads/2020/04/2020-Trends-in-Restaurant-Chairs.jpg
480
720
M T
https://mindfuldesignconsulting.com/wp-content/uploads/2015/07/mindful-design-consulting-logo.png
M T
2020-04-08 21:12:46
2020-04-09 17:00:16
Where to Buy Chairs for Your Restaurant or Dessert Shop