When deciding to enter the world of business ownership, you have two ways to go about it: first, buy an established and well-tested franchise; second, create your own brand and start from the ground up. Both are viable options that come with pros and cons. Choosing the path that is best for you depends on the type of your business, the risk you want to take, the money you want to make, and most of all, the freedom you want to have in making business decisions.
To make the "franchise versus new brand" choice an easier task, we put together a list with the good and the bad in each alternative, that you can weigh against your own ambitions.
Buying a Franchise
When buying a franchise, you rely on the proven success of an already established business. Some specific niches in which the failure rate is high, such as the restaurant industry, are fertile business fields for franchises. If you feel that the security that comes with a successful past is more important than doing it your own way, here are a few more reasons you may want to buy a franchise.
Above: Kung Fu Tea a popular New York Franchise store, location in Carmel Mountain Shopping plaza, San Diego, CA. Interior design and building permits by Mindful Design Consulting
Franchise Pros
The best thing about buying a franchise is the fact that there is no need to reinvent the wheel. You ride on someone else's success – and not only. Someone else's ideas, creativity and accomplishments are the solid ground on which you start. Because of this, investing in a franchise is much safer: What worked once, may very well work again.
With a franchise, you are never alone. You have access to resources, expertise and professional help whenever you need them. In case you don't have any experience, training is available. You are dealing with an already working system and business strategy, which means that it is easier and much faster to start. If speed, support and less financial risks are important for you, this may be the way.
Franchise Cons
Unfortunately, many of the franchise advantages can be seen otherwise, depending on what is more important for you. It's true that you are not alone in your enterprise, but this may turn out to be more of a nuisance than a plus. Decisions are made for you, and you have little say in them, other than offering your suggestions and maybe trying a few minor things here and there.
This means that you cannot simply adopt local trends or adapt to market changes as you see fit. You have no freedom over your restaurant's menu, look and service system. Even more, you are told where to buy your products and equipment, and required to update your interior, with your own money, if so decided by the franchise company. This essentially means that you cannot save money if a change is dictated at the company level.
In fact, as a franchise owner, you are not exactly an entrepreneur, but part of a bigger system. The franchiser will be making more money, and you will enjoy only a small part of it. Your profits will not really be your profits, except if you also accept more of the risks.
Above: Cookie Cutters – a famous children's hair salon. San Diego location designed by Mindful Design Consulting
Building Your Own Brand
Freedom is probably the most important reason when deciding to build your own brand. Together with your novel ideas, your ambition as a true entrepreneur and your enthusiasm to build something that has not been done before, it is a decisive factor in choosing a start-up instead.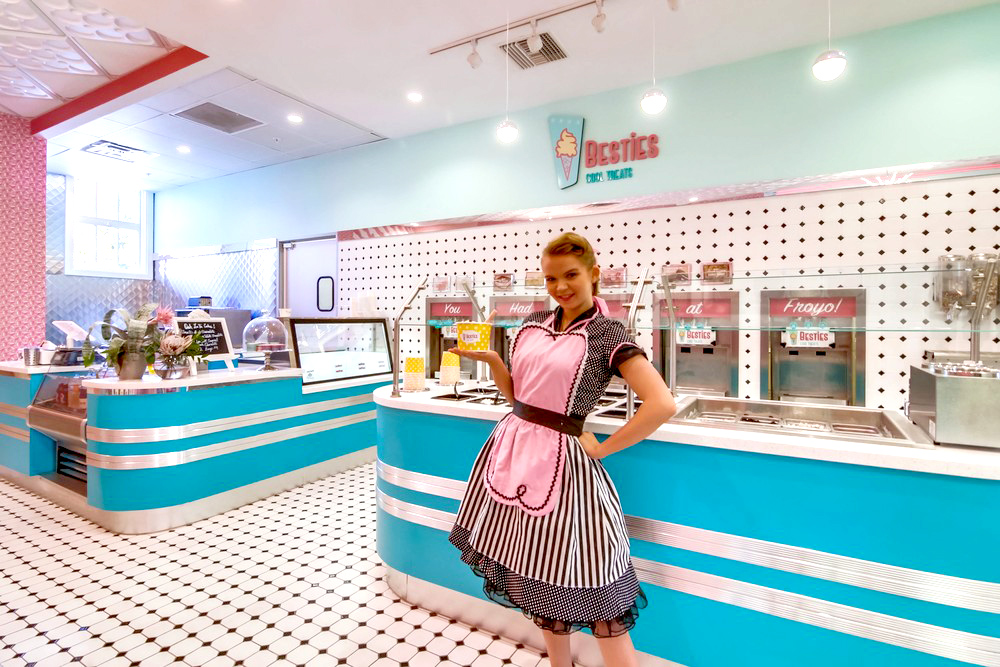 Above: Besties Cool Treats – a new brand created by the owner. Branding and interior design by Mindful Design Consulting
New Brand Pros
When you decide to build your own brand, you are in charge. You can open and grow at your own pace and even go big and create a new franchise based on your brand. You can build up and sell your business or decide to take a turn and rebrand as you wish.
When it comes to business operations, all decisions are yours. You create your menu, you set your work hours, and you have the first and final say on your interior space and the image you want to put forward. You survey the local market and have the choice to adapt to it fast. You can make great use of your own creativity and come up with innovative strategies instead of just putting into practice someone else's vision.
In exchange for all this, all profits are yours. This means that you can save or invest, or simply choose where and when you can cut corners, if the need arises. You are the master of your coffers because you have filled them yourself.
Above: Olala Crepes – a new brand created by the owner. Branding and interior design by Mindful Design Consulting
New Brand Cons
As in any other aspect of life, with true freedom come true responsibilities. The downsides of establishing your own brand are not at all negligible. First, a new brand that starts with a never-tested idea has a higher failure rate than an already successful franchise. There is no established market, no recognizable brand and no existing customer base. You have to invest your own money in advertising – after you come up with your own advertising strategy. Because you travel off the beaten path, your financial risks are substantially larger.
From an operational point of view, you need to build every aspect of your business from the ground up, which takes time and lots of work. You need to come up with your own service system, create your own menu, establish your own supply line. In case you need help, you are left to find your own support group. The responsibility of every decision sits on your shoulders, so going for the latter in the " franchise versus new brand" choice is truly the test of the real entrepreneur.
Above: Alpine Chill – a new brand created by the owners. Branding and interior design by Mindful Design Consulting
If you are thinking to open up a new business or in a process of rebranding and remodeling your existing business, contact us to get a free consultation from Mindful Design Consulting. Click HERE to price your project design.

Also, take a look at "Branding By Interior" e-book, the only book written on this subject at this time. It brings insight on how you can turn your business into a market-dominating competitor by using human cognitive responses.
https://mindfuldesignconsulting.com/wp-content/uploads/2010/12/My-Yogurt-frozen-yogurt-shop-design-and-branding-colors.jpg
1000
1500
M T
https://mindfuldesignconsulting.com/wp-content/uploads/2015/07/mindful-design-consulting-logo.png
M T
2020-06-17 20:45:23
2021-08-21 10:12:36
Buying a Franchise versus Establishing Your Own Brand – Which Is Better?