As one of the most important aspects of interior design, good lighting can make the difference between a warm, inviting place and one that misses the spot. When light fixtures are not in the right place, do not agree with the general vibe or are just an afterthought, even a well-designed commercial space can look flat and uninspiring. By contrast, good lighting gives an interior that undefinable something that attracts customers and makes them want to linger around for a little longer.
What Great Lighting Can Do for You
Create ambiance. So how can lighting enhance your decor and help your business put its best face to the world? First, think ambiance. Placing your lights in the right spot and choosing the right design and intensity is a game changer in creating the perfect atmosphere. On the other hand, a sharp beam in a place more suited for subtle illumination tires the eye, and poor lighting in an office affects not only mood but also productivity.
Naomi Paul Textiles light fixtures.
Highlight best features. If you have a feature that you want to draw attention to (a painting, an architectural detail, a piece of furniture etc.), lighting is the best way to do it. No matter how well you choose your wall treatment, furniture or accent pieces, the wrong lighting can make them melt in the background and be less effective.
Studio WM light fixtures.
Add color and character. Light fixtures are not only effective in drawing attention to other elements of decor, but can themselves become your best features. Oversized light shades, for instance, can fill a space, define your interior and give it character. In fact, some commercial spaces make light fixtures the main actors and use them in combination with unique ceiling details or unexpected materials to make a statement and awe customers. Finally, the colors of your light fixtures can tie your space together and add the final touch to your decor.
LundLund Minimalist Scandinavian Wooden Pendant Light.
How to Choose Lighting for Your Interior
Next to a new wall paint color, changing your light fixtures is the easiest way to improve the look of your space and make sure it looks new and fresh. In fact, some successful restaurants redecorate every three years, often making new light fixtures part of the change.
So, if you decide that your interior needs new lighting, remember that changing your lights is easier than it seems and can have as big an impact as changing the colors of your walls. We always recommend that you use the services of an interior designer when you choose lighting for your commercial space. The educated eye of an interior designer can make the difference between a bad, good and an excellent choice in light fixtures, and recognize the best way to emphasize your interior's best features. A professional also knows where to get what you need.
Budget. However, if your budget does not allow the services of an interior designer, here are a few things to consider when you take upon this task. First, how much money can you spend on the new light fixtures? This is important, especially when you do a more comprehensive redesign of your space. Keeping within the allotted lighting budget will stop you from falling in love with the first expensive set of lights, cutting corners in other areas as a result, and ending up with a less than perfect result.
Canalla Bistro restaurant design in Mexico City. Designer: Francesc Rifé Studio. Photo: David Zarzoso via contemporist.com
Features to highlight. Second, what are the features you want to highlight? This will tell you what kind of lighting you need (for example, sconces versus ceiling lights, or downward versus upward lighting). It will also suggest the intensity of light that would be appropriate for your purpose, such as strong direct lighting versus softly filtered light for an intimate ambiance.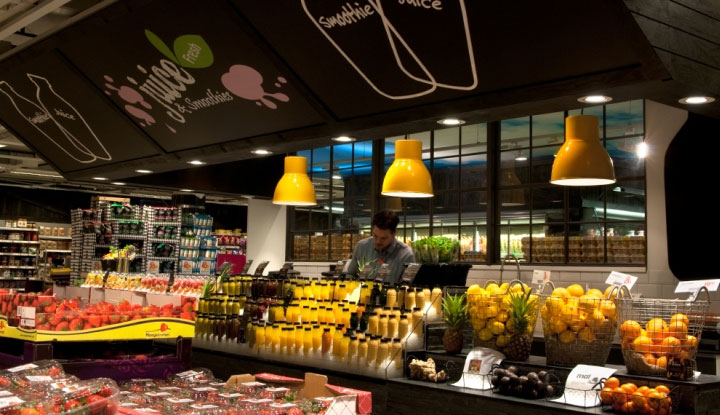 Smoothie bar design in Stockholm. Designer: IDEI Concept AB / Jan-Ove Sönnerbo. Photo via retaildesignblog.net
Anglepoise Original 1227 Giant Pendant in Yellow.
Color and style. Third, what lighting style is best suited to your decor? A rustic light fixture will most likely look out of place in a modern decor, and an industrial one will prove a little too much for a traditional space. Of course, you can always use some contrast and employ the surprise element to make a statement, but here is exactly where you need the experienced eye of an interior designer to know how to make it.
Finally, what colors go with your space? Here too, you can choose lighting that can bring in some necessary chromatic contrast or just to tie in the colors of your space.
My Yogurt frozen yogurt store in San Diego, CA. Designer: Mindful Design Consulting
Kartell FLY Pendant Light by Ferruccio Laviani
Please take a look at our Before and After images of selected projects from 2018 HERE.
If you are thinking to open up a new business or in a process of rebranding and remodeling your existing business, contact us to get a free consultation from Mindful Design Consulting. Click HERE to price your project design.

Also, take a look at "Branding By Interior" e-book, the only book written on this subject at this time. It brings insight on how you can turn your business into a market-dominating competitor by using human cognitive responses.
https://mindfuldesignconsulting.com/wp-content/uploads/2019/05/unique-light-fixture-4.jpg
1004
1728
M T
https://mindfuldesignconsulting.com/wp-content/uploads/2015/07/mindful-design-consulting-logo.png
M T
2019-05-05 13:29:37
2019-10-15 23:10:32
How to Choose Lighting for Your Commercial Space