Sheesha Lounge Interior Design by Mindful Design Consulting
Location, location, location… You know the old adage, chanted by both real estate professional and business owners with an eye on profits. They preach it because it's true. No matter how fabulous your menu or how unique your interior design, if the location is poorly selected, your chances of success are questionable at best.
So, before you decide on your new restaurant location, here are 7 things to consider.
Sheesha Lounge Interior Design by Mindful Design Consulting
Restaurant location details. There are many details to analyze and study before you deem a location as perfect for your business. Is there a healthy foot or car traffic that will ensure an equally healthy flow of clients to your restaurant? Is there another point of attraction close to your restaurant, such as a park or a movie theater, that could send potential clients your way? Any office buildings that can supply you with hungry lunch seekers in the early afternoon hours?
Look at the surrounding businesses and study how they do. Their measure of success (or lack thereof) is a great predictor for your own. Make sure that the area is safe, since no one wants to fight crime whenever in the mood for grabbing a bite. Finally, make sure the restaurant location is visible and easy to access by that segment of the population that acts on impulse and wants to try a new restaurant on the spur of the moment.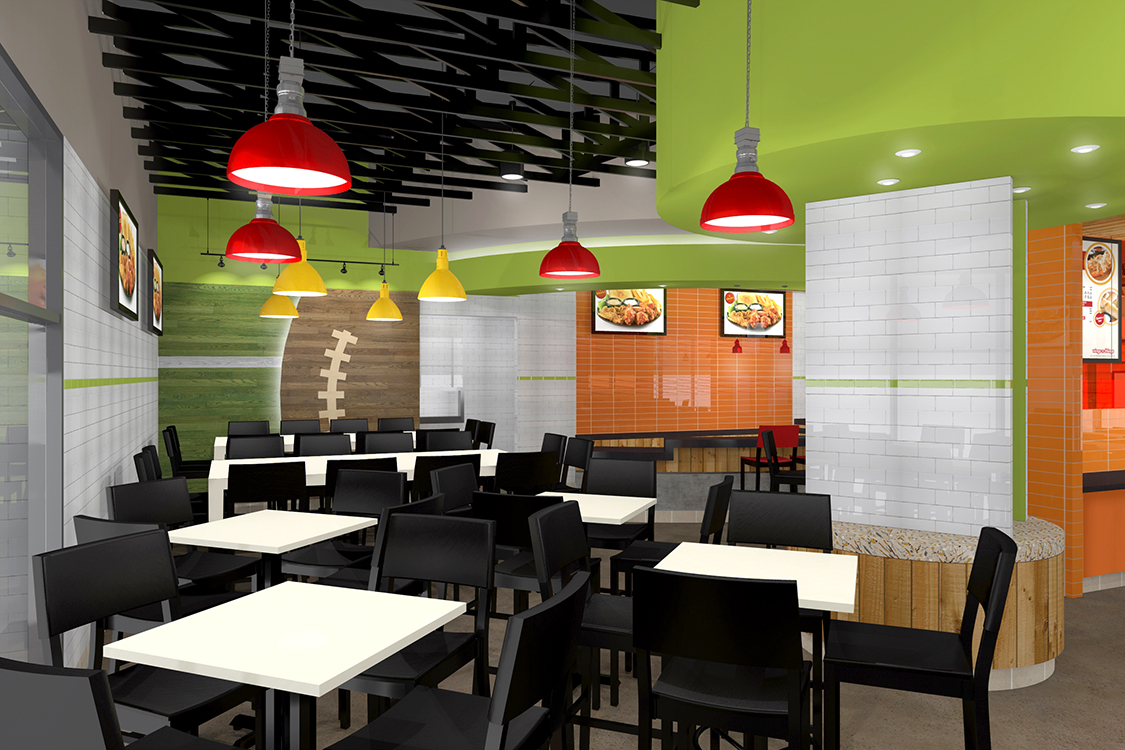 Wings N' Things Restaurant Design by Mindful Design Consulting
Competition. If the area you are looking at is saturated with restaurants, you will have to work hard to compete with established businesses that already have a loyal clientele. However, if you bring something new to the table, you may be more than welcome in the area. Make sure, however, that there is no restaurant similar to yours on a two-mile radius. While your restaurant may not be unique, it may be just the right thing in a neighborhood that craves what you have to offer.
Wings N' Things Restaurant Design by Mindful Design Consulting
Mall versus street location. Do not choose a mall location if there is a similar type of restaurant in there already, unless visitor numbers make sense. If you do, you will be sharing the same clients. We have seen this scenario played out many times when it comes to ice-cream and yogurt shops opened in malls. Usually, one of them ends up running out of business and closing doors.
Cafe FroYo Interior Design by Mindful Design Consulting
Parking. Unless your location is in a walkable area such as a downtown of a large city, make sure you have a large enough parking area, calculated for the number of visitors you expect to serve at the same time. If your restaurant location does not have its own parking lot, a second option is to find a place close to a municipal parking space. Either way, remember that, if your visitors don't have an accessible, easy way to park their car, they are most likely to give up any attempt to eat in your restaurant.
Cafe FroYo Heavenly Interior Design by Mindful Design Consulting
Former restaurant. One way to save money is to look for a place that used to be a restaurant. Such a location means that you do not have to change occupancy, add a new kitchen, or redo the plumbing and restrooms. When you look into these details, don't forget to consider building safety issues. Choosing a building that is already up to code can save you money, time and effort.
A word of caution, however. Make sure you know why the former restaurant closed its doors, whether it is competition, rent or accessibility. If it is a problem related to location, reconsider your choice. Also keep in mind that you may end up paying for the shortcomings of the former business that used to operate in your building. Former unsatisfied customers may avoid your location without even noticing that the place changed hands.
Hot Dog Bar Restaurant Design by Mindful Design Consulting
Numbers. Taking risks is part of any restaurant business, but try to minimize them as much as possible. Know your numbers and do a pro forma that allows you to take a glimpse into the financial future of your business. Consider the available physical space and keep in mind that, once all your equipment is installed, the interior may be smaller than it appears. A larger kitchen can serve more tables; on the other hand, starting small and testing the waters is a better option if this is your first restaurant.
Krisp Pizza Restaurant Design by Mindful Design Consulting
Layout. Before deciding if the location you are looking at is the right one for you, hire a designer to do a preliminary layout. It is better to invest in this type of services early than to realize the shortcomings of your new restaurant location when it is too late.
A designer can offer you basic services such as space planning and code analysis. You can find out if your space is adequate for want you want to achieve, but also if there are any code restrictions that apply to your space. Think water heater, electricity, restroom calculations, fire exit requirements and ADA compliance. Calculating the approximate cost for the tenant improvement project will allow you to decide if the location is worth pursuing. If you need space planning and code analysis services, we are ready to help you.
Olala Crepes Cafe Interior by Mindful Design Consulting
Please take a look at our Before and After images of selected projects from 2017 HERE.
If you are thinking to open up a new business or in a process of rebranding and remodeling your existing business, contact us to get a free consultation from Mindful Design Consulting. Click HERE to price your project design.

Also, take a look at "Branding By Interior" e-book, the only book written on this subject at this time. It brings insight on how you can turn your business into a market-dominating competitor by using human cognitive responses.
https://mindfuldesignconsulting.com/wp-content/uploads/2010/12/Sheesha-Hookah-Lounge-interior-and-branding-design-seating.jpg
840
1500
M T
https://mindfuldesignconsulting.com/wp-content/uploads/2015/07/mindful-design-consulting-logo.png
M T
2018-04-11 19:49:05
2021-07-27 08:59:21
How to Choose your Next Restaurant Location