Corporate Office Rebranding
(Read the original text HERE.)
A lot of large offices are in the process of rebranding their images at the same time as reorganizing and restructuring their companies. The economy has been tough on all of us, and one of the best ways to show everyone the wiliness to overcome the challenges and to improve the employees' attitude is revamping the image of your company. This corporate company was looking for a new identity and a better quality exhibit space for visitors. And here is what we came up with.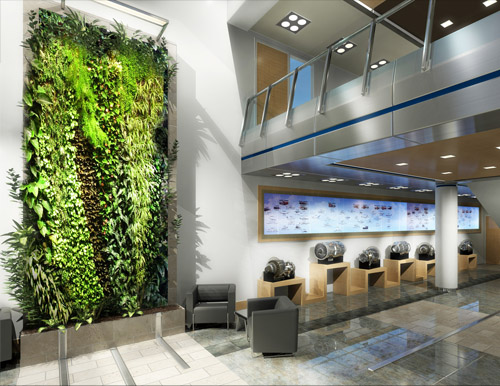 AFTER: Corporate office lobby and the display exhibit proposed design.
We proposed to redesign the lighting layout, use colors of the logo to tie the elements together and use subdued natural California colors of beige, gray and blue to represent the company. We also proposed to bring the metallic outside design style of the building to the interior.
AFTER: Corporate office lobby with a new front desk and logo on the wall.
Adding green walls to the Lobby and the Dining Area will bring nature to the inside and create an inspiring work environment for employees.
Main Lobby and the display exhibit of the company before.
Read more on How to Shape Up Your Business Space in 7 Steps.
Retail Store Remodel
A little retail embroidery store Pacific Apparel is located in Pacific Beach, CA. I love the fact of it being close to the ocean and getting all types of foot traffic and attention from passing cars. The store needed a new identity as well as better signage on the outside.
AFTER: Pacific Apparel's proposed interior design with a new desk, backlit images on the back wall and wood side walls.
We proposed to use the idea of being so close to the water and create a feeling of being inside of a boat. One of the walls will be curving at the ceiling. The front of the store will be displaying t-shirts suspended on boat ropes. We tried to create an atmosphere attractive to a younger crowd and to athletic professionals.
AFTER: Pacific Apparel's proposed display system will show t-shirts with embroideries – the main product of the company.
Read more on same subject: Design of Business' Environment As Branding Support In Services Marketing
Read more news on what we do:
https://mindfuldesignconsulting.com/wp-content/uploads/2015/07/mindful-design-consulting-logo.png
0
0
Administrator
https://mindfuldesignconsulting.com/wp-content/uploads/2015/07/mindful-design-consulting-logo.png
Administrator
2010-12-22 03:14:13
2011-01-02 21:21:19
Commercial Interior Design – Before and After 2010 projects