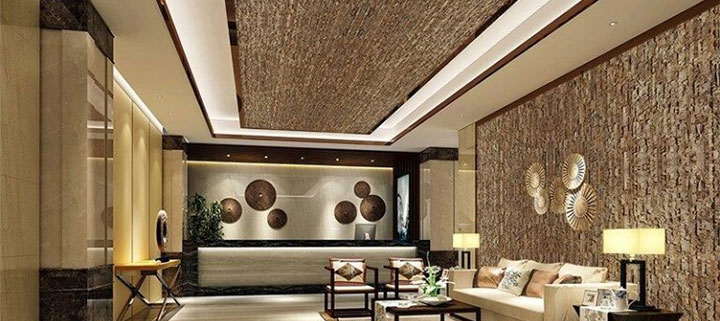 Like everything that is sourced directly from nature, cork combines raw beauty and useful characteristics that are nothing short of amazing when it comes to interior design. Made from the bark tissue of the cork oak that regenerates itself after the harvest, cork is a sustainable material that environmentally conscious designers and business owners can use guilt-free. If cork floors are a well-known interior design options, cork wall tiles and panels are an increasingly attractive one due to their excellent properties.
Photo above: Ledge Stone Cork Wall Tile from iCork Floor
Cork is one of the best wall insulating materials, with both thermal transfer reduction and sound-absorbing qualities. This makes it perfect for those interested in reducing heating and cooling costs, but also for spaces such as offices, theatres or music studios where noise control is important. Fire-resistant, hypo-allergenic, anti-bacterial and free of chemicals, cork is also a great wall treatment for those worried about mild and mildew.
Beyond this almost ideal material profile, however, cork stands out because of its unique natural look. The inimitable pattern of every tile or panel creates a rich display of details that, mixed with the warm wood tones, dresses up a wall in a visually pleasing and comforting manner. Cork can also be stained to achieve other nuances while retaining its natural look, as in the case of the aptly named Blizzard tile from AmCork. Colored with an eco-friendly white tone that mixes with taupe, cedar and ash hues, the tiles provide a more modern feel, perfect for offices in search of a fresh look.
Blizzard Cork Wall Tile from AmCork
Cork tiles are generally easy to install and equally easy to maintain. Self-healing from push pins, they can offer office dwellers not only a large display of natural beauty, but a surface that can assist them in their work.
Blizzard Cork Wall Tile from AmCork
If sound insulation is not your priority, and you just need to give your walls an easy and fast upgrade, you can choose thin cork wall tiles with a peel-and-stick adhesive backing, like the decorative ones offered by CorkHouse.
Decorative Cork Wall Tile from CorkHouse
The beauty of cork wall tiles such as these lies in the fact that their natural look fits into any kind of decor, from traditional to modern to contemporary. Spaces as diverse as workspaces, restaurants, hotels and spas can use the same material and achieve a result perfectly in tune with their design.
Decorative Cork Wall Tile from CorkHouse
Finally, cork wall tiles do not have to be flat or flaunt their corkiness. The Ledge Stone handmade wall tiles and panels from iCork Floor pair the raw look of stone with the qualities of cork. Their heavily textured surface is reminiscent of raw brick walls, yet the roughness of stone is replaced by the softness and lightness of cork.
Ledge Stone Cork Wall Tile from iCork Floor
According to the manufacturer, Ledge Stone is one of the thickest cork paneling on the market. It brings together two types of cork: an agglomerated cork sheeting as the backing, on top of which 100-percent natural cork bark gives you excellent noise-insulating properties.
Ledge Stone Cork Wall Tile from iCork Floor
The Ledge Stone wall tiles are a fast alternative to the hard-to-build brick walls. They offer a similar look paired with the advantages of cork. Consider this option whenever the idea of stone or bricks becomes appealing, but you dread the work involved in such a design.
Ledge Stone Cork Wall Tile from iCork Floor
If you are thinking to open a new business or are in the process of rebranding and remodeling your existing business, contact us to get a free consultation from Mindful Design Consulting. Click HERE to price your project design.
Also, take a look at the "Branding By Interior" e-book, the only book written on this subject at this time. It brings insight into how you can turn your business into a market-dominating competitor by using human cognitive responses.
https://mindfuldesignconsulting.com/wp-content/uploads/2022/06/Stone-like-Cork-Tile-as-Ceiling-and-Wall-Finish.jpg
514
720
M T
https://mindfuldesignconsulting.com/wp-content/uploads/2015/07/mindful-design-consulting-logo.png
M T
2022-06-22 20:15:47
2022-06-22 20:22:53
How Cork Wall Tiles and Panels Bring Value to Interior Design