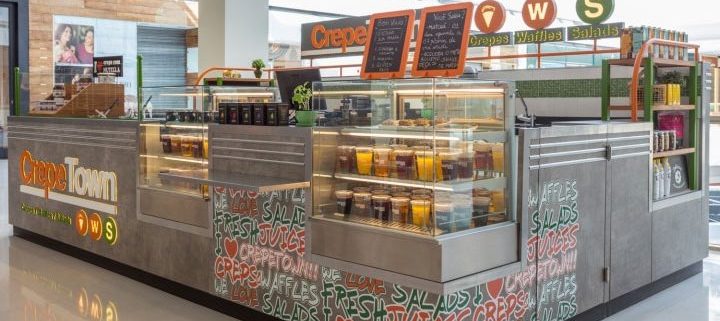 With the CrepeTown kiosk in Sorocaba, Belgian waffles meet New York culture, and they coexist happily in a Brazilian location. This international blend may be the source of success for the kiosk's owner, who is equally passionate about the Belgian signature treat and everything New York. With a cosmopolitan kiosk design, CrepeTown pays tribute to its sources of inspiration and leaves nothing to chance.

Designed by Estúdio Jacarandá, the kiosk takes hints from one of the most iconic yet unpretentious sights in New York – the subway station. The neutral background, the lighted "service bullets", even the lettering of the kiosk sign attempt to capture the vibe of a place that is an intrinsic part of the New York culture.

A simple, multicolored version of the menu in large lettering borrows from the character of subway graffiti art.

Other accent elements are suggestions of what makes up the charm and uniqueness of New York culture and identity: yellow cabs, the Brooklyn Bridge, the Statue of Liberty.

Behind the counters, subway tiles line up the interior walls, in deference to the same New York subway idea.

Even the sense of urgency that fills the New York subway stations has a counterpart in the ability to buy a quick treat while rushing by the kiosk. True to its element of inspiration down to the smallest detail, CrepeTown's cosmopolitan kiosk design is an example of how consistency and a clear vision combine into a successful branding effort.
Via retaildesignblog.net
Designer: Estúdio Jacarandá
All photos: Cezar Kirizawa via retaildesignblog.net
Please take a look at our Before and After images of selected projects from 2015 HERE.
If you are thinking to open up a new business or in a process of rebranding and remodeling your existing business, contact us to get a free consultation from Mindful Design Consulting. Click HERE to price your project design.

Also, take a look at the "Branding By Interior" e-book, the only book written on this subject at this time. It brings insight into how you can turn your business into a market-dominating competitor by using human cognitive responses.
https://mindfuldesignconsulting.com/wp-content/uploads/2016/10/Subway-Inspired-Dessert-Kiosk-Design-720x427.jpg
427
720
Administrator
https://mindfuldesignconsulting.com/wp-content/uploads/2015/07/mindful-design-consulting-logo.png
Administrator
2016-09-07 00:31:58
2022-04-14 11:18:51
Cosmopolitan Kiosk Design Brings Together Belgian Food and New York Culture