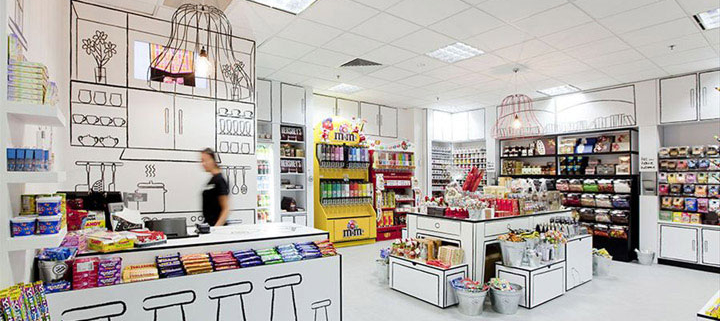 RED Design Group from Australia took an entirely unique approach when creating this fun space for a candy store in Melbourne. When the sugar-free candy company Sweet Enough decided to open one of their own retail locations and fittingly call it The Candy Room, the design firm came up with a novel idea. Going back from a 3-D space to one that looks like it is drawn by the crayons of a talented kid, this candy store interior design calls to mind the pages of a coloring book waiting to be colored in.
Every existing piece of furniture – from counter to display shelves to drawers – is outlined in black and help create the illusion of a two-dimensional world. Additional furniture or accent pieces are simply drawn on wall or counters, teasing the eye to get busy in distinguishing what is real and what is not. Clock, framed portrait, kitchen backsplash, boiling pot on the stove – all these graphically created elements capture the imagination the same way that picture books do. The entire candy store interior design invites visitors to analyze every detail and fill in what is missing.
The overall white background and the simple black trim outline accentuate the bright colors of the sweet treats.
Even the wire-frame light fixtures perfectly complement the design of the store and become part of its two-dimensional scenery. Stepping into the Candy Room, customers don't know what to do first: fight the instant urge to take out their crayons and start coloring or allow themselves to be immersed in this charming, playful world where everything is simple.
RED Design Group was also responsible for the branding and all the packaging throughout the store. The packaging is an extension of the same cartoon theme that uses a minimal design, simple fonts and an easygoing underlying concept.
Learn more about this project on reddesigngroup.com.au
Via archilovers.com
Designer: RED Design Group
All photos: Richard Kendall via archilovers.com
To ask us questions about your commercial interior design project or to get a free consultation from Mindful Design Consulting, click HERE.
Also, take a look at "Branding By Interior" e-book, the only book written on this subject at this time. It brings insight on how you can turn your business into a market-dominating competitor by using human cognitive responses.
https://mindfuldesignconsulting.com/wp-content/uploads/2012/05/Unique-Candy-Store-Designed-with-Penciled-in-Details.jpg
479
720
Administrator
https://mindfuldesignconsulting.com/wp-content/uploads/2015/07/mindful-design-consulting-logo.png
Administrator
2012-05-08 13:59:48
2022-05-20 14:59:40
Candy Store Interior Design Creates Charming Two-Dimensional World