Picture yourself walking in to a huge hotel lobby in Dubai and your first impression is a 4,000 s.f.  crop circle carpet! CROP creates amazingly creative large and smaller scale carpets for commercial or residential application.
The name CROP Carpets is associated with the enormous potential the concept has and the desire of the company to create a connection to the nature through interior.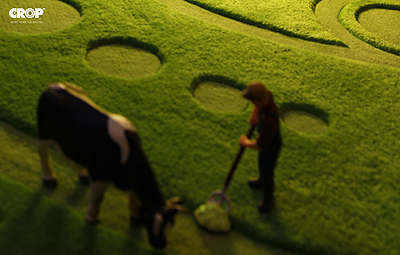 The size of crop circles are sometimes overwhelming and feels like a carpet is in the living room of mother nature itself. How could you use these in your commercial interior design?
The company is not only creative with their rugs design, they are striving to be sustainable and to have minimal effect on the surrounding producing their rugs.
CROP rugs can be placed on the floor or on a wall when designing an inspiring commercial interior.
Here is how CROP Designer Peter Makela interprets Sustainability:
"* Sustainability is an attempt to merge ecology and economy into one system.
* Sustainability means living a life of dignity in harmony with nature.
* Sustainability means renewing resources at a rate equal to or greater than the rate at which they are consumed.
* Sustainability means living within the resources of the planet without damaging the environment now or in the future.
* Sustainability means creating an economic system that provides for quality of life while renewing the environment
and its resources.
* A sustainable community is one that resembles a living system where all of the resources (human, natural and economic)
are renewed and in balance for perpetuity.
* Sustainability is creating a world where everyone can have fulfilling lives and enjoy a rich level of well-being within the
limits of what nature can provide.
* Sustainability means taking the long-term view of how our actions effect future generations and making sure we don't
deplete resources or cause pollution at rates faster than the earth is able to renew them."
Please take a look at our Before and After images of selected projects from 2015 HERE.
If you are thinking to open up a new business or in a process of rebranding and remodeling your existing business, contact us to get a free consultation from Mindful Design Consulting. Click HERE to price your project design.

Also, take a look at "Branding By Interior" e-book, the only book written on this subject at this time. It brings insight on how you can turn your business into a market-dominating competitor by using human cognitive responses.
https://mindfuldesignconsulting.com/wp-content/uploads/2015/07/mindful-design-consulting-logo.png
0
0
Administrator
https://mindfuldesignconsulting.com/wp-content/uploads/2015/07/mindful-design-consulting-logo.png
Administrator
2011-04-07 01:45:37
2016-02-16 18:12:07
CROP Circles Creative Rugs – Commercial Interior