As designers, we are always on an exploration journey to see what is happening in the design world around the globe. Catering to their customers' appetite for fun sweet treats in a relaxed environment, dessert shops and bakeries have the potential to be some of the most entertaining places to visit. Here are only a few cupcake store design ideas that illustrate this point with their strong brand identity and unique character.
Photo above: Les Bébés Cupcakery by JC Architecture. Photo: Kevin Wu
Les Bébés Cupcakery in Taipei, Taiwan has a certain futuristic vibe given by the minimalist design, the placement of the light fixtures and the preference for very clean architectural lines. The angles of the walls and ceilings simultaneously call to mind the shape of a house and that of a cake box, evoking the familiar feel of a domestic environment and the happiness of opening a new treat.
The bold use of yellow against the neutral gray backround projects a sense of taste that reflects upon the high quality of the products.
Les Bébés Cupcakery, designed by architect Johnny Chiu and his creative team at JC Architecture.
Photo: Kevin Wu
Les Bébés Cupcakery by JC Architecture. Photo: Kevin Wu
Trophy is a cupcake store that has the sophistication of a bakery you would expect from France, all transplanted onto American soil. With its perfecty harmonized green minty and chocolate brown tones, the interior suggest both the decadent and he refreshing nature of its treats. The striped awnings are a charming feature reiterated in the shape and colors of the cake boxes.
One of the locations of Trophy Cupcakes and Party in Washington state.
Bright and inviting, the Cioccolato store in Monterrey, Mexico, brings out the kid in everyone with its almost toy-like brand concept. The furniture seems to have gone through a metamorphosis, capturing the texture of dripping chocolate in its solid design. The interior is a definite attraction for customers and the overall look has the unique and surprising factor that defines a winning brand.
Cioccolato pastry boutique by Savvy Studios
Cioccolato pastry boutique by Savvy Studios
Joy is a fitting name for a cupcake store interior that tries to recreate the familiar and warm atmosphere of a domestic kitchen. This nostalgia-inducing shop in Melbourne, Australia, features soft colors, natural timber tools, fabric accents and charming pendant light fixtures that look like upside down cupcake wrappers. The scalloped edge of the counter and the kitchen tools hanging on wooden pegs touch a sensitive chord in everyone's heart.
Joy Cupcakes by Mim Design
Joy Cupcakes by Mim Design
Hello Cupcake's delicate and inspiring interior design is one of our favorites. The strict geometric lines of the store find a beautiful contrasting element in the wavy details of the front counter, the opulent chandeliers and the floral details of the walls.
Hello Cupcake store by Bonstra|Haresign Architects
Hello Cupcake store by Bonstra|Haresign Architects
In our search for awesome cupcake store design ideas, we found the charming Cupcake Central in Hawthorn, Australia. Its charm comes from its modern look, the simplicity of materials such as the unfinished wood siding and the outside walls painted in opaque black paint.
Cupcake Central, Hawthorn, Australia
Georgetown Cupcake store interior design is all about elegance and sophistication. There is a certain classic beauty in the neutral tones, the careful details and the almost formal look of this shop in Washington, DC. A light chromatic palette, metallic light fixtures, wood wainscoting and a simple black menu board come together in a polished and refined interior.
Georgetown Cupcake by Core Architecture + Design
Johnny Cupcakes is a complete opposite of everything you have seen on this list. The shop is a rebel in interior design, branding and overall concept, which works really well. The Johnny Cupcakes brand, which originated in Massachusetts, does not sell cupcakes as one would expect, but clothing. The shop places itself at the intersection of two types of businesses, with fashion products and a cupcake store interior design.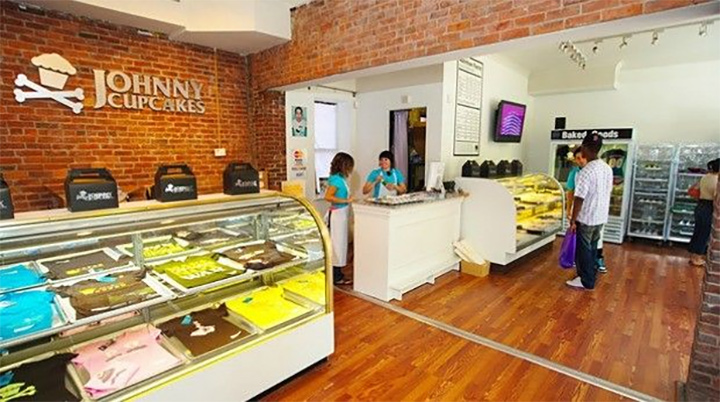 Johnny Cupcakes clothing boutique
Johnny Cupcakes clothing boutique
Let us know what you think about these designs or if you would like to see some other store posted here.
To ask us questions about your commercial interior design project or to get a free consultation from Mindful Design Consulting, click HERE.
Also, take a look at the "Branding By Interior" e-book, the only book written on this subject at this time. It brings insight into how you can turn your business into a market-dominating competitor by using human cognitive responses.
https://mindfuldesignconsulting.com/wp-content/uploads/2013/07/Cupcakes-Store-Interior-Design-1.jpg
1500
2000
Administrator
https://mindfuldesignconsulting.com/wp-content/uploads/2015/07/mindful-design-consulting-logo.png
Administrator
2013-07-08 16:32:50
2022-10-17 09:47:03
Chic, Witty and Downright Audacious – Cupcake Store Design Ideas