Aspen's Dog House in La Jolla, California, is the world's first dog-exclusive pet store, catering to high-end dog lovers. Named after Aspen, a now-thriving three-legged rescue dog who has achieved celebrity status in La Jolla, the store promises an "extravagant experience" for those who want to pamper their pets with the very best. To fulfill this objective, we designed a dog store interior that offers customers a spectacular environment with plenty of visual appeal.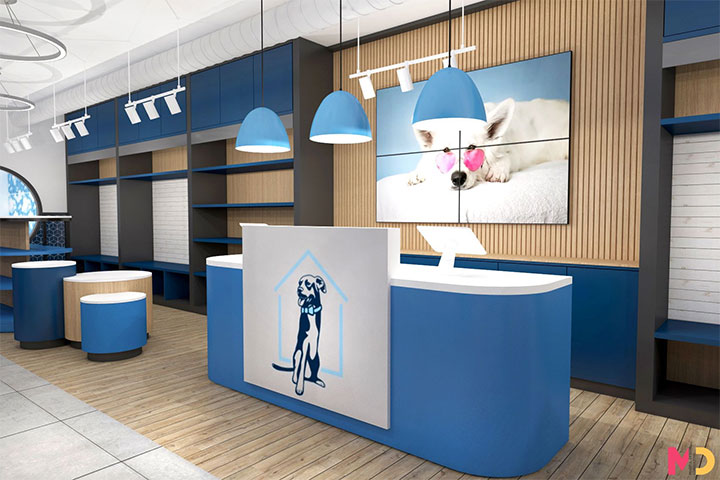 Our goal was to create an interior that mirrored the store owners' enthusiasm for their canine friends and conveyed the same passion to their customers. To achieve this, we used a color palette centered around neutral tones but added a powerful contrast with a vibrant and generously applied shade of blue. We also designed a series of unconventional shelving units, experimented with various texture combinations, and constructed eye-catching structures.
The interior required a variety of distinct functional zones, including a retail area with shelving for displaying dog-related products, refrigerators for food storage, a dog wash area, a waiting space for dog owners, a "coffee break" corner for refreshments, and a front counter. We integrated and delineated these areas through the use of color and texture, creating a complex landscape with an abundance of visual stimuli.
Upon entering, the most eye-catching elements of the store are the round, floor-to-ceiling circular shelving units that give the space a slightly futuristic vibe. Descending from the round soffits in unequal and progressively diminishing circular shelves around an orange column, these unique displays can evoke images of trees or even flying frisbees in the customers' minds. The vibrant blue of the translucent acrylic top structures, combined with recessed lights, attracts the eye and gives the units a dynamic feel and a distinct presence.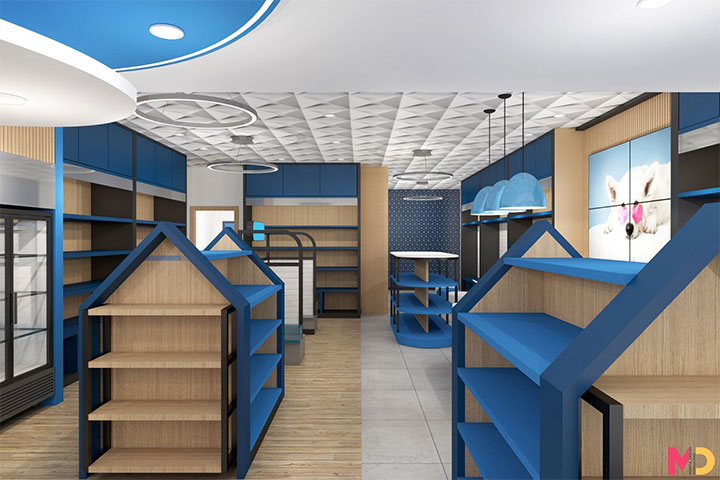 The dog store interior is complemented by various shelving units that create a diverse landscape. Some are oval, some are shaped like dog houses, while others are short and solid. Some are lined against the walls and topped with sliding doors and stainless steel trim. Clear acrylic bins and back-lit translucent acetylic boxes complete the collection. This arrangement allows for the display of a wide range of products, organized by their function, making it easy for customers to browse.
All these elements are unified by the use of the same colors, materials or textures. Neutral-toned plastic laminate makes them easy to keep clean and in excellent condition, while white and blue acrylic provides a consistent and pleasant mix of colors.
The walls provide a similar mix of textures that ensure constant visual interest and prevent monotony. Blue paint and thin wooden panels are paired with slat walls and dark blue wall tiles with clean geometric patterns. A circular one-way-view window adds an unexpected element to the mix, reiterating the circular leitmotif of the store vertically.
We layered the lighting to create a well-illuminated space. Circular LED pendants combine with track lighting above the display shelving area, while blue light shades above the counter introduce additional areas of suspended color that enhance the ceiling landscape. Even the pendants' shade contributes to this pleasant visual collection. All these fixtures maintain circular lines in response to the shelving structures underneath.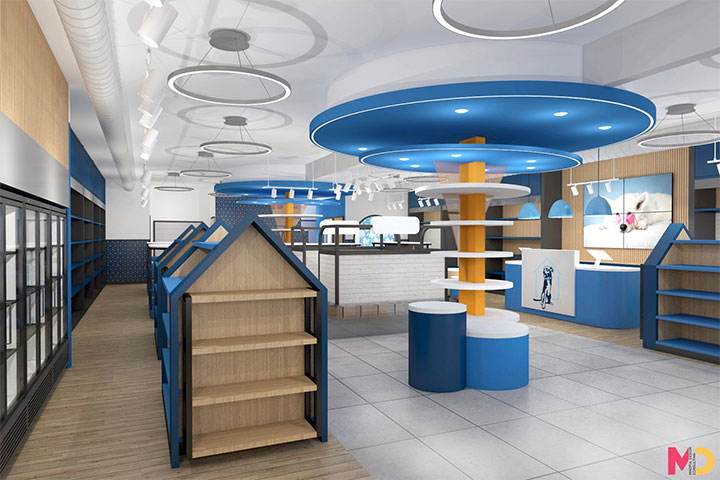 Marked by a "coffee break" neon sign, one corner of the store is designed for customers who need some refreshments. In another corner, upholstered stools provide them with a place to sit while waiting for their dogs.
Oversized store logos are prominently displayed on the side of the point-of-sale counter and on a paneled wall, serving as both branding elements and contrasting features. Behind the counter, a charming picture of a dog captures customers' hearts as soon as they enter

The final design of this dog store interior succeeds in maximizing the space, making it easy to navigate, and offering a dynamic and engaging environment for both dog lovers and their pets.
Designer: Mindful Design Consulting
All images: Mindful Design Consulting
If you are thinking to open a new business or are in the process of rebranding and remodeling your existing business, contact us to get a free consultation from Mindful Design Consulting. Click HERE to price your project design.
https://mindfuldesignconsulting.com/wp-content/uploads/2023/08/Blue-Themed-Pet-Store-Interior-Design.jpg
480
720
M T
https://mindfuldesignconsulting.com/wp-content/uploads/2015/07/mindful-design-consulting-logo.png
M T
2023-11-08 22:06:52
2023-11-08 22:14:34
Dog Store Interior Offers "Extravagant Experience" to Dog Owners and Their Pets