Eco-Friendly Food Containers. Photos via Kavis News, PacknWood
Beginning with the summer of 2015, New York restaurant businesses will be banned from using plastic foam food containers, cups and plates. New York is not the first city to adopt such a measure. San Francisco, Seattle and Minneapolis among others already have such laws in place. More cities are likely to follow.
What are the alternatives for businesses in the food service industry that used to rely on such products to serve their customers? Fortunately, while the soon-to-be-banned containers are made of what is known as expanded polystyrene and are unrecyclable, there are already sustainable food packaging options on the market.
Lunch Box Sets from PackNWood that combines multiple disposables to form a bento box
PacknWood, a company that offers food packaging products made of natural and renewable materials such as sugarcane, cornstarch, cardboard and paper. They also give their product an upscale look so that the business brand is well represented.
These are not only good options for businesses that have to comply with such a ban, but also for all the food service business owners who understand the power of branding. If every product used in running their business can become part of their brand in the customers' eyes, this is even more important when it comes to a product that customers take home.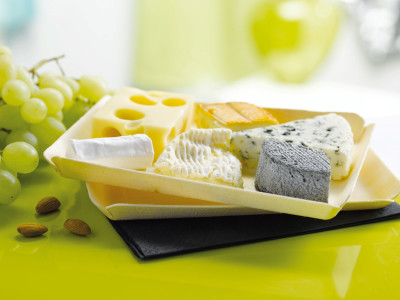 PacknWood Molded Wooden Tray
Old unappealing plastic foam containers are not designed to impress. Using an eco-friendly, well designed alternative may, in fact, prove a huge plus. It is not only that today's customers appreciate environmentally minded businesses, but stepping aside from plastic foam containers also suggests that the business owners are concerned with their customers' health. This can only be good for any restaurant business brand.
Other innovative products can become an important part of an effective restaurant branding strategy. In the UK, for instance, Kavis, a well-known supplier of packaging and food presentation solutions, provides printable packaging products for both hot and cold take-out foods and drinks. These products are made of recyclable materials, are cost-effective and come with the extra benefit of being easily personalized, thus serving as a perfect medium for a restaurant branding.
Tell us if you would use these easily personalized echo-friendly containers in your restaurant business.
Learn about emerging trends of 2015 in commercial interior design HERE.
If you are thinking to open up a new business or in a process of rebranding and remodeling your existing business, contact us to get a free consultation from Mindful Design Consulting. Click HERE to price your project design.

Also, take a look at "Branding By Interior" e-book, the only book written on this subject at this time. It brings insight on how you can turn your business into a market-dominating competitor by using human cognitive responses.
https://mindfuldesignconsulting.com/wp-content/uploads/2015/05/green-echo-friendly-packaging-tacos.jpg
403
700
M T
https://mindfuldesignconsulting.com/wp-content/uploads/2015/07/mindful-design-consulting-logo.png
M T
2015-05-20 21:27:15
2019-10-15 23:20:40
Eco-Friendly Food Containers are Great for a Restaurant Branding