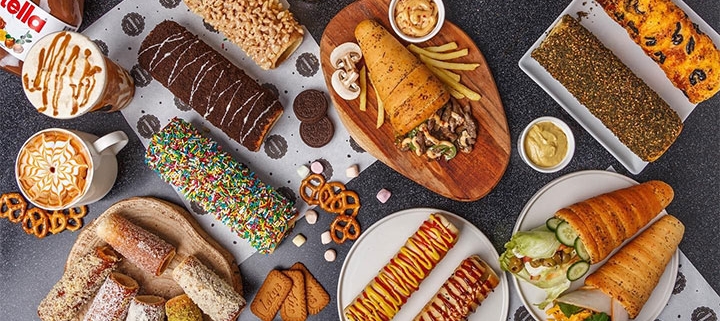 What is a Chimney Cake?
With its satisfying texture and unique taste all packed in an unusual circular shape, chimney cakes, once regional Kurtoskalacs seems to have international ambitions. Those who have tasted it would probably readily acknowledge that this bakery product is well-deserving of global acclaim.
Passionate dessert lovers that we are, we had to know more about the Kurtoskalacs and its path to fame. The best person to talk about it is the one who helped take this regional treat to other corners of the world. Louise Samuel from kurtos-kalacs.com shared with us the history of this unique bakery product, her own experiences with it, and the stories of a few successful Kurtoskalacs entrepeneurs.
Find Louise Samuel on Facebook.
What's in a Name?
The sweet bakery product Kurtoskalacs (or Kürtőskalács) originated in Transylvania, the home of the legendary Count Dracula. Once incorporated by the Austro-Hungarian Empire, Transylvania is today part of Romania. As a consequence, both Hungarians and Romanians claim ownership of the Kurtoskalacs. Over the years, this has led to some very heated Kurtoskalacs-centered arguments.
Bran Castle, a landmark in Transylvania. Commonly known outside Romania as Dracula's Castle
If that wasn't confusing enough, roughly the same product is made in the Czech Republic and Slovakia, where it is called Trdelnik or Trdlo. The Austrians and Germans also adopted the product and named it Baumstriezel.
Unless you speak Hungarian, Romanian, German, Czech or Slovak, you will probably find it difficult to pronounce any of these names. Fortunately, because of the resemblance to a smoking chimney, its English go-by name is Chimney Cake.
Traditional sugar/cinnamon Trdlo served with cream. chocolate and fresh fruits.
Created by Café Trdlo, Slovakia.
The Kurtos Academy
Ten years ago, you would have been hard-pressed to find this product anywhere except for the capital cities of these countries. Louise Samuel, a British entrepreneur living in Slovenia, discovered the chimney cake on a family weekend break to Lake Balaton in Hungary and fell in love with it.
It wasn't just the finished product I adored, but the whole theatre of watching it being prepared.
"Love at first bite" traditional "smokin" chimney cake
Along with her Slovene business partner and Hungarian engineers, Louise established a company where they started to design and build their own baking machines and associated chimney-cake equipment. A Kurtos Academy was set up in Slovenia, with hundreds of people from all over the world passing its doors over the past decade. Louise and her business partner have also been invited to other countries to teach customers and their employees how to prepare and bake the product.
Two sweet Kurtos being baked on a Gas Grill 8 machine.
Created by Twister Cake Bakery, USA.
Making the Chimney Cake
Louise is adamant that chimney cake is not fast food. She doesn't like it when people compare it to waffles or crepes. These are fun dessert foods but, she says, they need minimal training and skills to prepare and serve.
The chimney cake is made from a yeast dough. After letting the dough rise until it has doubled in size, a piece is rolled into a long strip, which is then wrapped around a cooking roll made of wood or stainless steel. The strips of dough are rolled so that they join, then a thin layer of oil is applied before sugar is sprinkled over to coat the dough.
A strip of dough being wrapped around a cornet cooking roll to make a chimney cone.
Then there is more rising… Louise explains that "rising the dough on the cooking roll is extremely important. Small air bubbles form in the dough, and the heat travels through these air bubbles to cook the inside of the chimney cake. This is the stage that some vendors cut short, especially those in busy tourist locations, which results in a raw and uncooked finished product."
Chimney cake dough rising on the cooking roll before baking.
Here Comes the Chimney Cone
Louise and her team have also been innovative. Louise remembers that "the chimney cake was actually a very seasonal product which was popular at winter events, such as Halloween, October festivals and Christmas markets. However, as the weather got warmer, our vendors sales would decline." This was until the team invented the Chimney Cone.
It was during a business trip to Istanbul that the idea came to them.
It was quite warm, and I just knew from experience that people didn't eat so many chimney cakes in warmer weather. It dawned on me that we could simply modify the cooking roll into the shape of a cone. This would allow our customers to put ice cream inside it, making it more of a summer treat.

As the weather gets colder, fresh cream can be substituted for ice cream.
Created by Sisters Kurtos, Slovenia.
The Chimney Cone Takes over the World
One of the first sellers to take up the Chimney Cone idea was a customer in Prague, owner of Good Food Coffee & Bakery. While in the process of opening a new boutique bakery in the beautiful Old Town district, "the owner decided to take one of our chimney cake grills and place it close to the doorway of his new bakery to see if there was any interest from passing tourists. Inside the shop, he produced and sold other homemade bakery products."
"However, in just over a week, photos of his chimney cones had gone viral on the internet (the viral description, unfortunately, was 'ice cream donut') and he could not keep up with the demand. He got back into his car and drove the 750-mile round trip to pick up two more grills and accessories. He then made more space and removed his other bakery products from the shelves, replacing them with chimney cakes and chimney cones."
Today, Good Food Coffee & Bakery has two locations in Prague and has a well-established franchise model with stores in Dubai, Bahrain, Romania, China, and soon in Saudi Arabia. They have moved on from a powder-made soft-serve business formula to making their own ice cream. This enables them to offer a more refined product and more flavours.
One of their most popular products is their Chimney Devil. The cone is coated with coconut and filled with black ice cream made from activated carbon. Activated carbon is said to relieve hangovers, which goes down well in a city famous for its beer and parties.
Find Good Food Coffee & Bakery on Facebook and Instagram.
The Chimney Devil, one of the best chimney cones in Prague.
Created by Good Food Coffee & Bakery
The Savory Chimney Cake
After two years of trading, Louise confessed: "I just could not eat another sweet chimney cake!" Therefore, she tasked her partner to come up with a savory version of the product. And he did.
Traditional sweet chimney cakes and savory alternatives.
Created by Kurtos-Chimney CakeSarasota, USA.
Louise recalls that one of the first customers to develop and sell the savory chimney was Eva's Original Chimneys in Toronto, Canada. "Husband-and-wife team Justin and Kristin Butler came to visit us in 2015. They had sold everything they had and decided to take off and travel the world. Since Justin's grandmother was Hungarian, they visited family in Hungary. During this visit, they discovered chimney cakes, which led them to our Kurtos Academy in Slovenia, where they took a class.
"They started off as mobile vendors. One of their signature bakes was an aged cheddar & herb chimney with a sweet cheese frosting spread on the inside. I was almost tempted to get on a plane to Toronto just to taste it!" says Louise.
Today, Eva's Original has two food trucks, a brick-and-mortar flagship store and three other locations around Toronto. They have also had a lot of success with the sweet chimney cones and offer a large menu. Louise adds: "What I love most about Eva's is how seasonal they are. Whether it's their limited-edition creations for Valentine's Day, Halloween or Christmas, I so look forward to seeing what they will come up with next."
Find Eva's Original Chimneys on Facebook and Instagram.
Created by Eva's Original Chimneys, Canada
The Chimney Cake and the Pandemic
The COVID-19 pandemic has not been kind to food vendors, especially those which had to close their doors and rely on delivering to customers.
At Chimney's Rolls House in Kuwait, the vendors have been concentrating more on the savory offering, as it was in more demand and easier to preserve for delivery.
Their savory versions are served in cones, with both hot and cold filling options on the menu. Their bestselling filled cone is their Steak Italian: marinated slices of tenderloin beef, lettuce, grilled onions, grilled bell pepper, mushroom, provolone cheese, cheddar cheese and a house-made delicious BBQ sauce.
Louise says: 'The company in Kuwait is run by three brothers who are completely different and who held different views when I met them. What they did all agree on was that they wanted to present a superior product and use high-quality ingredients. The brothers saw the potential in the cones as they were easy to fill and easy to eat, even when on the go. Therefore, they developed a hot and cold filling menu around the savory chimney cone.
Chimney's Rolls House's most popular product is their Savory Snack Box – a selection of 12 smaller filled cones, accompanied by dips and sides such as olives and pickles.
Chimney's Roll House is currently in the process of opening a new location in the UAE and is offering a franchise model. However, the owners are approaching the franchise model with caution as they do not want to lose the quality of their product and customer service which they value highly.
Find Chimney's Roll House on Facebook and Instagram.
Sweet and savory options with various fillings and toppings
Created by Chimney's Roll House, Kuwait
The Versatile Chimney Cake
So, just how versatile are chimney cakes?
Chimney cakes can be made and sold by mobile vendors at festivals, markets and other events from a food truck, food trailer or even from inside a gazebo, weather permitting.
The bakery product can be sold from a shop/café or from a kiosk inside a shopping mall.
It can be introduced into an existing business. For example, an ice cream shop can sell them filled with ice cream during the warmer months. When it's cold, it can rely on the more traditional shape, which is warm and comforting.
This bakery product can be savory, eaten as a main meal or snack. Savory snacks are also preferred by those drinking beer and wine, which makes it ideal to serve at breweries and wineries.
As Louise repeatedly says, "there are simply endless possibilities."
Edible glitter. Created by Kurly Kürtősh, USA.
If you are thinking to open a new business or are in the process of rebranding and remodeling your existing business, contact us to get a free consultation from Mindful Design Consulting. Click HERE to price your project design.
Also, take a look at "Branding By Interior" e-book, the only book written on this subject at this time. It brings insight on how you can turn your business into a market-dominating competitor by using human cognitive responses.
https://mindfuldesignconsulting.com/wp-content/uploads/2020/11/Chimney-Cake-Options.jpg
475
720
M T
https://mindfuldesignconsulting.com/wp-content/uploads/2015/07/mindful-design-consulting-logo.png
M T
2020-11-18 21:24:39
2023-03-24 10:48:38
Traditional Eastern European Bakery Product Goes Global – Chimney Cake