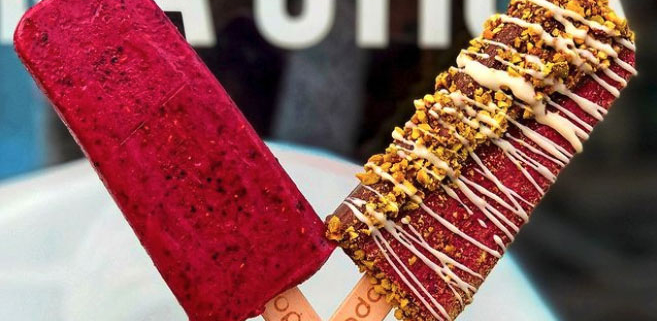 Analyzing the success of famous franchises is an excellent exercise for those who want to become franchise owners themselves and who would like to use the same recipe. So what makes a franchise successful? Brand continuity, brand recognition, appealing interior design, product variety and exceptional product taste seems to be the magic mix that ensures that such a business survives and thrives. The five famous franchises below score exceptionally on these fronts.
1. Kung Fu Tea
Kung Fu Tea store, Carmel Mountain Gateway Plaza Shopping Center, San Diego. Designed by Mindful Design Consulting
Kung Fu Tea is America's largest bubble tea brand with an impressive 300 stores across the country and others in Australia, Canada, Taiwan, Cambodia and Japan. This extraordinary feat was achieved in a little more than a decade. The brand originated in Queens, New York, and is one of the important contributors to the tremendous popularity of bubble tea in the US, as well as a sign of the healthy bubble tea industry around the world.
The milk tea and tapioca pearls that make up this intriguing dessert create a look that lends itself to many Instagram postings. But it is the company's commitment to bring to the US the authentic taste of the Taiwanese treat without cutting any corners that makes it a success. Hand-picked tea leaves from the mountains of Taiwan, tea brewed every three hours and no more than two hours between one batch of bubbles and the next is the recipe for high-quality treats.
Add to that the toppings – from tapioca and pudding to coffee popping bubbles and red bean – and the fun and cozy store interiors that provide the perfect background for shareable moments. This is a franchise that is here to "fearlessly" stay, as their very brand puts it.
2. Pinkberry
Photo: Pinkberry.com
Founded in 2005 in West Hollywood, California, and starting on its franchise mission in 2006, Pinkberry is the company that brought the cool factor to the FroYo world. With Pinkberry, frozen yogurt became a hip product, and its stores popular meeting spots for its young clientele, with people standing in line for up to 30 minutes to get their dessert. At its highest, the franchise expanded to 275 locations and, even though the number has since gone down, Pinkberry still holds its definite spot on the FroYo map.
Their original tart frozen yogurt took advantage of California's appetite for new trends and healthier dessert options, and of a young customer base ready for new adventures. Its visually appealing swirls appeared on the horizon just as the social media became a thing. Together with its fresh, simple and colorful interiors, its lime-green logo and its ubiquitous green dots, they created the perfect visual mix.
Pinkberry's menu includes sweet frozen yogurt flavors, low-fat milk ice cream flavors and yogurt smoothies and shakes. The company constantly comes up with new frozen yogurt flavors that keep its customer base interested and its place among famous franchises untouched.
3. Popbar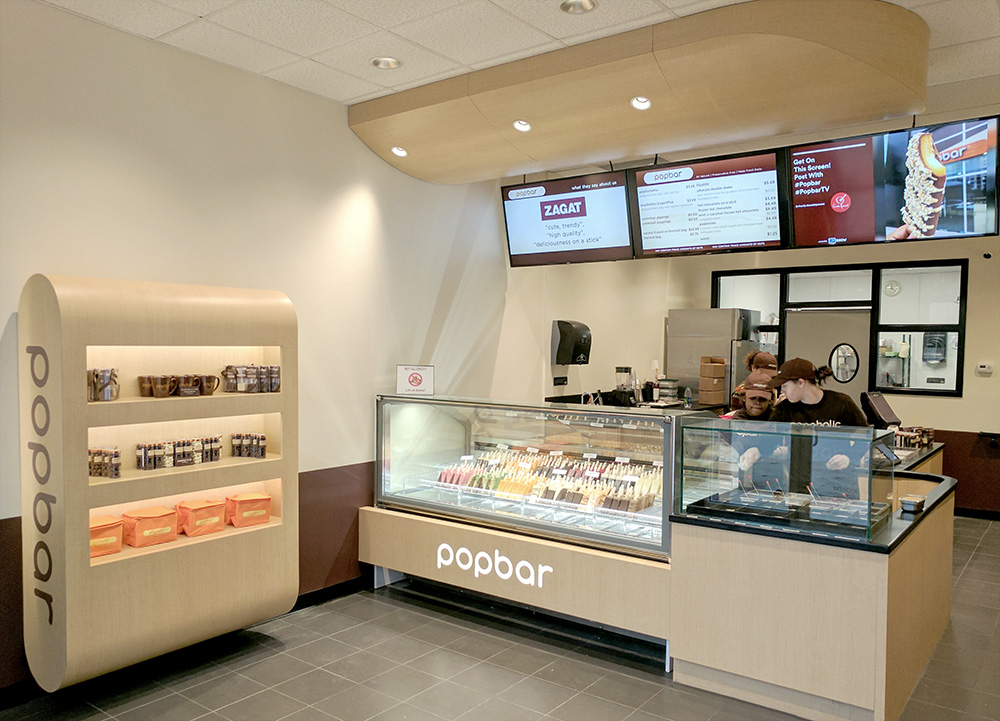 Popbar was founded in 2010 in New York's West Village, when founder Reuben BenJehuda decided to serve the beloved Italian treat of his childhood on a convenient stick. Its success recipe mixes all-natural ingredients, old gelato tradition and new and unique modern presentation (a waffle cone on top of a shake-filled milk bottle is only one of Popbar's creations). The gelato bars include gluten-free, dairy-free and even vegan options and are are highly customizable, with each customer choosing his own premium dips and toppings.
The franchise has currently over 20 US locations and stores in Canada, Portugal, Panama, and Singapore. Beyond Gelato on a Stick, Popbar offers gelatoShakes, wafflePops, Hot Chocolate on a Stick and other desserts that easily pass the "cool" test.
4. SomiSomi
Ah-boong ice cream by SomiSomi
SomiSomi was founded in 2016 and has since expanded all over the US. It offers Korean-inspired desserts, including ah-boong, a goldfish-shaped waffle cone with intriguing fillings such as matcha, sesame or milk tea, and taiyaki, a warm fish-shaped waffle with fillings such as custard, taro and red beans. As many other famous franchises that understood the vital importance of the visual element, SomiSomi shines when it comes to presentation: Its desserts are colorful, unconventional and perfectly instagrammable.
5. The Baked Bear
Photo: Instagram
The Baked Bear started in San Diego with two young entrepreneurs who strongly (and rightfully) believed that "monstruous" ice-cream sandwiches were something to celebrate. Their ice cream is served between two layers of cookies or brownies, rolled through toppings and, if the customer so wishes, hot pressed to be served warm.
The franchise currently reaches 10 states and owes its success to the quality of the original recipes, the social media-worthy desserts, and the opportunity for customers to create their own ice-cream sandwiches.
If you are thinking to open a new business or are in the process of rebranding and remodeling your existing business, contact us to get a free consultation from Mindful Design Consulting. Click HERE to price your project design.
Also, take a look at "Branding By Interior" e-book, the only book written on this subject at this time. It brings insight on how you can turn your business into a market-dominating competitor by using human cognitive responses.
https://mindfuldesignconsulting.com/wp-content/uploads/2021/05/Gelato-on-a-Stick-Toppings.jpg
656
657
M T
https://mindfuldesignconsulting.com/wp-content/uploads/2015/07/mindful-design-consulting-logo.png
M T
2021-07-28 22:49:30
2021-07-29 12:40:26
Famous Franchises That Did It Right