One of our go-to solutions for wall treatments with great visual impact is wallpaper with bold designs. This is exactly what Ever Wallpaper, a London-based company that sells online throughout the world, offers business owners and designers who want to create one-of-a-kind spaces. Their huge collection of high-end products bursts with creativity, comes at affordable prices, and shows you what you can achieve when using wallpaper for commercial design projects.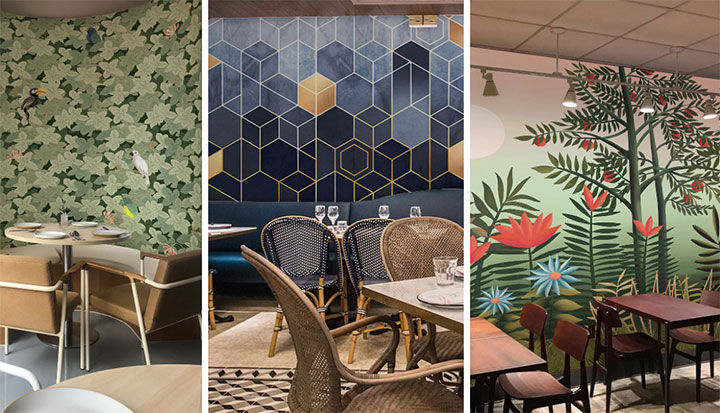 The company is a great source of wallpapers for restaurant interiors, cafes, bars, offices, hotels, stores and any commercial projects in search of that unique decorative element that sets them apart. Their commercial wallpaper murals come in an impressive number of patterns and designs for every taste, style or project, from scenic landscapes to plant or animal wallpaper, and from oil painting to cartoon murals.
Geometric or artistic designs, food or sports-themed murals, metal, industrial and 3D wallpaper are only a few of your possible choices. In case you need a design that is uniquely yours, Ever Wallpaper offers custom murals using your own exclusive art.
While it's difficult to do justice here to their generous wallpaper collection, here are just a few styles that you may enjoy and that have a striking presence in a commercial space.
Textured
Textured wallpaper adds dimension to your design and gives your walls depth and visual interest. If you are an artistic spirit, or if this is the vibe you're after, textured wallpaper gives you the rich look, the color and the detail.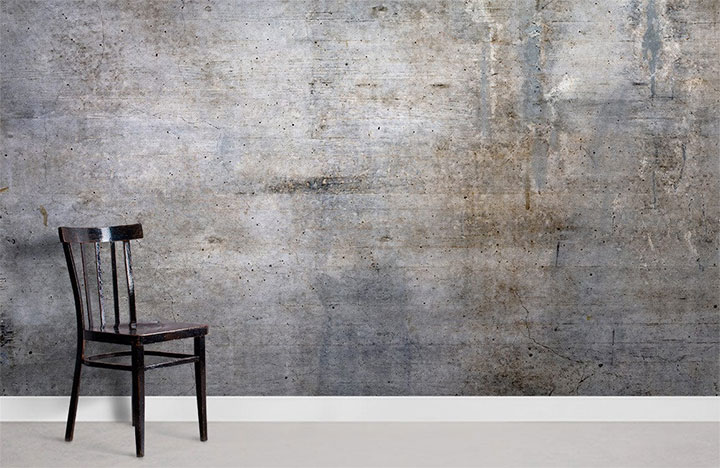 Rustic Concrete Wallpaper from Ever Wallpaper
You can create the illusion of a larger space, take your customers outdoors or transport them into another world just by adding a wall mural. With wallpaper, you can take your interior to any place or any time you want, and create the unique atmosphere your customers will remember.
Downtown Plastered Brick Wallpaper from Ever Wallpaper
If what you are after is an elegant look against a stunning background, consider a marble pattern. The sense of movement and fluidity, as well as the graceful color combinations can give your space a dynamic look and tie in all the colors of your space.
Vortex River Wallpaper from Ever Wallpaper
Graffiti
There is nothing like graffiti wallpaper for a cafe, restaurant or bar that targets a young hip audience. Besides the fact that this mural style is an instant solution for your need for patterns and color, it brings in something rebellious, artistic and liberating at the same time. Used in office design, this type of wallpaper is even more striking as it is unexpected.
Street Wallpaper from Ever Wallpaper
If you have any message you want to share, a graffiti wallpaper is just the right medium to do it.
So What Wallpaper from Ever Wallpaper
Vintage
Wallpaper can single-handedly define the style of an interior or what a business is all about. If you want to create a nostalgic ambience where your customers can dream of another time while lingering over your treats, go vintage. While "vintage" implies a bow to the past, that doesn't mean that it cannot be full of energy and color.
Monroe Pop Art Wallpaper from Ever Wallpaper
For a subtle look, vintage color tones can give you both the pop and the warm feel, like this mid-century-inspired wallpaper.
Vintage Red Seal Wallpaper from Ever Wallpaper
The walls are you biggest canvas, so don't be afraid to use them. Chinese art, for instance, can complement a Chinese restaurant and get customers completely immersed in the experience.
Chinese Lady of Tang Dynasty Wallpaper from Ever Wallpaper
Nature-inspired
Much like living plants, nature-inspired wallpapers create a sense of abundance and peace, and give the eye the green color they crave. Oversized leaf patterns make customers feel sheltered or simply bring in the beauty of nature.
The luxurious feel of a green field captured by the design of a wallpaper is unmatchable. Even more, it is a versatile piece of wall art that looks at home in restaurants or cafe as different as rustic, traditional or modern.
The value of a beautiful life-size landscape wallpaper in an urban area is not something you want to miss. This is also a great choice for a lobby, a hallway or in an office where such images can help employees be more relaxed, happy and productive.
Creative
The creative opportunities that come with using wallpaper for commercial design are what makes it an attractive wall treatment solution. Any object, character or place can be rendered in a 2-D version, brought into your space and allowed to define it. A bookshelf wallpaper, for instance, is a great fit for a cafe where customers are invited to read or where they can do some work while enjoying their treats.
Bookrack Wallpaper from Ever Wallpaper
When it comes to wallpaper for commercial design, extravagant is a good word. Be bold with your art and your style. Cartoon-style wallpaper, for instance, is playful, fun and quirky and makes your interior more memorable.
Cool Cat Wallpaper from Ever Wallpaper
All pictures: Ever Wallpaper
If you are thinking to open a new business or are in the process of rebranding and remodeling your existing business, contact us to get a free consultation from Mindful Design Consulting. Click HERE to price your project design.
Also, take a look at the "Branding By Interior" e-book, the only book written on this subject at this time. It brings insight into how you can turn your business into a market-dominating competitor by using human cognitive responses.
https://mindfuldesignconsulting.com/wp-content/uploads/2022/04/Blue-Floral-Wallpaper-for-Restaurant-Design.jpg
259
720
M T
https://mindfuldesignconsulting.com/wp-content/uploads/2015/07/mindful-design-consulting-logo.png
M T
2022-04-27 23:45:30
2022-04-28 00:01:17
Some of Our Favorite Wallpaper for Commercial Design