When it comes to interior design, visuals are everything. While your store may be well-thought and functional, your customers will be awed by what they see. A well-chosen palette and some bold wall graphics can go a long way in winning their hearts. But what about other visual elements of design or marketing that are less impressive, but necessary? Below, we put together a few types of dessert shop graphics that you should incorporate in your branding package.
Before we dive in, however, remember that your brand is your image to the world, and that all your graphics have to be consistent with it. Your graphic elements should not be disjointed, accidental or out of place when it comes to a cohesive brand image. They all need to flow together, from color and style to the vibe and atmosphere they are trying to create.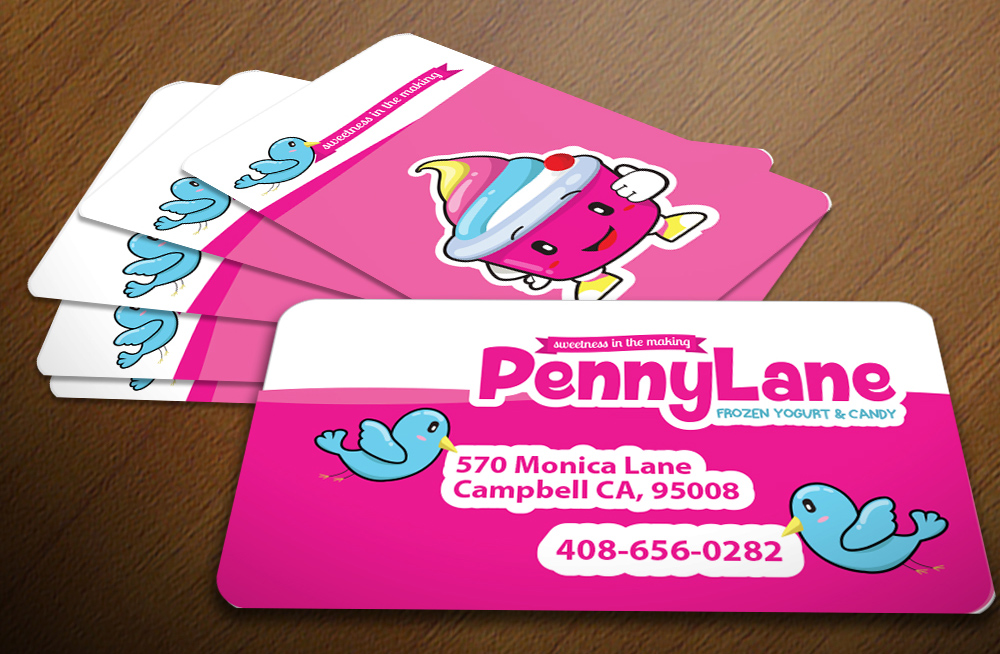 Penny Lane frozen yogurt store business cards by Mindful Design Consulting
Logo and business or loyalty cards
A logo concentrates in one single image everything your business is about, from values to brand personality. It helps your customers differentiate you from your competitors, quickly identify your business, and creates a sense of trust and credibility.
A great logo should be memorable and recognizable, and should evoke an emotional response from customers. Is your intention to make your dessert shop a meeting place where people can create great memories over a delicious dessert? Capture that in your logo! Are you all about natural ingredients? Make it perfectly clear in its design.
A logo should also be simple and timeless, so that it will remain relevant for years to come. Its style should be the same as that of your shop, whether that means elegant, minimalist or rad.
Ohana Cupcakes logo design by Mindful Design Consulting
On the other hand, your business and loyalty cards are your insurance that your customers won't forget about you, and that they have another reason to come back. Your cards should bear your logo as the prominent element on the front and can be used as a background on the back of the card. Their style should be consistent with the vibes of the logo and the overall brand. For example, if you take pride in your fruity flavors, these could be captured in their color palette. If your dessert shop is traditional and classy, an elegant look and classic fonts is what they need.
Images of your desserts and a tagline can open appetites and make your customers act upon them.
Beary Bliss business card design by Mindful Design Consulting
Window graphics
The exterior of your business is what your customers see first and the most important tool in convincing passers-by to enter your business. Dessert shop graphics are a great way to turn your generic windows into an instant marketing tool. Look at your windows as your artistic canvas on which you can draw the message that you want to send to the world.
You can choose to use your logo, or other dessert-related images. You can use photos to showcase your producst and entice customers to come in and try them. Patterns and textures can transform an uninspiring storefront into a dramatic visual display. If you have a quick message you want to convey to potential customers about your products or services, you can to do it using custom text. And, of course, you can use a combination of all the above.
YOBA dessert shop window graphics by Mindful Design Consulting
"Coming Soon" signs
You can use "Coming Soon" signs to generate excitement for your new dessert store opening or for special events and promotions. When designing a "Coming Soon" sign, it is important to keep it simple, yet eye-catching, The sign should be bold, yet inviting, and should capture the essence of the store and its products. Colors and fonts should be chosen to reflect the store's unique brand and identity.
Light boxes
Light boxes consist in graphics illuminated from inside by LED lights within a 3-D frame. Placed in front of your store, they attract the attention of potential customers better than the typical signs that need another source of light to be seen. When inside, your light boxes can help you define functional areas, showcase your products or emphasize your brand message.
Placed in a window, they direct the attention to your store and bring in foot traffic. You can even use light boxes to create fake windows. Regardless of how you use them, make sure that the dessert shop graphics are consistent with all the other elements of your design and brand.
Sift Dessert Bar interior design by Mindful Design Consulting
Seasonal graphics
As a business owner, it's a good idea to use every opportunity to bring some extra joy into your customers' lives. One of the simplest way to do it is by using seasonal decor and graphics. Whether it's the seasonal holidays or just the change of the seasons, visual reminders show your customers that you care about every little detail, and that your store is a place of joy and celebration.
You can create unique logos for each season, and use them for advertisements, signage and product labels. You can develop catchy taglines that are associated with the season and incorporate them into your graphics to draw in customers and create brand awareness. Even generic images or art pieces that are associated with certain seasons, such as pumpkins for fall or snowmen for winter can be infused with your brand identity.
Seasonal graphics are even more important if your menu changes throughout the year or if you offer seasonal specials. In this case, making sure that these are part of your initial branding package is a good idea.
My Yogurt frozen yogurt store design by Mindful Design Consulting
If you are thinking to open a new business or are in the process of rebranding and remodeling your existing business, contact us to get a free consultation from Mindful Design Consulting. Click HERE to price your project design.
Also, take a look at the "Branding By Interior" e-book, the only book written on this subject at this time. It brings insight into how you can turn your business into a market-dominating competitor by using human cognitive responses.
https://mindfuldesignconsulting.com/wp-content/uploads/2022/11/Blodnies-Doughnuts-storefront-window-graphics-vinyl-sticky-back.jpg
786
1780
M T
https://mindfuldesignconsulting.com/wp-content/uploads/2015/07/mindful-design-consulting-logo.png
M T
2023-02-08 21:19:29
2023-02-08 21:24:59
Five Types of Dessert Shop Graphics You Should Invest In