It is always better to start the complicated journey of building your business with a clear understanding of what you should expect. Whether you want to open a new restaurant, store or dessert shop, or to simply update your old one, knowing the ins and outs of the commercial interior design process will help you navigate it in a more relaxed way – and even enjoy it.
So here is where each project starts, and how designers go about taking it to a successful completion.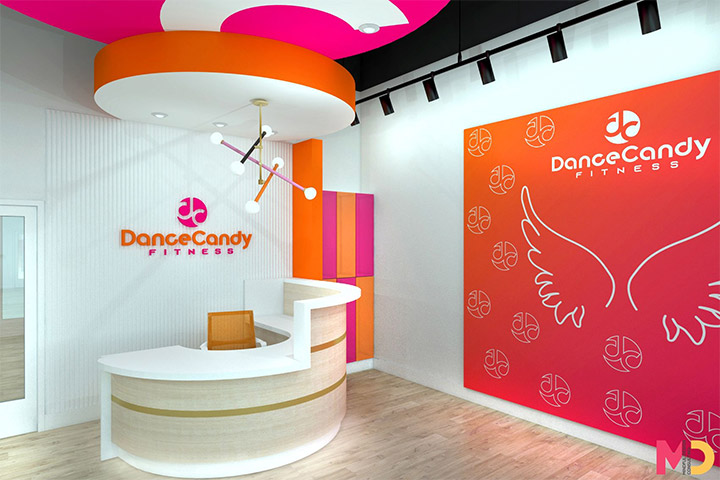 Dance Candy Fitness studio interior by Mindful Design Consulting
1. Defining the design concept
Before starting to build, what exactly needs building must be clearly defined. The interior designers spend time learning about your goals and vision as a business owner, and about your brand identity. If any of these are vague, it is one of their jobs to help you understand better what you want and need. At this early stage, it is important to understand that your interior design plays a vital role in your brand recognition. All the choices you will make from now on should take this aspect into consideration.
In order to do this, your designers look at the site chosen for building your business and understand its surroundings. What is the culture of the area and its economic profile?What is its demographics? What other businesses are present in the same area? What can yours offer to the neighborhood that is missing, and what will be its meaning and function in the neighborhood? How can it brand itself so that it sets itself apart from the crowd?
In order to stay competitive, your business needs to be something that its competitors are not, even while offering the same products or services. Making sure that the target audience understands why your new business is unique is part of your brand identity. A designer can help you find or refine the message you want to bring to the public, assist you in defining your brand, and explain you how you can use interior design to bring this brand to life. This is also a good time to think about designing or upgrading your logo, which may play an important part in designing your interior.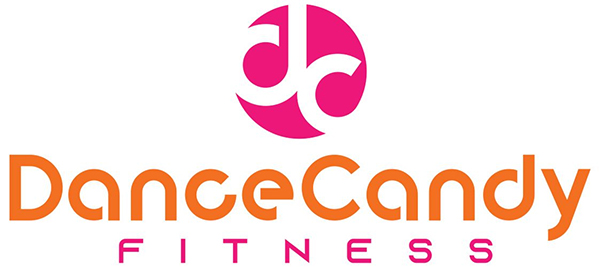 Logo design for Dance Candy Fitness studio by Mindful Design Consulting
2. Space planning and layout
At this initial stage of the commercial interior design process, designers carefully consider the existing space, its dimensions and flow, how different areas interact, and how functionality may be optimized. This is also the stage in which any potential space code restrictions are discussed, and what utilities must be added (for instance, a bigger water heater, a more powerful HVAC or kitchen equipment). Calculating the number of restrooms and fire exits required for the space and checking for any necessary ADA upgrades for the building are other steps that need to be taken before creating the new floor plan layout.
If a better layout for the building is possible, the interior designer discusses with you, taking into consideration all the equipment that needs to be brought into the building, and your vision and wishes. When the new floor layout is drafted, a very approximate cost for the project is possible, even though the customers will be provided with a more accurate one only when they select the materials and after the final design phase.
Photo by Antoni Shkraba
3. Design development
This is the most creative phase, in which the the concept is translated into tangible design elements. The interior designers begin selecting interior colors, finishes, materials, light fixtures, furniture and any other decorative elements and fixtures that complement the brand. Using simple natural concepts and elements such as gravity, scale, order, textures, light and color, a knowledgeable design team can make choices meant to achieve the desired psychological response from the target audience.
This selection is then presented to you in the form of a Material Board, so that you can provide feedback and decide if it represents well your brand. Based on this response and your collaboration with the designers, materials, furniture, fixtures and lighting are kept or substituted in order to fit the budget and to agree with your goals, wishes and brand. All along this process, the interior designers should attempt to infuse the project with character, drawing from your (as well as their) experiences and cultural background. They must work with you to create an interior design with distinctive features that highlight your brand and increases brand recognition.
Materials board for Dance Candy Fitness studio by Mindful Design Consulting
4. Architectural drawings
Next, the designer team creates the architectural drawing for your space, such as the floor, ceiling finishes and equipment plans, interior elevations, cabinetry details and construction details. These will serve as tools for your contractors (plumbing, mechanical and electrical engineers) to create their own drawings, calculate what they need and price your project.
Depending on your local city requirements, the interior designers may provide you with an additional set of architectural drawings necessary for you to obtain health and building permits. Examples of such drawings are the egress plan or fire exit plan, or site details such as ADA parking and access and trash enclosure locations.
Interior elevations for YOBA dessert store by Mindful Design Consulting
5. 3D renderings
It is advisable that you obtain a 3D rendering model of your space to get a taste for what your interior will look like in real life. This offers you views of the overall design, with new or updated soffits, counters, walls, materials, colors etc. 3D renderings are also excellent marketing materials that you can already use to spread the word about your upcoming business, even before the entire commercial interior design process is complete.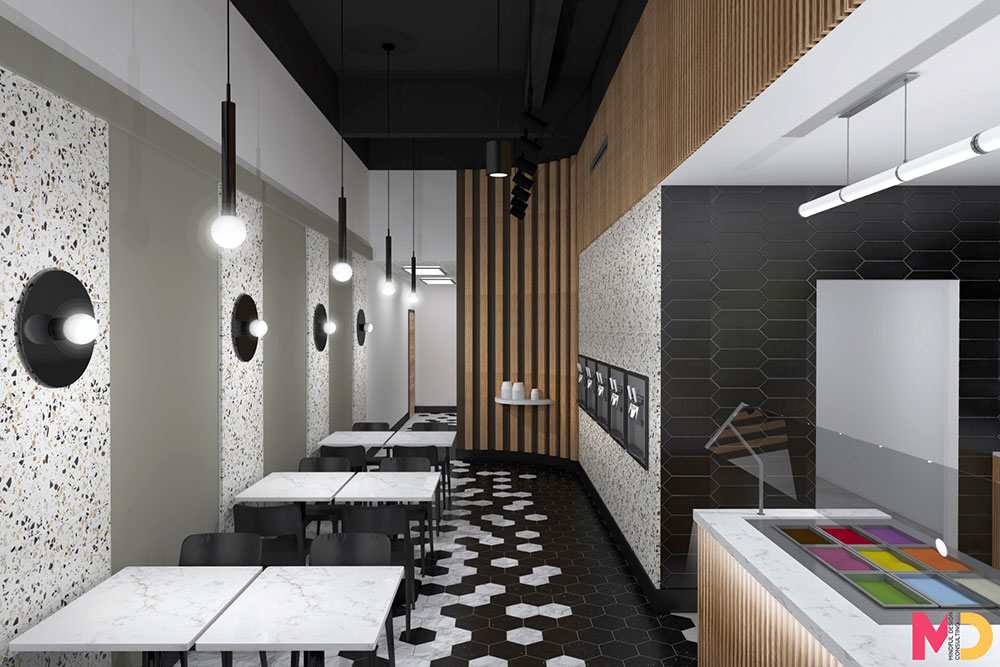 3D renderings for YOBA dessert store by Mindful Design Consulting
6. Mechanical, electrical and plumbing drawings
Based on the architectural set of plans, the engineers can start their work. Mechanical engineers calculate your air requirements and and advise you where you need to provide more vents, and what size they should be. Electrical engineers design the layout of your new lighting system, review electrical loads and inform you if you need to enlarge the internal electrical panel. Plumbing engineers plan the new piping layout, calculate your water heater load and, if your business is a restaurant, provide you information on what grease trap you need.
Sometimes you will need to also bring in a structural engineer in case of unlikely but possible situations such as unexpected structural conditions discovered during demolition or if you want to remove an existing column.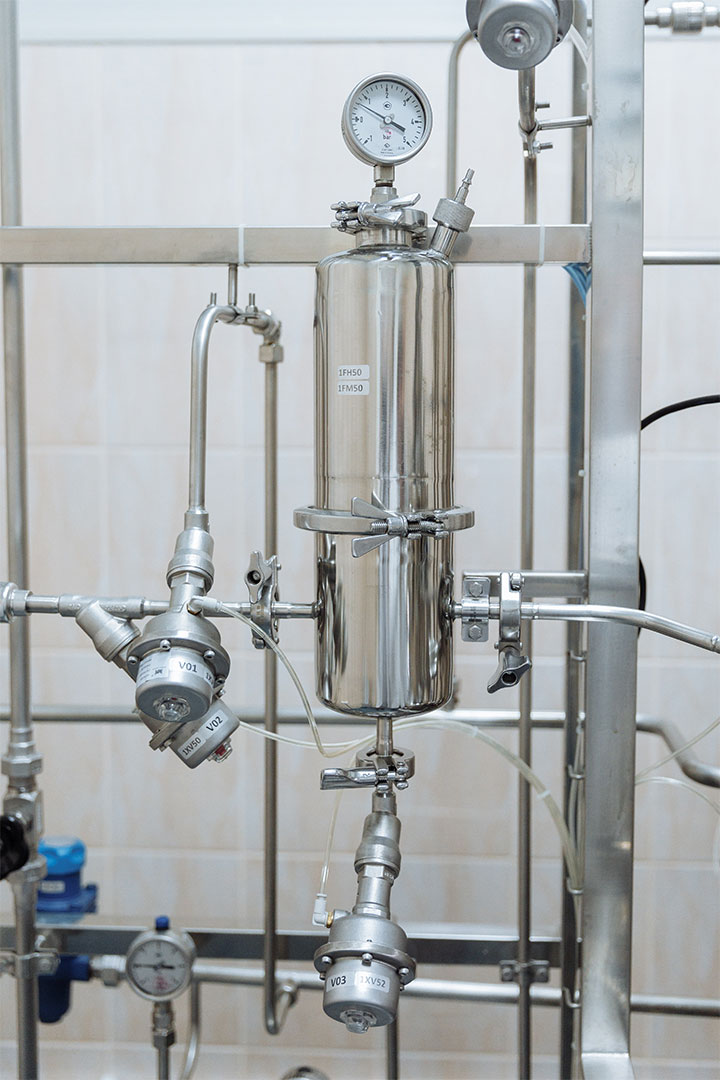 Photo by Thirdman
7. Construction and implementation
Finally, the construction can start. Walls are erected, flooring is installed, and the space begins to transform. Regular site visits ensure that the construction aligns with the design intent, and any necessary adjustments are made to maintain the quality and integrity of the design. During this phase, unique situations can arise such construction details that need to change during construction, products not being delivered in time or accidental changes in the overall look. The interior designers can assist you in solving these problems and in making corrections during the construction process.
As construction nears completion, furniture, fixtures and accessories are installed. The last step involves adding the finishing touches – artwork, decor, plants, and other elements that infuse personality and character into the space. It is the stage that brings warmth and soul to the design, making it feel inviting and complete.
Beauty Bakerie store construction. Design by Mindful Design Consulting
8. The grand reveal
Before unveiling the space to you, a thorough quality check is conducted. This ensures that everything is in place, aligned with the design, and functioning as intended. You are then presented with the completed space, ready to be occupied and enjoyed.
Beauty Bakerie cosmetics store design by Mindful Design Consulting
9. Marketing collateral
Once the project is complete, it's time for marketing. If your interior designer team offers these services, the same professionals can help you with designing your marketing materials such as menus or loyalty cards. These should retain the same vibe as your interior and be part of the same cohesive brand image.
Menu design for YOBA dessert store by Mindful Design Consulting
From initial sketches to the final walkthrough, the commercial interior design process is meticulously orchestrated, mixing creativity and functionality. It's a dance between artistic vision and practical execution, in wich a professioanl design team can help you build a space that looks stunning while serving your intended purposes.
If you are thinking to open a new business or are in the process of rebranding and remodeling your existing business, contact us to get a free consultation from Mindful Design Consulting. Click HERE to price your project design.
Also, take a look at the "Branding By Interior" e-book, the only book written on this subject at this time. It brings insight into how you can turn your business into a market-dominating competitor by using human cognitive responses.
https://mindfuldesignconsulting.com/wp-content/uploads/2022/11/Dessert-shop-interior-design-and-branding.jpg
667
1000
M T
https://mindfuldesignconsulting.com/wp-content/uploads/2015/07/mindful-design-consulting-logo.png
M T
2023-08-23 17:36:57
2023-08-29 18:59:12
From Concept to Completion – The Commercial Interior Design Process Explained