Commercial Interior Design News. Alpine Chill frozen yogurt is a casual local place to "chill" and relax in a small Alpine neighborhood near San Diego, CA. The store is located very close to freeway 8 on your way to a local casino in Viejas and a perfect destination to stop by to cool with a cup of a yummy frozen yogurt.
The owners came to Mindful Design Consulting with an idea to create a local community themed yogurt shop with an interior of an old ice cream store. They also really wanted to incorporate some new hip materials.
Alpine Chill frozen yogurt store emerged as a comfortable interior for family conversations and interaction among local community.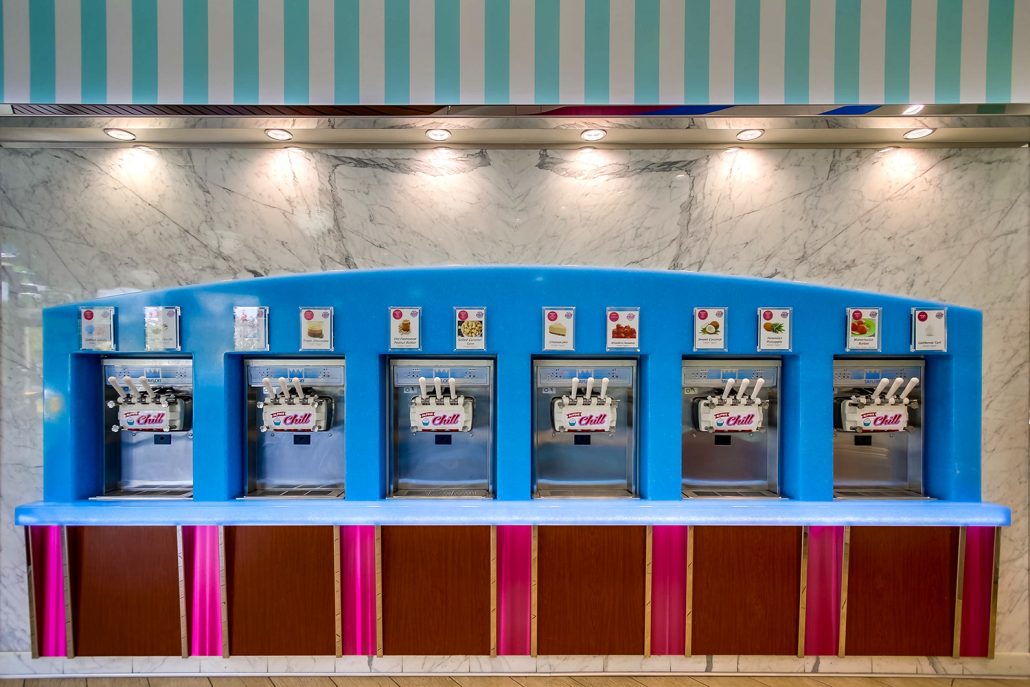 We used cherry wood laminate on casework. Corian solid surface counter top is bright blue color. All selected hardware & fixtures are chrome or glass to create that old retro style ice cream place.
Above: Materials Board of Alpine Chill frozen yogurt by Mindful Design Consulting.
Mirror menu board was a change in design during the process. It was supposed to be a chalk board but we are happy it was substituted by the mirror as it created an illusion of a larger space.
Above: Interior elevations of Alpine Chill frozen yogurt by Mindful Design Consulting.
If you are on your way to Viejas or to Julian, don't forget to stop by Alpine Chill frozen yogurt and indulge in this creamy treat while seating in this old retro style comfortable space.
Alpine Chill (619) 445-7410
2963 Alpine Blvd. #106
Alpine, California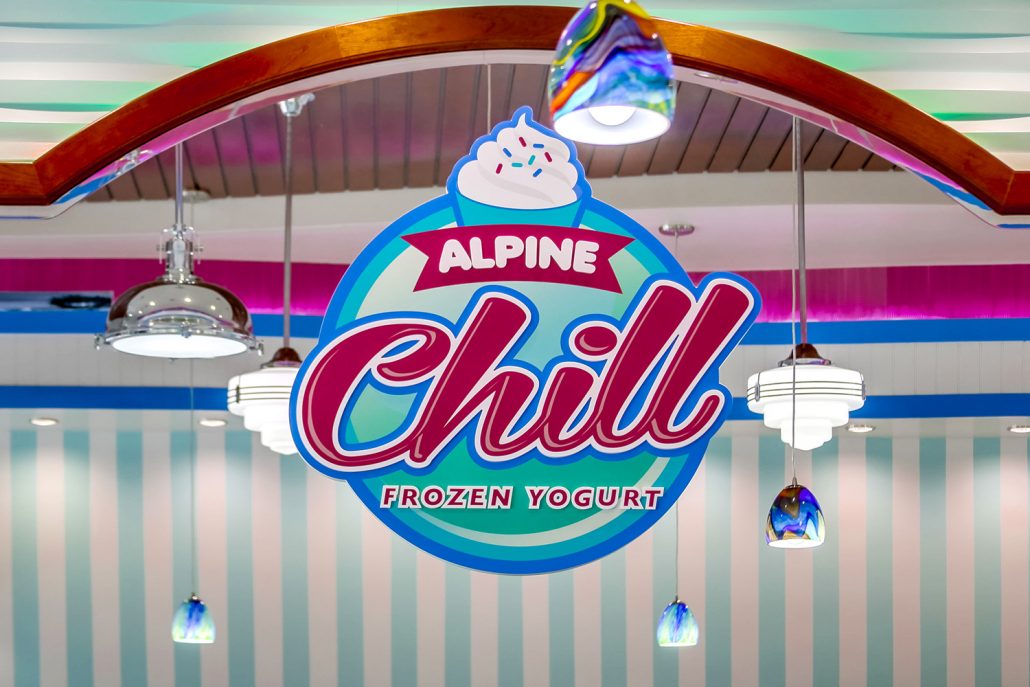 Above: You can charge while you are resting at Alpine Chill.
Above: One way vision vinyl is applied on the glass of the windows.
Above: proud owners of Alpine Chill. Commercial Interior Design and Branding by Mindful Design Consulting.
Learn more about Alpine Chill here: http://alpinechill.com
Please take a look at our Before and After images of selected projects from 2018 HERE.
To ask us questions about your commercial interior design project or to get a free consultation from Mindful Design Consulting, click HERE.
Also, take a look at "Branding By Interior" e-book, the only book written on this subject at this time. It brings insight on how you can turn your business into a market-dominating competitor by using human cognitive responses.
https://mindfuldesignconsulting.com/wp-content/uploads/2010/12/Alpine-Chill-Yogurt-Shop-Design-by-Mindful-Design-Consulting-2.jpg
1000
1500
Administrator
https://mindfuldesignconsulting.com/wp-content/uploads/2015/07/mindful-design-consulting-logo.png
Administrator
2014-07-30 00:50:22
2018-12-07 23:17:52
Alpine Chill Frozen Yogurt Opened its Doors – Commercial Interior Design News