An exciting drink with fruity aromas and a bottom layer of chewy tapioca pearls, bubble tea has already become the main attraction in cafes all around the world. It's only natural that the frothy drink of Taiwanese origin inspires equally exciting tea store designs. Its flavors are the perfect inspiration for colorful decor and the ideal treat for an informal get-together. Here are a few bubble tea store designs that use color, unexpected materials or custom decorative elements to create a memorable brand and attract customers.
1. Kung Fu Tea Boba Tea Store Design
San Diego, California
Bubble tea store design: Mindful Design Consulting
While starting on solid franchise ground, this bubble tea store high-end location at Carmel Mountain Gateway Plaza shopping center in San Diego needed an infusion of modern elements to attract the sophisticated local clientele. Keeping the main elements of the Kung Fu brand (like its black-and-red brand colors), Mindful Design Consulting solved this problem with simple design solutions.
Large painted geometric shapes bring the walls to life and create an easily recognizable look. The pattern is repeated in the wood-slat counter design, whose organic look addresses the taste of the store's trendy clientele. A long commune table accommodates larger groups, creates new socializing opportunities and makes excellent use of the available space. Modern chairs and lighting fixtures use the brand colors do define functional areas and give the space character. Finally, a large dragon wall graphic captures the spirit of the place.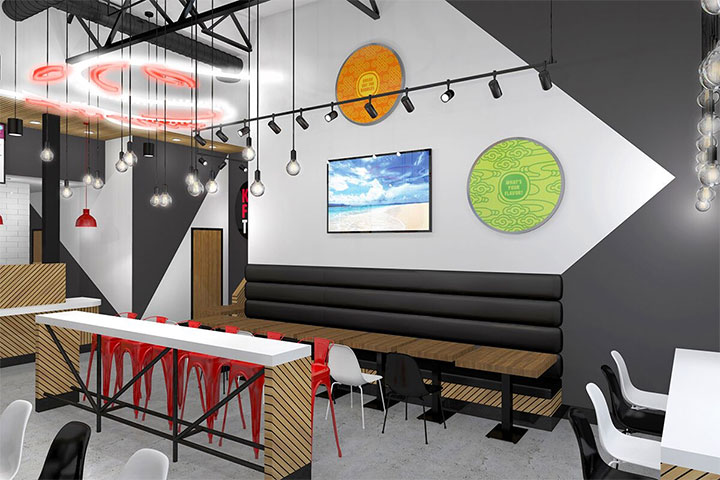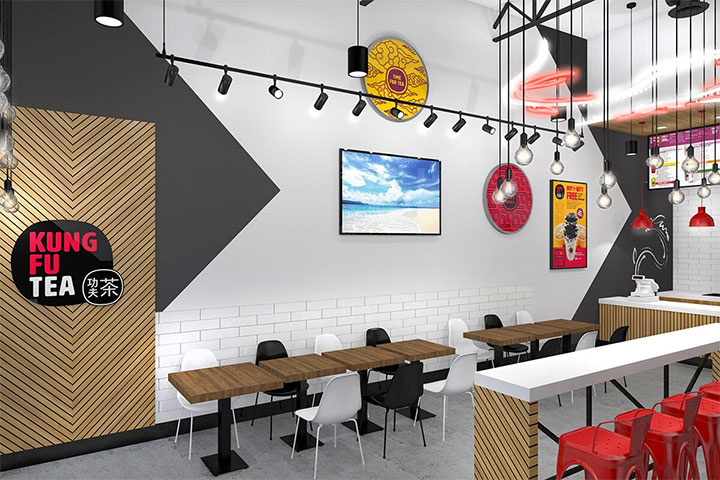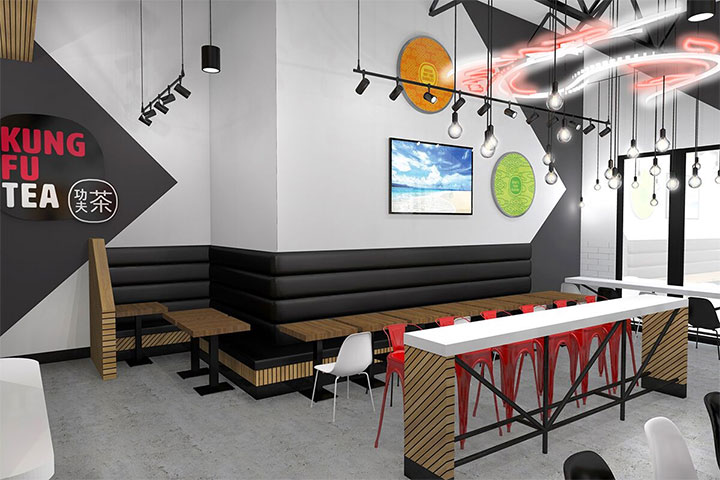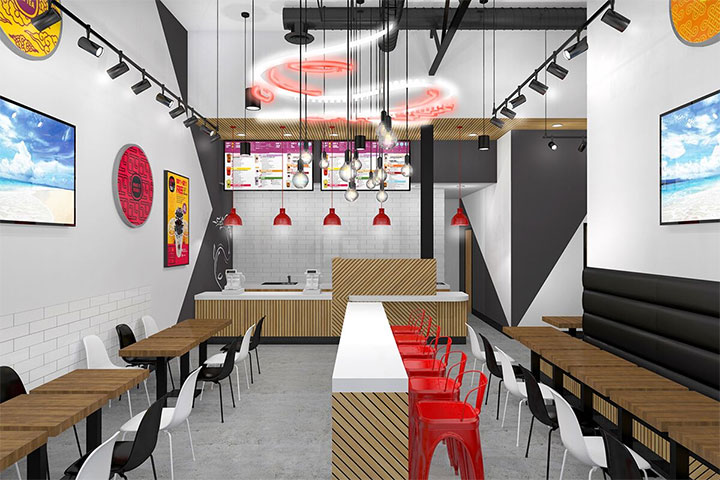 2. Can't Top This Yogurt and Boba Tea Store Design
San Diego, California
Bubble tea store design: Mindful Design Consulting
Graphics and branding: Mindful Design Consulting
Following the Mindful Design Consulting philosophy that a store interior must use design elements to create an emotional connection with customers, this Sand Diego bubble tea and frozen yogurt shop uses plenty of color to awe its visitors. Vibrant pink, orange and purple tones engange into an harmonious chromatic dance to define both functional areas and architectural details.
Chosen as the leitmotif for this bubble tea store design, circles create functional "islands" by means of paint and floor patterns. Color is used to emphasize architectural details such as the tiered soffits or curved walls. The bubble tea theme is brought to the forefront through decorative wall panels with a "sponge" cut-out design that remind customers of the drink's frothy bubbles and tapioca pearls. Customized wall graphics use the brand colors to suggest the variety and aromas of frozen yogurt flavors.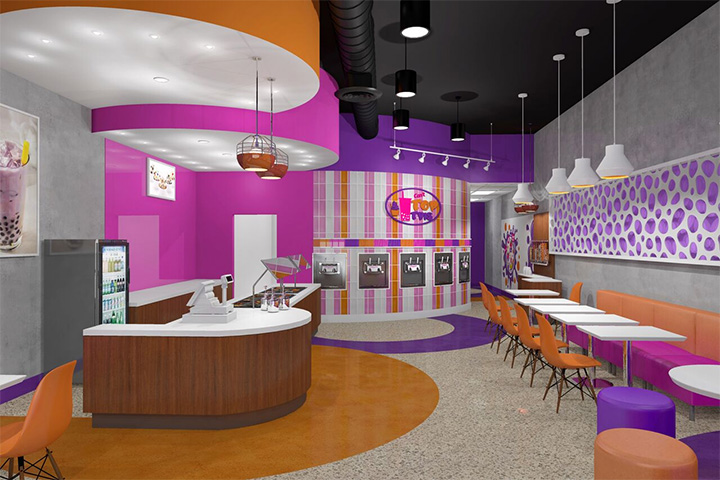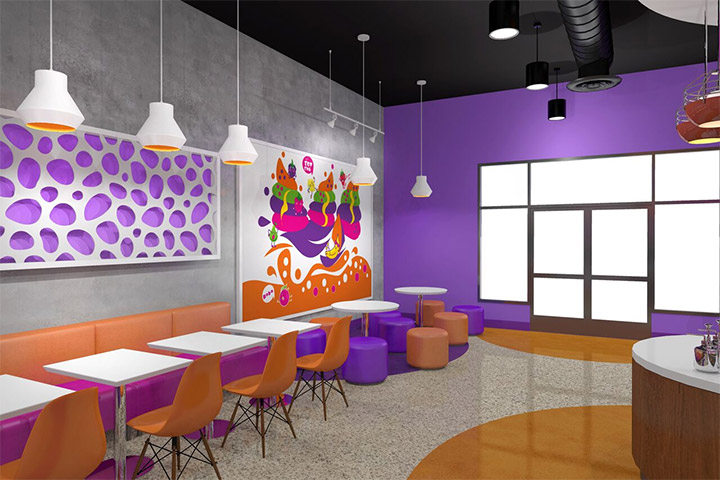 3. Biju Bubble Tea Room Design
Soho, London
Bubble tea store design: Gundry & Ducker
Graphics and branding: Ico Design
Photography: Hufton & Crow
Ditching the traditional chairs and benches, the Biju Bubble Tea Room in London chooses an original terraced cork seating option that creates an informal and unique look. The design is inspired by the concept of tea drinking as a perfect socializing oportunity and greatly appeals to the store's young clientele. Despite its apparent simplicity, customers have great freedom in how they choose to sit: in small or large groups, close or farther apart, together or alone behind one of the cork-lined blocks that serve as impromptu tables. A few cork stools offer an extra seating options for those who prefer to sit at the table.
Colorful cushions and tables bring in a pleasant and fresh color contrast against this neutral background. The same colors are used in the striped wall pattern behind which the brickwall reveals itself in narrow sections. This combination of natural materials and lively colors suggest the use of natural ingredients and the drinks's appetizing flavors.
4. T4 Boba Tea Store Design
Stratford, London
Bubble tea store design: Design Clarity
Photos via retaildesignblog.net
Located at the Westfield Stratford shopping centre, the first T4 shop in the UK stands out with its dramatic colors and a modern design. A crisp white counter pops against the bright turquoise background, while the natural look of the wood floors, counter and stools gives the place a warm and inviting feel. The wall graphics tell a story and make customer feel part of the drink making process. The space is open and welcoming, making it easy for passers-by to stop for a minute and enjoy a refreshing flavored tea drink.
5. Tealive Boba Tea Store Design
Melbourne, Australia
Bubble tea store design: Fretard Design
Photography: Nicole Cleary via sohomod.com
Serving customers in Melbourne's busy Southern Cross Station, this is the first Australian store of the succesful Malaysian bubble tea company. Purple, teal and yellow tones offer clients an energizing visual treat in addition to the shop's refreshing drinks. Unencumbered by unnecessary seating, the space is designed for fast traffic, but does not skimp on details. The vibrant colors, set against a neutral background, call to mind appetizing fruity flavors, while greenery offers the eye some visual rest and brings in a touch on nature.
The ceiling design evokes the look of the straws used for drinking bubble tea and becomes the main decorative element of the shop's interior. Its unique look is intriguing and stimulating, providing those who come in for tea with a quick visual pick-me-up.
If you are thinking to open a new business or are in the process of rebranding and remodeling your existing business, contact us to get a free consultation from Mindful Design Consulting. Click HERE to price your project design.

Also, take a look at "Branding By Interior" e-book, the only book written on this subject at this time. It brings insight on how you can turn your business into a market-dominating competitor by using human cognitive responses.
https://mindfuldesignconsulting.com/wp-content/uploads/2020/07/Boba-Tea-Store-Design-Ideas.jpg
417
906
M T
https://mindfuldesignconsulting.com/wp-content/uploads/2015/07/mindful-design-consulting-logo.png
M T
2020-07-08 17:23:16
2020-08-26 10:36:26
Fun Bubble Tea Store Designs From Around the World