We have seen lately a sad trend among frozen yogurt shops. Many of them are closing, and not just because of Covid and its many implications. Like every fashionable movement, the frozen yogurt trend (one of our favorite fun desserts) is unfortunately dying out.
The good news is that something else will take its place, and you may have a say in it. If your dessert business seem to have passed its glory days, ditching the old and embracing the new may be the solution. Sometimes adding new popular items to your dessert menu can bring a fresh new look to your display shelves, new customers to your door, and new life to your business.
Here are a few ideas that you can embrace and make your own.
Cookies
You can never go wrong with cookies, the ultimate item on any list of fun desserts. Easy to hold, carry and eat, they are "it" in the dessert world and seem to become more and more popular every day. They are easy to add to a store that already sells ice cream, frozen yogurt or tea, but don't underestimate them – they can have a great impact.
How to turn your cookie shelves into an eye magnet? Unexpected colors, ingredients and flavors may be your answer. A colorful take on the beloved crinkle cookies, these ube cookies are made of ube purple yams and proudly showing it. Go rogue and find your own colors and flavors that can make your shop unique.
Purple Yam Crinkles from Kawaling Pinoy
There is nothing better than discovering that your cookie seems to have swallowed another dessert – and that you get to enjoy both. This very idea seems to lie behind these mouth-watering Chonks cookies that offer a surprise at first bite.
Chonks by Chonky Cookies
If you are an ice cream master, finding new ways to present your creations can be as simple as putting together your signature cookie ice cream sandwiches.
Cookie Ice Cream Sandwiches from Taste of the Frontier
Macaroons
In the cookie world, nothing is as elegant as a macaroon display. The colors, the perfect shape and the unlimited array of flavors makes them an excellent addition to the menu of a tea or coffee shop. You can stand out from the crowd by creating a variety of flavors and shapes that your customers are eager to try.
For instance, if you liked the idea of ube-flavored desserts, implement it into your macaroons recipes.
Ube Cheese Macarons from Create & Create
Of course, macaroons are all about color. Make sure you don't stop at just one. Take full advantage of the versatility of this apparently humble cookie, and feed the eye with mouth-watering displays of these fun desserts.
Do not limit yourself to the classic round shape. For instance, these Rainbow Cloud Macaroons tell the story of a rainy day and its beautiful ending in one bite.
Rainbow & Cloud Macaroons from IndulgeWithMimi
Ice Cream Cones
If you own an ice cream store and are hard at work to create delicious ice cream flavors, make sure you don't overlook the cones. These watermelon ice cream cones, for example, are decorated with food color spray and complete the whole package.
Watermelon Ice Cream Cones from Wilton
To make them even more appetizing, cones can be dipped in a variety of toppings, which can also take care of the crunch element.
For a layered look, try dipping your cones in marshmallows, chocolate and sprinkles. The results is lavish ice cream cones that can almost serve as a complete dessert.
Marshmallow Dipped Ice Cream Cones from Jelly Toast
Churros
Don't forget to take advantage of other culinary cultures when looking for fun desserts for your menu. Churro, the popular Mexican treat, has become more and more popular in the US in the last years. A spongy interior dressed in a crisp outer layer sprinkled with cinnamon sugar, this fried pastry can be dipped in sauces such chocolate and dulce de leche and makes for a perfect fair food.
If you want to keep it simple yet make your churros irresistible, you can play with the sauces or simply come up with a hard-to-ignore presentation.
Gourmet Churros by Churruts via Pinterest
However, churros offer you unlimited opportunities to make them your own using different filling, toppings and flavorings. Whether you want to keep them simple and elegant, load them with icing or combining them with cookies, the sky is the limit.
Churros via Pinterest
Don't forget the shape of your churros. This versatile treat is screaming for a creative hand to mold them into other shapes.
Churros via Pinterest
Bubble Waffles
This sweet treat originating in Hong Kong has everything you need – an intriguing appearance, a taste that appeals to most, and a customizing potential that you should take advantage of. You can wrap it around any filling you choose to make it a real show stopper.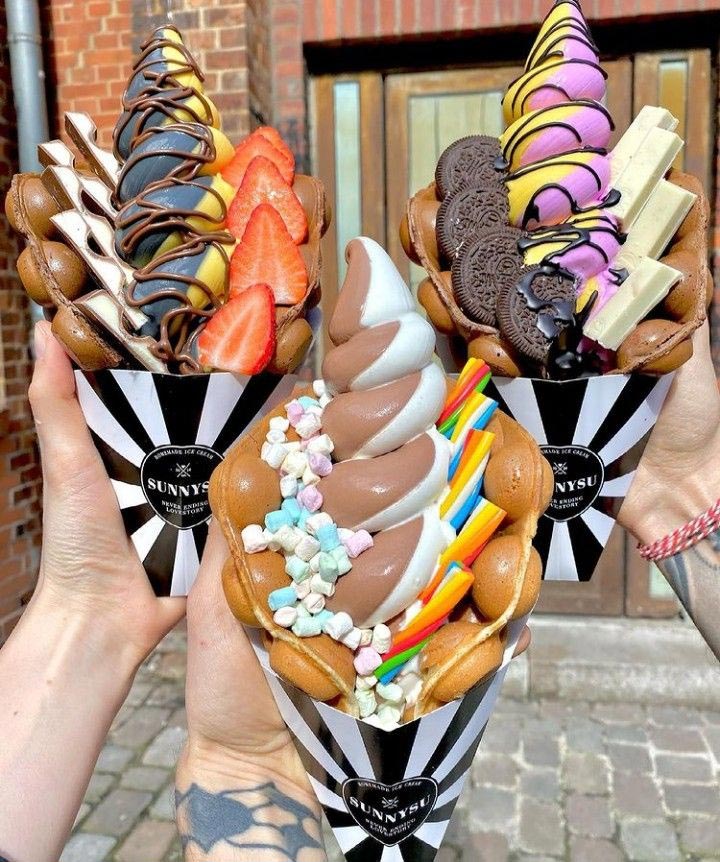 Bubble Waffles via Pinterest
You can also use filling and create a treat full of surprises.
Bubble Waffles via Pinterest
As a side note, if you need a savory treat that steps away from the crowd, use them as a base for your sandwiches. Bubble waffles make for a great breakfast food that can bring all the breakfast classics together.
Bubble Waffle Sandwiches from Cut Side Down
Kunafa
A Middle Eastern dessert that stands out from everything you have seen or tried, kunafa is a cheese-filled, sugar-soaked pastry topped with crushed pistachios and ready to stand out as a unique item on your menu. It can also complement your menu and give an interesting twist to your more local treats.
Fun desserts from around the world: Kunafa from Closet Cooking
You can prepare and serve kunafa is individual sizes or even turn them into rolls.
Bubble Tea
The bubble tea trend is still going strong. An amazing array of flavors and different bubble types are popping everywhere, and the treat has never lost its cool vibes.
Boba tea is easy to make and can be a fun addition to your dessert shop. You can create new mixes using your existing frozen yogurt or ice cream, or you can create freakshakes with boba tea on the bottom.
This bubble tea, for instance, combines butterfly pea flower tea, coconut milk and boba tea pearls into a stunning dessert.
Coconut Butterfly Pea Flower Bubble Tea from Sprinkle Bakes
If you are thinking to open a new business or are in the process of rebranding and remodeling your existing business, contact us to get a free consultation from Mindful Design Consulting. Click HERE to price your project design.
Also, take a look at the "Branding By Interior" e-book, the only book written on this subject at this time. It brings insight into how you can turn your business into a market-dominating competitor by using human cognitive responses.
https://mindfuldesignconsulting.com/wp-content/uploads/2022/02/Bubble-Waffles-Trendy-Desserts.jpg
862
720
M T
https://mindfuldesignconsulting.com/wp-content/uploads/2015/07/mindful-design-consulting-logo.png
M T
2022-02-02 23:32:00
2022-04-18 12:20:14
Fun Desserts to Add to Your Menu