With the holidays fast approaching, it's not too soon to start thinking about how to prepare your business for the joyful winter celebrations. Using this time of the year to create a warm, festive ambiance is a smart way to give your place an inexpensive upgrade with just a few accents, ornaments and decorative tricks. During long winter days, people love feeling warm and safe indoors, so this is your chance to make them feel comfortable and willing to stick around, with just a handful of holiday business decor pieces.
Photo above: Christmas Present Box Decor from Cisne Beau on Etsy
Yes, you may set up a Christmas tree in your restaurant or store, and call it a day. However, if your space is too small to allow it or too large for your tree to make a difference, you have many other options.
Window Decals
Let's start with your entrance and store windows. One of the easiest and cheapest way to decorate them for the season is to use window decals. They require little effort to put together, allow you to create your own displays with unique combinations, and have a great visual impact.
Winter Decals from TheVinylGraphixGeek on Etsy
Snowflakes, snowmen, globe ornaments, Christmas trees are just a few themes that you can choose from. Remember that these decals do not have to be strident or overwhelming. If you prefer a subtle, graceful look, a monochrome option is the best. While red and green are classic go-to colors for the winter season, simple white decor comes with an unmatched elegance and versatility.
Vinyl Holiday Decor from TheVinylGraphixGeek on Etsy
Decals don't have to fill your entire window. In fact, you should use them more as an accent piece to the products you sell instead of allowing them to take over. Here is an example of a Christmas tree decal that does the job without overwhelming the window.
Christmas Tree Window Decals from MiniWallArt on Etsy
A simple message on your front door may be all you need if you have a small restaurant or store.
Merry Christmas Store Window Decals from Design Sharc on Etsy
Winter Decorations
Inside the store, you can continue the theme you chose when you selected your window decals. If you prefer a wintery snowflake decor, a few of these wooden accent pieces placed on shelves, on the counter, or even as centerpieces on the tables may easily change the ambiance of your interior.
Country Snowflake Decor from Sweet Love Blooms on Etsy
If you prefer your holiday business decor to have a more animated look, reindeer decorations bring in the right amount of seasonal cheer and cuteness.
Christmas Reindeer from Paisley Poppy Designs on Etsy
Of course, nothing is as eye-catching and effective than combining Christmas decor pieces with lights. You can place these Christmas present box decorations under a Christmas tree or by a fireplace – if you have any of these – or even in your window, by your front counter, or throughout your store. There is something about the appearance of a Christmas present box nicely put together that makes your customers light up and think about the many joys of the season.
Christmas Present Box Decor from Cisne Beau on Etsy
Garlands
Garland always look festive and highly decorative. Depending on the one you choose, they can also take less space to store and, due to their lenght and body, can easily make a statement. If you are going for a subtle, elegant look, a simple beaded garland that brings lights into the mix is a simple yet effective choice.
Festive Lighted Berry Beaded Garland from Decorations by Rosebud on Etsy
For a neutral, toned-down holiday business decor, white, grey and beige can successfully replace bright colors. When spiced up with some sparkling pieces, the celebratory look is magically there.
Neutral Christmas Garland from JuJuBee Goods on Etsy
Felt garlands are extremely versatile and allow for plenty of color choices or themes. This peppermint-candy one is definitely a Christmas piece, even if the colors are rather atypical. Felt garlands have the additional benefit of being easy to carry and install, thanks to their light weight.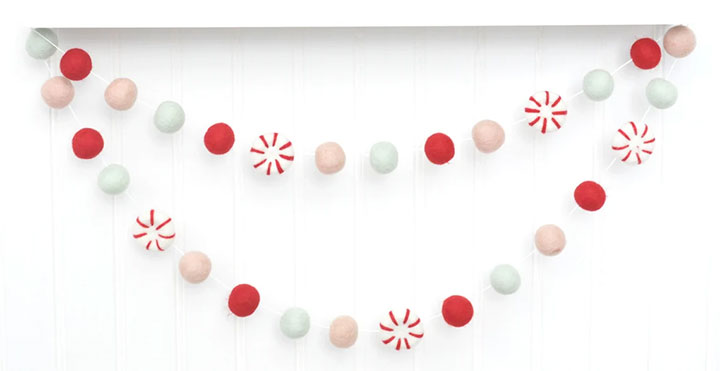 Peppermint Candy Felt Ball Garland from JuJuBee Goods on Etsy
Banners
As large pieces displayed in highly visible areas, banners are very effective in making a point, even when this is just a simple feel-good Christmas message.
Merry Christmas Banner from JNCAccessory on Etsy
However, banner also give you the chance to send a customized, well-tailored message or to advertise your events in a fun and easy way.
Santa Run Vinyl Banner from TrophyDepot on Etsy
Lights
Nothing can change the ambiance of your space like a handful of lights carefully chosen and strategically placed throughout your restaurant or store. Lights are a must when it comes to holiday business decor. First, with longer nights and colder weather, people crave the visual comfort they offer. Second, you can use them to subtly illuminate different corners and create a more intimate atmosphere. Third, they come in endless configurations that can match your particular Christmas theme, like these starburst lights with a convenient remote control for ease of use.
LED Starburst Christmas Lights from Accentibles on Etsy
We have often talked about neon lights and their awesome Instagrammable virtues. Christmas is a great time to incorporate one into your commercial decor and offer your customers a festive background for their selfies.
Merry Christmas Neon Sign from NeonDancing on Etsy
String lights are not only for indoor use, but an easy way to bring in the light without the need for much else other than a humble plug.
Snowman String Lights from GlasspooleCo on Etsy
Christmas Uniforms
When you decorate for the holidays, don't forget that your employees are your greatest asset. Fun Christmas shirts used as uniforms and paired with excellent customer service skills as well as a charming personality are an excellent way to infuse your business with some holiday cheer.
Merry Christmas Shirt from AuroradesignNY on Etsy
The choices are plentiful, regardless of the theme you choose. Do not overlook the simple t-shirt as another chance to create a festive look for your business, that is highly appealing to customers during the holiday season.
"Baby It's Cold Outside" Shirt from AuroradesignNY on Etsy
If you are thinking to open a new business or are in the process of rebranding and remodeling your existing business, contact us to get a free consultation from Mindful Design Consulting. Click HERE to price your project design.
Also, take a look at "Branding By Interior" e-book, the only book written on this subject at this time. It brings insight on how you can turn your business into a market-dominating competitor by using human cognitive responses.
https://mindfuldesignconsulting.com/wp-content/uploads/2021/11/Christmas-Gift-Box-Decorations-for-Store-or-Restaurant-Winter-Decor.jpg
501
720
M T
https://mindfuldesignconsulting.com/wp-content/uploads/2015/07/mindful-design-consulting-logo.png
M T
2021-11-12 08:19:24
2021-11-12 08:32:24
More than Just the Christmas Tree – Fun Holiday Business Decor