If you think that Gelato on a Stick sounds like a happy mix between a sophisticated dessert and a no-fuss serving solution, you are right. When Reuben BenJehuda, the founder and CEO of PopBar, decided to bring together the versatile stick and the treat he used to enjoy as a child back in Italy, it was only the beginning of a fascinating entrepreneurial success story.
Since then, PopBar has extended from New York to over 20 U.S. locations, to later take on international taste buds with stores in Canada, Portugal, Panama, and Singapore. Its success lies in the ingenious combination of gelato tradition, modern presentation, highly customizable and creative treats, and all-natural ingredients. Beyond Gelato on a Stick, PopBar offers gelatoShakes, wafflePops, Hot Chocolate on a Stick and other mouthwatering creations with enticing names and perfectly Instagrammable looks.
We have recently talked to Reuben BenJehuda about the beginnings of Popbar and about its delicious treats. Here he is, taking us back to 2010 and teasing us even more with a few of Popbar customers' favorite desserts.
Reuben BenJehuda, Popbar CEO and founder
Tell us about your company PopBar. How old is it, and how did it start?
Back in 2010, I was looking for a decadent twist on a classic dessert. We discussed ice cream, popsicles, and other frozen treats. Being from Italy, I thought about the possibility of serving gelato in a new way – on a stick!
After a lot of research and development, we perfected our recipes, the visual aspects of our store, and added a make-it-your-own element, offering the option to customize with premium dippings and toppings. From there, PopBar was born.
What is your role in the company, and what are your daily responsibilities?
My role as a founder and CEO spans different directions. Mostly, I oversee the franchise development and operations to make sure new and current stores are set up correctly.
Taste is our number one focus. In this sense, we are still a mom-and-pop shop. We make all of our pops in house daily, using all-natural ingredients. There is truly something for everyone, even for those looking for gluten-free, dairy-free, or vegan options.
What is your most popular product right now and why? What are you famous for?
We are definitely famous for our Gelato on a Stick, that comes in different flavors and can be customized with different chocolate dippings and toppings. The sky is the limit in terms of choices!
For example, one of the best-loved PopBar combination is our Chocolate Green Tea Crunch, which is made of Green Tea popGelato, milk chocolate, white chocolate, and crushed waffle cone. Yum!

Are there any new hot products we need to know about?
We had a lot of success with our gelatoShake, which is a milkshake specially made with our gelato ingredients. It is served in a unique way as well, in a very decadent milk bottle topped with a waffle cone, whipped cream, and chocolate sprinkles.
What is the best way to contact your company for someone starting a new business?
Anyone interested in opening a Popbar location can get more information on our website and fill out this application.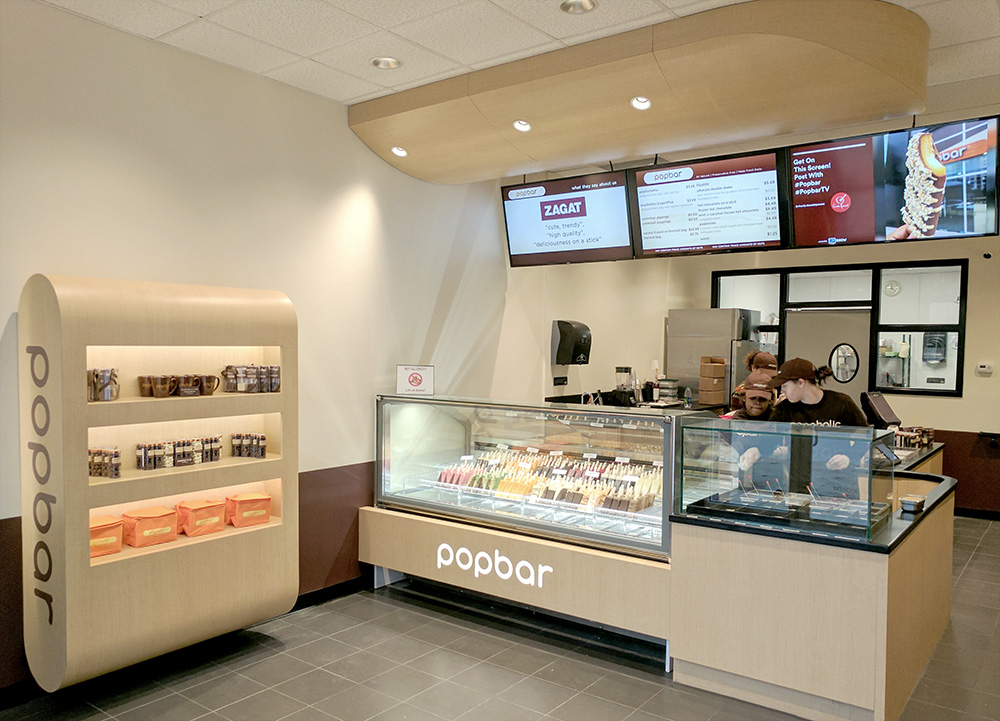 Above: Gelato on a stick Popbar franchise location interior.
If you are thinking to open a new business or are in the process of rebranding and remodeling your existing business, contact us to get a free consultation from Mindful Design Consulting. Click HERE to price your project design.
Also, take a look at "Branding By Interior" e-book, the only book written on this subject at this time. It brings insight on how you can turn your business into a market-dominating competitor by using human cognitive responses.
https://mindfuldesignconsulting.com/wp-content/uploads/2021/05/Popbar-Gelato-Popsicles.jpg
344
720
M T
https://mindfuldesignconsulting.com/wp-content/uploads/2015/07/mindful-design-consulting-logo.png
M T
2021-05-05 20:49:40
2023-01-25 21:38:51
Gelato on a Stick Franchise and the Story of a Great Idea – Interview with Popbar's Reuben BenJehuda