by Ekaterina Kohlwes – Mindful Design Consulting
This Gelato Store in London clearly breaks all the traditional rules of balancing out the use of different materials. By creating a sharp contrast between raw concrete and soft furniture pieces, a new exciting brand appeared.  This London ice cream parlour called Polka Gelato was designed by branding studio Vonsung.
This new Gelato store is located inside a historic building in Fitzroy Square.  The minimalist interior is  filled with rounded black sofa and cylindrical white stools.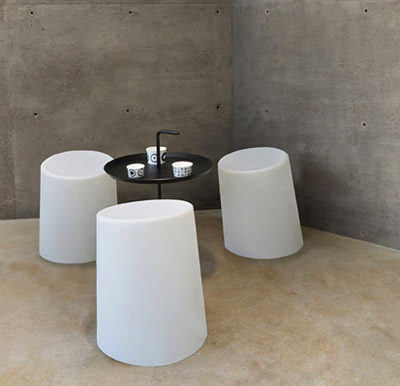 The gelato cups, packaging and signage were all branded in similar monochromatic palette and geometrical patterns.
The only bright colors you will find in this gelato store are inside the gelato display cabinet.
Based in a historically preserved area, Fitzroy Square, Polka Gelato opened its doors to showcase their artisanal ice cream. Despite all the scares of a double-dip recession in the UK, the client wanted to offer "something enlightening, from old to young, a sense of affordable luxury amid these difficult times."
The main problem of the overall project was how to avoid the ice cream parlour formula of pop-culture (primary colours interior decoration) and to design something modern which fits with the building's original identity. I think the designers did a great job resolving this problem!
See more pictures of the project HERE.
Learn more about 2011 design trends in Commercial Interior Design HERE.
See how different colors of your interior send us different messages HERE.
To ask us questions or to get a free consultation from Mindful Design Consulting, click HERE.
https://mindfuldesignconsulting.com/wp-content/uploads/2015/07/mindful-design-consulting-logo.png
0
0
Administrator
https://mindfuldesignconsulting.com/wp-content/uploads/2015/07/mindful-design-consulting-logo.png
Administrator
2011-11-11 16:42:37
2011-11-11 16:42:37
Gelato Store Design in London Embraces Simplicity of Modern Interior