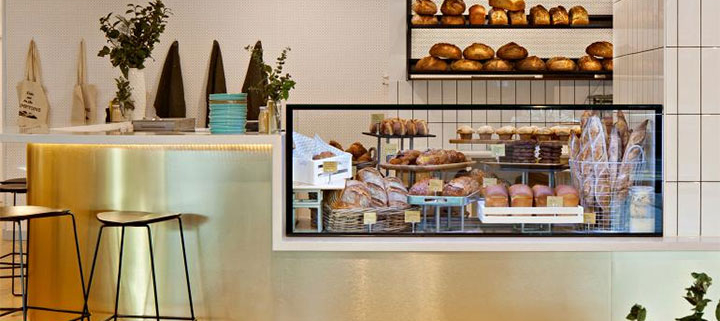 Gold accents have always been used in interior design to suggest luxury and sophistication. A bakery in Melbourne proves that such touches are not necessarily restricted to traditional designs. A frount counter entirely lined with laminate aluminum sheets in brushed light brass tones finds a natural home in an interior that mixes modern touches with raw wood and subway tile.
Photo via chemetal.com
Dreamed up by the Melborne-based architecture and interior design firm Ewart Leaf, the Hamptons bakery is an airy and polished venue in an upscale suburb of Melbourne by Port Phillip Bay. It is designed in a mainly neutral chromatic palette with a few touches of deep color, yet its power lies in the details. Well-lit and using white paint and while tile to its advantage, the bakery flaunts polished wooden tables, a dark metal structure that gives the ceiling some weight, and a window looking into the bakery.
The rounded bakery wall and front counter find a fitting counterpart in the circular barstools and modern pendant lights, while the softly curved soffits add even more depth to an already rich ceiling landscape. The look is eclectic and rich, yet it gives customers room to breathe and feel at ease.
Photo via wallpaper.com
The focal point of the bakery is, however, the counter and display window. Lined with gold aluminum sheet, it is this element that defines the space and elevates its look. The reflective nature of the metal, together with the undercounter lights that emphasize the curve of the counter, enrich the look of the bakery and provide the unique touch it needs.
The Hapmtons interior is an excellent example of balanced design, where each element finds its counterpart in another corner of the bakery. The black chairs echo the dark tones of the ceiling, and the hanging pots of lush greenery pair well with the subway tile.
The gold-rimmed pedestal tables continue the theme of the front counter and introduce a more sophisticated element into an otherwise simple seating area. Whether the gold accents come in such subtle shapes or demand total attention like the metal sheets that line the counter, they take this interior to another level .
Photo via wallpaper.com
Designer: Ewart Leaf
If you are thinking to open a new business or are in the process of rebranding and remodeling your existing business, contact us to get a free consultation from Mindful Design Consulting. Click HERE to price your project design.
Also, take a look at "Branding By Interior" e-book, the only book written on this subject at this time. It brings insight on how you can turn your business into a market-dominating competitor by using human cognitive responses.
https://mindfuldesignconsulting.com/wp-content/uploads/2021/10/Metal-Gold-Counter-Bakery-Interior-Design.jpg
441
720
M T
https://mindfuldesignconsulting.com/wp-content/uploads/2015/07/mindful-design-consulting-logo.png
M T
2021-10-27 19:35:46
2021-10-27 19:37:16
Gold Accents in Melbourne Upscale Bakery