The season is upon us, so it's time to talk Halloween decor. Defined as the holiday that brings together the best two things in the world – fun decor and candy – Halloween is a great opportunity to warm up for the upcoming decorating season. To get you started, we rounded up a few Halloween decor ideas for restaurants, offices and stores that you can use to give your space a festive vibe with little effort.
Photo above: Witch artwork from ReImagination Prints on Etsy
Let's start with your door. Put your employees or customers in a good mood with this Halloween wreath that does not skimp on details. Mesh, ribbons, beads, sparkles and just the right amount of spooky come together into a piece that you can't miss. Of course, you can use it to adorn the doors inside your office to bring some fall color into some monotonous office surroundings, or just let it play its part at your office Halloween party.
Jack Skelington Halloween Wreath Swag from 4allseasons on Etsy
If you prefer a more subdued look and are a minimalist at heart, this elegant wreath may be just the right thing for you. Just a few Halloween details on a feathery background keeps your space sophisticated yet fun.
Halloween wreath from A Holiday Shoppe on Etsy
The pumpkin is a must for all fall decor, and the simplest way to give your entrance a festive look. Make yours play double duty with these Halloween vinyl stickers that can withstand both weather conditions and ghoulish nights.
Halloween pumpkin stickers from All Her Glory on Etsy
While these pumpkin stickers are not reusable, the window clings below will cover you for many Halloween seasons. Complete with bats, crows, black cats, cauldron and the necessary witch, they take seconds to apply and may turn into a beautiful tradition for both your office, shop or restaurant.
Reusable window clings from Vinyl Dzines on Etsy
If you think that the Halloween season doesn't have to be dark and scary, you can play your own tune with these LED window curtain lights. They are the perfect festive detail for an office party or for creating a warm yet mysterious atmosphere without the typical Halloween imagery.
LED window curtain lights from Supply Flora on Etsy
An easy way to get your space ready for Halloween is to decorate your walls with seasonal art. You can slip this set of vintage prints into some dark frames, and change the mood of your office or restaurant in an instant. The prints bring enough color to your walls while remaining in the subtle Halloween chromatic register.
Set of vintage Halloween wall decor from Reflections Wall Art on Etsy
For the book lover in you, this piece of Halloween art printed on an old dictionary page is created in a more restricted chromatic palette, but with no less Halloween spirit.
Witch artwork from ReImagination Prints on Etsy
If you prefer the three-dimensional type of Halloween wall decor, these pop-up bats in three sizes can bring in the Halloween spirit without compromising or clashing with your existing color scheme.
Halloween Bat Decor from Becca Marie Boutique on Etsy
Details count, so take the opportunity to amuse your employees or customers by changing your restroom signage. This handmade wood piece has a rustic feel and looks the part.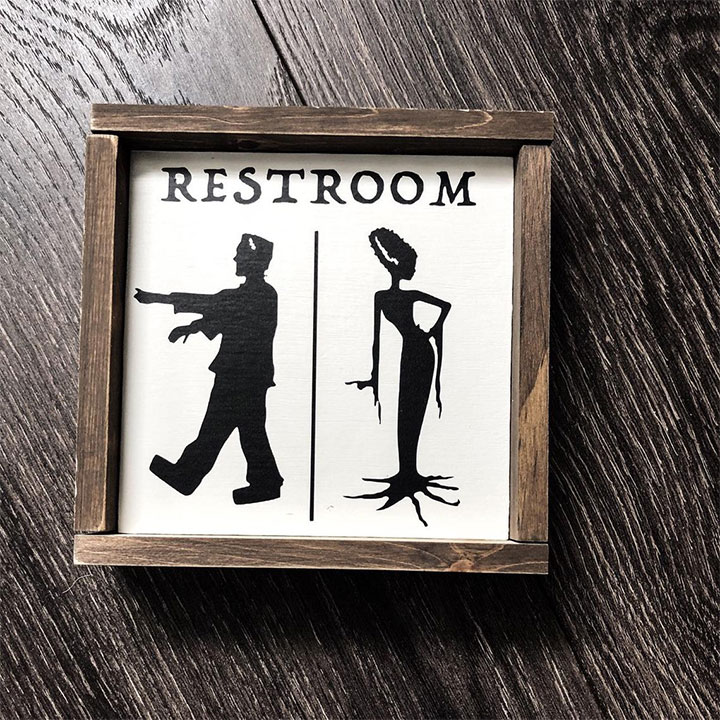 Halloween restroom design from The Suburban Homestead on Etsy
Garlands are the ultimate symbols of celebration, so here is one that looks as celebratory as it is spooky. Easy to store, it's the perfect decor piece to use year after year.
Halloween paper garland from Material Gods on Etsy
And yet, one of the simplest Halloween decor ideas for restaurants, stores and offices – and one that spells celebration like no other – is using balloons to make your point. Even better if they are the glow-in-the-dark type. A dark corner, a subtly illuminated restaurant or an evening party – all ask for these bat balloons.
Glow-in-the-dark bat balloons from Kirsty Gadd on Etsy
Whether you are preparing for an office party or are looking for a Halloween alternative to your day-to-day restaurant tablecloths, invest in some black-and-white striped ones. Stripes have the wonderful attribute of being both elegant and trendy. Combined with orange table decor, they give off the perfect Halloween vibe, yet you can pair them with other colors and use them for other festive occasions.
Black-and-white striped tablecloth from Fantasy Fabric Designs on Etsy
Wonder what to place on your tables? Try these handmade black-and-gold ceramic candle holders that look elegant despite the slight Halloween vibe.
Black-and-gold candle holders from Kina Ceramics on Etsy
To all these Halloween decor ideas for restaurants or stores, don't forget to add some "Trick or Treat" uniforms. There is nothing more festive than festively dressed employees that welcome your customers with a smile and a message they cannot miss.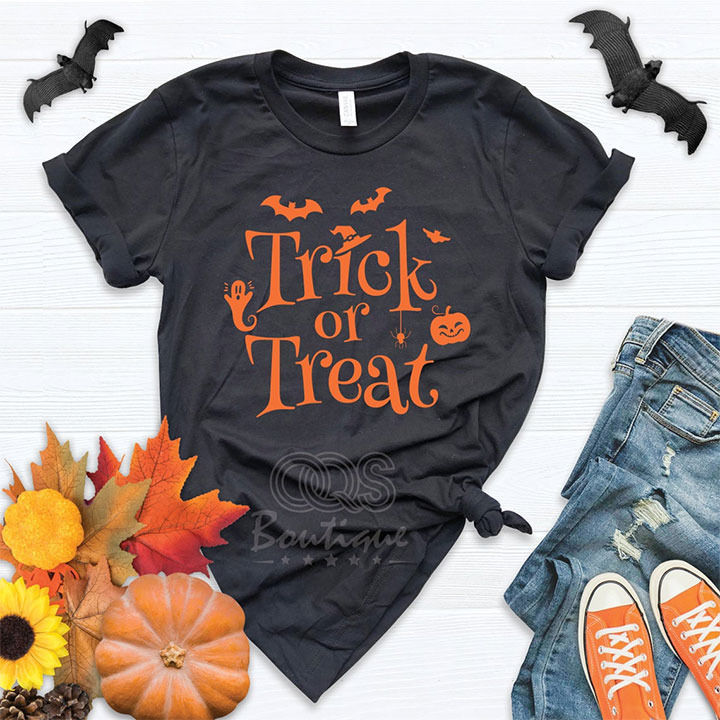 Halloween t-shirt from Only quality seller on Etsy
If you are thinking to open a new business or are in the process of rebranding and remodeling your existing business, contact us to get a free consultation from Mindful Design Consulting. Click HERE to price your project design.
Also, take a look at "Branding By Interior" e-book, the only book written on this subject at this time. It brings insight on how you can turn your business into a market-dominating competitor by using human cognitive responses.
https://mindfuldesignconsulting.com/wp-content/uploads/2020/09/Quick-Wall-Art-for-Business-Halloween-Decor.jpg
305
720
M T
https://mindfuldesignconsulting.com/wp-content/uploads/2015/07/mindful-design-consulting-logo.png
M T
2020-09-30 19:49:32
2020-09-30 20:01:30
Halloween Decor Ideas for Restaurants, Offices and Retail Stores