More than any other element of design, the color palette of your dessert shop has the biggest impact on the overall look of your space. But it's not only that color is the first one your customers see when they enter your business: Color is also a great way to influence their behavior, convince them to stay, become interested in exploring your treats, linger over their dessert, socialize, and, most of all, rememeber you. Therefore, choosing a new dessert shop color palette is not just a question of personal preference, but one that may have a significant impact on your sales.
Remember that the colors you use in your interior can – and should – become part of your brand. They will make a presence in all your marketing collateral such as menus, business cards, loyalty cards, cups, cupcake boxes, shirts etc. Even more important, they will breathe life into your outdoor signage and directly contribute to attracting customers. In short, your color palette is a means of indirect communication with your customers.
So where can you find inspiration and how do you go about choosing your colors? Here are just a few ideas.
Penny Lane frozen yogurt shop by Mindful Design Consulting
Menu Items
When trying to find your perfect color palette, you don't have to look further than your own menu. In fact, this is the very first place you should look for inspiration, for a very good reason: You want to raise an appetite even before your customers have the chance to look at your menu. Since people first eat with their eyes, you should give them plenty to enjoy and remember.
Ice-creams, cookies or drinks – and their appetizing colors – are the prefect source of inspiration. A colorful pastel palette of pink, yellow and pistachio green, for instance, may suggests the delicate flavors of your cookies, while tones of mocha and chocolate brown can quickly put a bakery's customers in cupcake mood. An interior wild with blocks of bright colors can make customers equally wild for the candy you offer or create just the right background for your ice-cream treats and their colorful toppings.
Don't forget that oversized wall graphics can pull together the colors of your interior while making a dramatic statement. A bubble-tea cup in bright colors or a few oversized ice-cream cones welcoming your customers are great ways to introduce them, indirectly, to your desserts.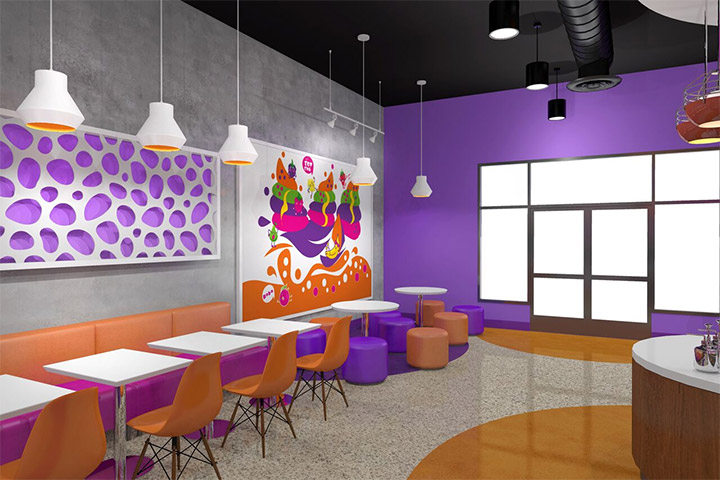 Can't Top This boba tea and frozen yogurt store by Mindful Design Consulting
Style of your shop
The style that you are trying to bring to life in your store can also be the source of inspiration for your dessert shop color palette. If you like the look of mid-century diners and you want to recreate it in your shop, black, white and red may be your friends. If a rustic design is what you are after, your palette shold stay away from bright colors and move into the realm of neutrals. If you prefer traditional interiors, a subtle combination of rich brown tones contrasted by crisp white accents is an elegant choice. If your tastes are eclectic, so should be your color palette.
The theme of your shop is also important. A dessert shop inspired by a movie, should keep with its color palette. One designed to create a dreamy atmosphere should stay within the limits of pastel colors. Bring into your design the colors you associate with your theme, and you are one step closer to the ambiance you're dreaming of.
Sift Dessert Bar by Mindful Design Consulting
Nature
Since nature is the ultimate artist, it stands to reason that you should not overlook such a master. If a delicate flower or a breathtaking landscape ever makes you stop and watch, remember their subtle combinations of colors and bring them into your shop. Do not stop only at colors, however. Nature's imagery, with its infinite shapes, is welcoming artists who can copy its marvels. Flowers, trees, blades of grass, birds, animals – all can become part of your art. If you own an ice-cream shop, don't forget about the beauty of nature in winter, and capture the look of snow-covered hills in your color palette or wall graphics.
Of course, when thinking of nature, green tones are the first that come to mind. But nature is more than just beautiful landscapes. Think natural ingredients, fruits and wonderful flavors. An invigorating combination of green and yellow as your dessert shop color palette, for example, instantly calls to mind images of fresh fruits. O subtler one, with neutral shades and woody tones can be used to emphasize the natural source of your ingredients.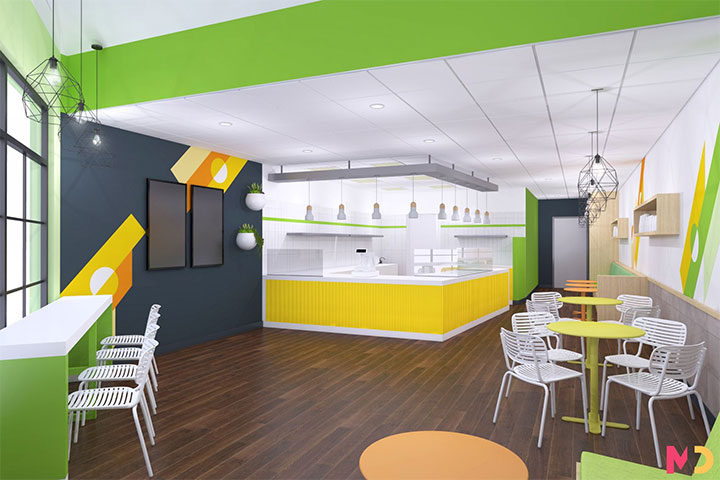 The 20 Boba Tea shop by Mindful Design Consulting
A favorite memory
If you are a dessert shop owner, sweet treats are not the only thing you offer your customers – great memories are, too. It's not wrong then to think that YOUR favorite memories have great potential in helping you create theirs.
Think back to a time that you enjoy remembering. Your favorite memory can be about the ice-cream parlor of your childhood. About an exotic corner of the world you traveled to. A person you love, wearing colors that you have never forgotten. The garden you used to play in. The colors of the sky at sunset. Your favorite board game as a child, or the colors of a dress you used to love. These details are the ones that fill your memories and are worth revisiting for inspiration.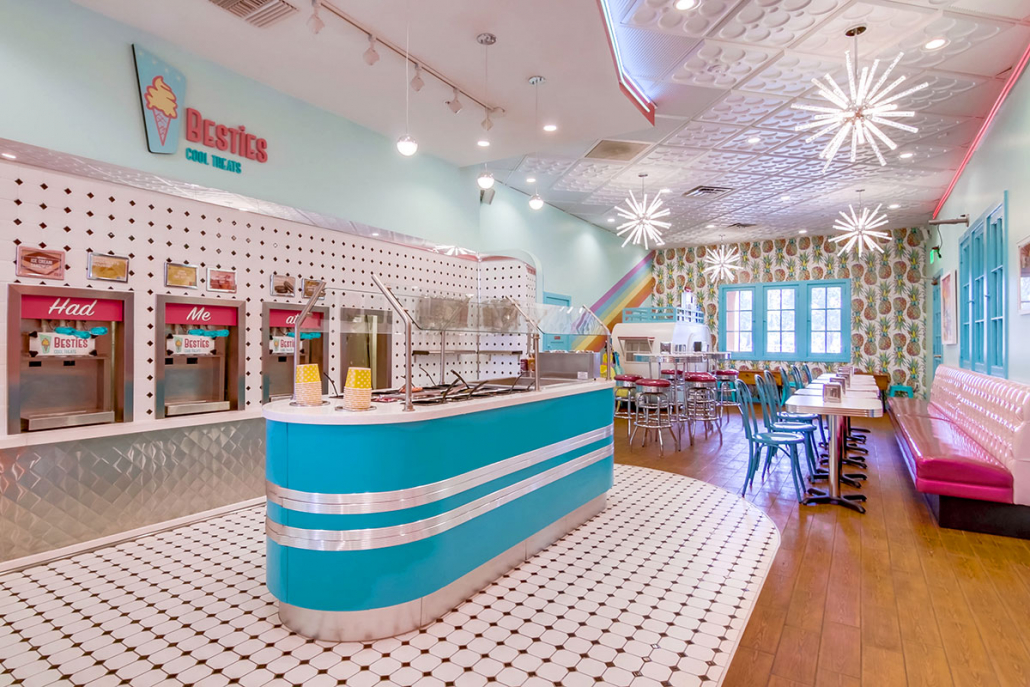 Besties Cool Treats by Mindful Design Consulting
If you are thinking to open a new business or are in the process of rebranding and remodeling your existing business, contact us to get a free consultation from Mindful Design Consulting. Click HERE to price your project design.
Also, take a look at the "Branding By Interior" e-book, the only book written on this subject at this time. It brings insight into how you can turn your business into a market-dominating competitor by using human cognitive responses.
https://mindfuldesignconsulting.com/wp-content/uploads/2022/11/Africa-Colors-Donut-Shop-Design.jpg
480
720
M T
https://mindfuldesignconsulting.com/wp-content/uploads/2015/07/mindful-design-consulting-logo.png
M T
2023-02-01 20:45:29
2023-03-02 05:53:32
How to Come Up with a Dessert Shop Color Palette