If you want to operate a successful franchise, achieving brand consistency across all your locations is a must. Without it, having control over your own image is an impossible task, and the failure of one location can ruin your reputation and damage the entire franchise. One of the first and most important steps in ensuring that your brand is consistent is creating a well-rounded branding package to hand your franchisees. This package clarifies what is expected from them when representing your brand, and defines the limits within which you ask them to operate.
Here are the two main areas that your branding package should cover.
1. General stationery and branded graphics package
Your logo, website and marketing collateral are your face to the world. Having a uniform image, style and message that are recognizable from one location to another and across all marketing campaigns ensures that your customers do not end up confused or uninterested. Make sure you provide all the following items in your branding package, together with guidelines on how to use them:
Graphics for a yogurt shop Yogurt & Yogurt designed by Mindful Design Consulting.
Logo
Color palette with both Pantone and RGB colors
Graphics
Fonts
Business / loyalty cards
Website guidelines and email templates
When working on the brand and interior design of a business, we always provide our client with both the Pantone and RGB colors. This simplifies the process of creating a consistent digital presence, designing marketing collateral such as shirts and caps, or taking on potential store updates later on. We do the same with the fonts we use in designing the logo, graphics or business and loyalty cards, which makes any future design of marketing materials much easier.
Example of branding Pantone colors as typically provided by Mindful Design Consulting. Apricato store logo design.
2. Interior design package
The feel and look of your store is an essential part of your brand and plays a vital role in your brand recognition. That is why it is extremely important to define exactly how the franchise stores should look like, where variations or deviations from the rule are allowed, and how local touches are to be incorporated into the design in order to appeal to the local clientele.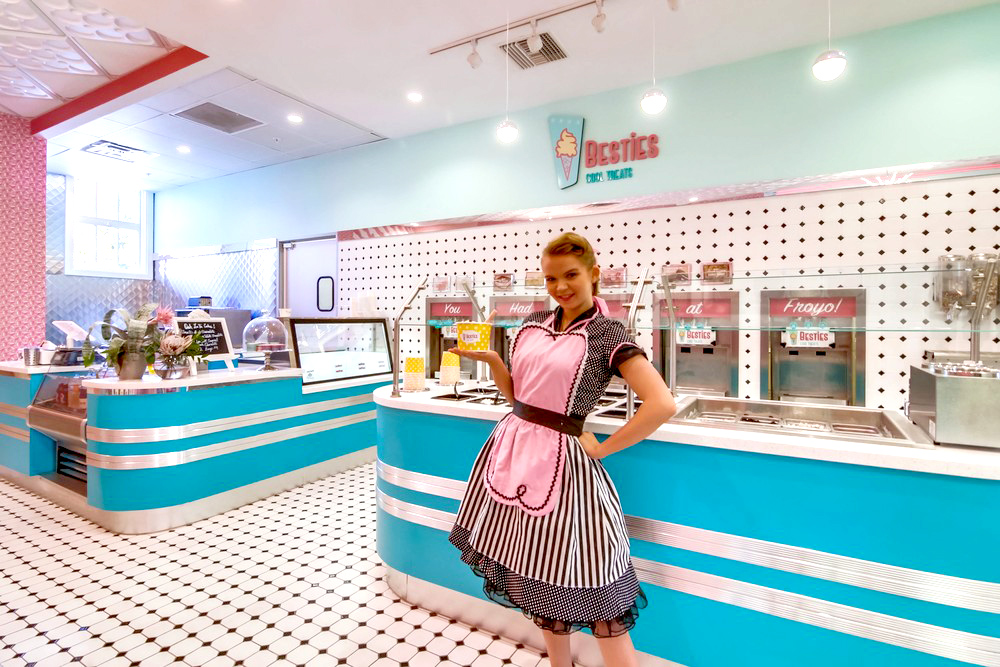 Besties Frozen Yogurt Shop and Ice-cream Store Interior Design by Mindful Design Consulting.
Your best bet is to employ the services of a professional brand and interior design company and create the following documentation that explains in detail how new stores are to be designed:
Typical floor plan layout with guidelines
Typical kiosk design, if applicable
Materials, finishes, colors, furniture and lighting selections with allowed variations
Typical interior elevations in color
3D renderings of interior
Exterior and interior signage variations
Interior graphics
Exterior graphics
Menu design
Any custom fixtures and cabinetry design details
Restrooms design drawings
My Yogurt Kiosk design by Mindful Design Consulting.
While the interior design of any franchise store should be a healthy combination of brand elements and local flair, given the level of detail that goes into the design of a store, it is easy to see why in the absence of such documentation, your brand may become unrecognizable from one location to another. If you need help in designing your own branding package, check out our services for details.
Elevations for Apricato Store Designed by Mindful Design Consulting.
Yogurt & Yogurt Dessert Shop Kiosk designed by Mindful Design Consulting
If you are thinking to open a new business or are in the process of rebranding and remodeling your existing business, contact us to get a free consultation from Mindful Design Consulting. Click HERE to price your project design.
Also, take a look at "Branding By Interior" e-book, the only book written on this subject at this time. It brings insight on how you can turn your business into a market-dominating competitor by using human cognitive responses.
https://mindfuldesignconsulting.com/wp-content/uploads/2021/08/Material-and-Furniture-Board-Example.jpg
440
720
M T
https://mindfuldesignconsulting.com/wp-content/uploads/2015/07/mindful-design-consulting-logo.png
M T
2021-08-18 22:35:50
2021-08-23 12:34:21
How to Create a Branding Package for Your Franchise Business