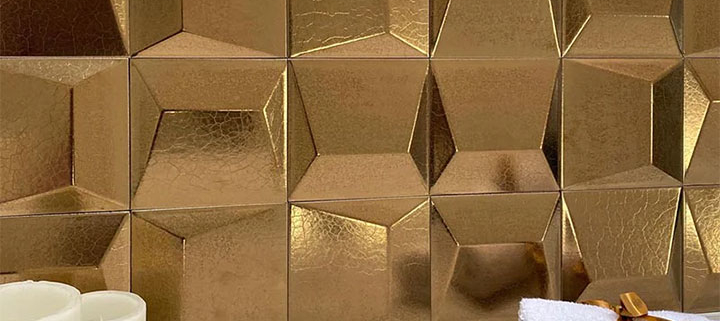 As the owner of a dessert shop or small restaurant, you should seriously consider how you can harness the power of social media to promote your business. While there are many solutions to make your business Instagram-worthy, one of the best and easiest way to do it is by creating a selfie wall. Murals are a great way to achieve this, but you may find it hard to incorporate them into your interior design. A more suitable solution is to put together a selfie wall with wall tiles, and let their color, texture and charisma do the talking.
Photo above: Copper 3D porcelain tile from tileclub.com
This is a great option for restaurants and dessert shops with a more traditional or elegant look. Depending on the shape, texture and color you choose, the result can be an unmissable photo opportunity for those who like to imortalize themselves against glamorous sceneries. Wall tile is also a good background for your logo, whether illuminated or not.
So, what are some good options for creating a selfie wall with wall tiles?
Copper 3D porcelain tile from tileclub.com
Mosaic Tiles
Mosaic tiles come in a wide range of shapes, textures and color combinations. This means plenty of opportunities for you to choose the ones that suit your particular decor and have a strong enough character to make picture-taking irresistible.
You don't have to go beyond your comfort zone with color, however. A clean-looking selfie wall can be as efficient as one with striking graphics and colors. In fact, a simpler wall can provide an excellent background for your logo and make it stand out. It can also attract the picture-enthusiastic crowd with the rare opportunity to take pictures against a backdrop that doesn't compete with them.
Glazed Ceramic 3D Mosaic Tile by Thomas Avenue Ceramics on Wayfair
If you choose simpler mosaic tiles, you can still create a stunning selfie wall by opting for less common shapes or textures.
Dusk Wister Glass Random Mosaic Wall Tile by Ivy Hill Tile on Wayfair
3D Tile
One of the most dramatic options for selfie walls is 3D tile. A raised-relief design can give even the most orderly geometric tiles a depth that can transform the room. Since 3D tiles are unconventional and eye-catching, they tend to strike customers as great backgrounds for pictures. When embellished with less common gold tints, they create a luxurious feel that translates well in pictures.
If 3D tiles are not for you, you can always choose designs that give the appearance of a 3D design.
Delphi Ceramic Mosaic Sheet Tile by Ivy Hill Tile on Wayfair
One of the many advantages of 3D tiles is the way they capture and reflect light. A few modest sources of light can turn a selfie wall into a glittering background in which the many sides of the 3D design compete to create plays of lights and shadows.
Hedron Ceramic Field Tile by Bedrosians on Wayfair
Metallic Tile
Tiles with metallic tones create gorgeous settings for pictures. Usually, gold-tone or silver-tone elements are used sparingly in design (and mostly in accent pieces) because of their strong personalities. However, you can step it up and dress an entire wall in metallic tiles. When such pieces are used on a grand scale, they can create a spectacular view, especially when you choose 3D or textured tiles. For an added benefit, use gold or silver tones on a rounded wall to create the illusion of an opulent landscape.
Polyurethane Mosaic Tile by Art3d on Wayfair
If you don't have the space to create a wall entirely dedicated to taking pictures, remember that every wall can turn into a selfie wall. For instance, an elegant restaurant can benefit from the presence of glamorous wall tiles in every corner. Even simple furniture can be elevated by such a display, and customers can take pictures at their own pace while dining and enjoying themselves.
Polyurethane Mosaic Tile by Art3d on Wayfair
Gold and silver are not your only options. Copper-tone tiles are a fabulous solution when you need some spark, yet want to keep your interior design somewhat muted or more suitable for a casual urban setting.
Copper 3D porcelain tile from tileclub.com
Mirrored Tile
Mirrored tile is the very definition of elegance. Its clean look, transparency and impeccable presence makes it a perfect candidate for a selfie wall. What makes it unique is that, depending on the specific tile you choose, a selfie wall with mirrored wall tiles creates interesting opportunities for taking pictures. It can reflect the person who takes the picture, the diffused colors of the interior, or more than just one corner of your restaurant. It can add a depth to pictures that in unattainable with other materials.
That is why placement is extremely important when it comes to mirrored tiles. The area reflected by the mirror becomes part of the picture, so pay close attention to it.
Silver Beveled Glass Subway Tile by Tilebay on Wayfair
Beveled mirrored tiles have the additional advantage of creating more light reflections and depth. While mirrored elements of design can look cold when not used properly, pairing them with rich textures brings out the best in them. They don't fit every type of decorating style, but look beautifully at home in sleek contemporary designs. Finally, it goes without saying that they have to be kept impeccably clean, so that they can fulfill their role as glamorous backdrops for sharable pictures.
Winter Bleum Beveled Mirrored Glass Novelty Mosaic Tile by Andova on Wayfair
If you are thinking to open a new business or are in the process of rebranding and remodeling your existing business, contact us to get a free consultation from Mindful Design Consulting. Click HERE to price your project design.
Also, take a look at the "Branding By Interior" e-book, the only book written on this subject at this time. It brings insight into how you can turn your business into a market-dominating competitor by using human cognitive responses.
https://mindfuldesignconsulting.com/wp-content/uploads/2023/03/3D-Gold-Geometric-Tile-for-Restaurant-Walls.jpg
720
720
M T
https://mindfuldesignconsulting.com/wp-content/uploads/2015/07/mindful-design-consulting-logo.png
M T
2023-04-05 10:41:16
2023-04-05 10:41:16
How to Create a Selfie Wall with Wall Tiles