Photo of the open ceiling design via retaildesignblog.net
The open ceiling space concept in interior design responds to people's natural need for space and freedom. When this concept is also extended on a vertical plane, the effect is greatly amplified. In fact, high ceilings are on the wish list of many house hunters and store owners. When these are not part of the deal, exposed ceilings are an ingenious way of taking advantage of all the existing vertical space. Rather than hiding the bones of the building and sacrificing height, exposing the ceiling not only creates the impression of more space, but also gives a place a unique character.
The best interior designers use unexpected materials to create veritable ceiling landscapes, turning the raw ceiling materials, tones and textures into their canvas. Here are a few memorable examples.
A net of pipes that cross each other at right angles and graciously descend over the tables makes the Pizza Express Restaurant in Mumbai, India, a successful experiment in urban design. At the end of both the vertical and horizontal pipes, vintage lightbulbs or metallic shades nesting the lights create a ceiling landscape that conjures up images of a starry sky.
Photo via retaildesignblog.net
Ventilation ducts blend into the background of the exposed ceiling below, partially covered by hovering wood boards in light tones that soften the dark hues of the raw ceiling materials. Bathed in light, placed at different heights and paired with cylindrical lampshades that complement their straight angles, the wood boards emphasize the height of the ceiling and give it a layered look.
Photo via Pinterest
A happy compromise between exposed and covered ceilings is achieved in the Cornerstone OnDemand's offices in Los Angeles, California. The painted wooden grid allows for the smart placement of lights, as in a gigantic game of checkers.
Photo via Pinterest
An open ceiling is an excellent opportunity to define a space through a singular detail and introduce an element of surprise into the design. In this French "cook-and-book" shop, old books hang from the ceiling, spelling out in clear terms the purpose of the store. There is nothing that an avid reader likes more than an abundance of written volumes – and this place delivers. Surrounded by written words from every corner and enjoying their food underneath a colorful cloud of books, the patrons of the bookstore are likely to find the place cozy and inviting. In moments of silence and reflection, the ceiling offers them a wonderfully detailed landscape that they can analyze and contemplate.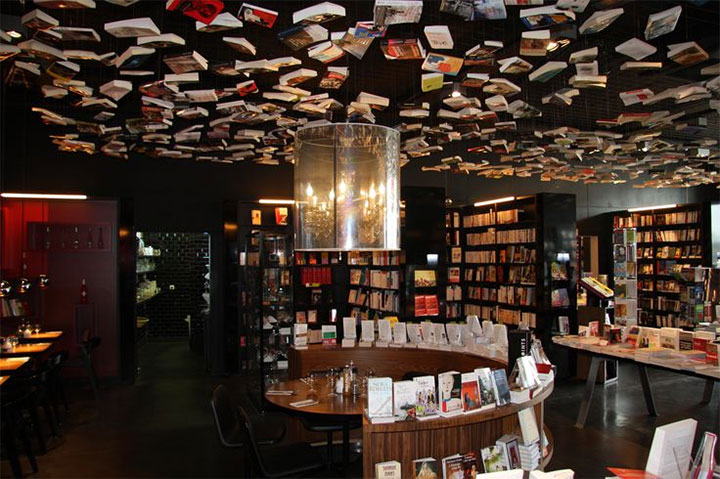 Photo via Pinterest
A similar approach is taken in designing the ceiling of this lavatory from the Selfie Restaurant in Moscow, Russia. This time, thin folds of fabric cover the ceiling, adding an unexpected type of texture to this mostly-wood interior. From a functional point of view, by partially hiding the light sources, the fabric casts indirect light over the room, complementing the interior and giving it a subtle warmth.
Photo via retaildesignblog.net
Please take a look at our Before and After images of selected projects from 2018 HERE.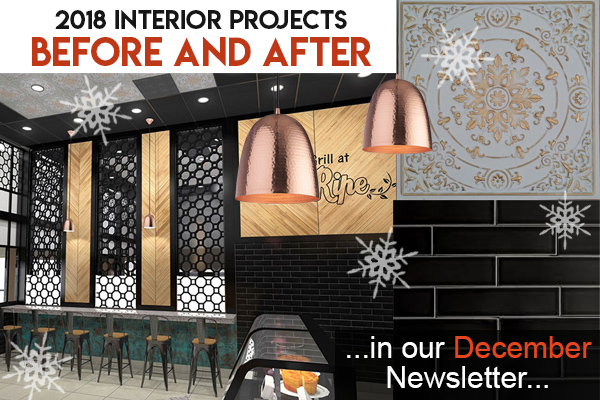 If you are thinking to open up a new business or in a process of rebranding and remodeling your existing business, contact us to get a free consultation from Mindful Design Consulting. Click HERE to price your project design.

Also, take a look at "Branding By Interior" e-book, the only book written on this subject at this time. It brings insight on how you can turn your business into a market-dominating competitor by using human cognitive responses.
https://mindfuldesignconsulting.com/wp-content/uploads/2018/01/Exposed-Ceiling-in-Urban-Restaurant-Design.jpg
357
720
M T
https://mindfuldesignconsulting.com/wp-content/uploads/2015/07/mindful-design-consulting-logo.png
M T
2018-01-24 19:23:29
2019-11-09 21:53:01
How to Create the Perfect Open Ceiling Interior Design