By Ekaterina Kohlwes – Mindful Design Consulting
Are you mindful looking for a designer to get a good quality set of drawings for your new business space?  After all you probably want a space that is created perfectly for your business: an office, a restaurant or a salon.  It will be a space that your customers will enjoy and comment on.  It will be a space that represents the quality of your services, your mission and your personality.  Or maybe it will be a design of a business which you will franchise in a year or two.  In any situation, here are some pointers on how to make sure you get a professional quality set of drawings from your designer.
 Crown Buffet Restaurant Design by Mindful Design Consulting, San Diego, CA
First of all and most importantly, you can not get a good quality design in one or even two weeks.  Creative ideas can appear fast, but they will still have to be tested out by being delivered on paper. Only then your contractor can implement them precisely. Depending on your architect or an architectural designer, a design of a remodeling project can minimum take from one to 3 or even 6 months. And this estimate does not include the permitting time, which will largely depend on your local Building Department.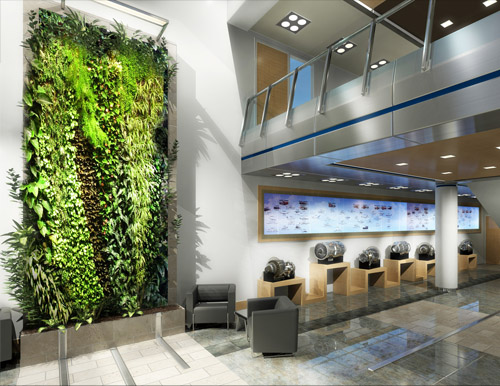 Hamilton Sundstrand Office Interior Design by Mindful Design Consulting, San Diego, CA
Secondly, do you really believe you can get quality design or architectural services for $600-$800?   How much are you planning to spend this year on adds in a newspaper, magazines or on any other media or web advertisement?  Probably around the same amount.  All the marketing efforts will bring your new customers into your new business location and what will they see?
Yogurt Shop Interior Design by Mindful Design Consulting, Shanghai, China
Sometimes I see small business owners hiring contractors to design their newly purchased restaurant or a store.  What can a contractor know about visual marketing, proper circulation, or simply appealing materials and colors for your particular business?  A professional contractor will not even talk to you without seeing a quality construction set of drawings.
Cafe Studio Interior Design by Mindful Design Consulting, Los Angeles, CA
Preparation of architectural drawings is a skill which comes from many years of education and professional practice.  If you believe that your cousin who has an eye for design can do a great job for your business space, you are not serious about the success of your business or maybe you are simply not financially confident yet.  If financing your design project becomes a problem, your designer may be able to arrange a monthly payment plan for you.  Do not keep your budget a secrete from your interior designer or an architect if you want to get an excellent quality design which in return will assure the success of your business.
See HERE how a great union of an architect and a cook created this world famous brand!
Contact us to get all your questions answered on your future project!
https://mindfuldesignconsulting.com/wp-content/uploads/2015/07/mindful-design-consulting-logo.png
0
0
Administrator
https://mindfuldesignconsulting.com/wp-content/uploads/2015/07/mindful-design-consulting-logo.png
Administrator
2011-09-14 21:17:57
2011-09-17 18:29:23
How to Get an Excellent Quality Interior Design – Commercial Interior Design News