When trying to define and communicate your brand, you may tend to think about marketing strategies, product packaging, unique products or services you want to offer, or even the specific relationship you want to build with your customers. While all these help express your brand, there is one more tool that is not only effective but essential – capturing your company brand in your interior design.
Your commercial space is the one that brings your brand to life, offers a visual expression of your company's identity, and creates memories that convince customers to come back. Including the important elements of your company brand into your interior design is important in creating a cohesive image that your customers remember, recognize and finally choose over your competitors.
Branded interior design for Dance Candy Studio, by Mindful Design Consulting
What are the brand elements you want to capture in your interior design?
Your interior must reflect not only the unique qualities of your products or services, but also the way you want your customers to feel when they step into your restaurant or store, your company's culture, values and standards, the philosophy behind the way you operate your business, and anything that is unique to your business. In order to translate these into the visual elements of interior design, you must first carefully analyze and define the elements of your brand and plan your interior around it.
For example, do you want to come across as a place where friendships are forged and communication is encouraged? An open space would fit you best. Do you want your clients to see your business as a place where they come to feel energized and refreshed? A liberal use of your brand colors in a vibrant interior should do just that. Does your restaurant, store or dessert shop take pride in the clean source of its ingredients? Make it known through design elements such as graphics or signs.
How do you translate your brand into elements of interior design?
The answer is more complex than just adding some simple signage or an oversized logo to your space. The way to do that is through a meticulous and deliberate selection of colors, materials and textures that, brought together, instantaneously communicates your brand's identity to customers. Everything from graphics to furniture and from layout to lighting can turn into an element that supports your brand and the image you want to put forward.
An interior built with sustainable materials, for instance, can speak of your eco-friendly standards. Layered benches instead of regular chairs in a coffee shop suggest an informal space and a young audience. Rich textures and deep colors cand cast a mysterious light upon your interior that can become part of your brand.
Branded interior design for Dance Candy Studio, by Mindful Design Consulting
Taking the steps to branded interior design
The first step in creating a branded interior is making sure that your brand is well-defined and clear. You need to know exactly what you want to communicate in order to communicate it effectively. Second, a detailed analysis of the existing brand materials, if any, is in order. Logo, colors, graphics, products and general style should all find a way into your interior design.
Third, a selection of colors, finishes, materials, furniture and lighting should be made and brought together into a clear presentation of what the space will look like and how it relates to the feel of the brand. For this task, a material board is an excellent visual aid for understanding how brand elements are translated into elements of interior design.
Materials board for WestPac Wealth Partners office design by Mindful Design Consulting
WestPac Wealth Partners office design, San Diego, by Mindful Design Consulting
Color is an important brand element that you should consider carefully. This is because people react emotionally to colors, and their behavior can be highly influenced by those you use in your interior. Make sure that your shades and tones are consistent with those of your other visual elements such as logos and graphics.
Shapes are important in defining your style. In an office, for example, simple lines speak of efficiency, clarity and trust. In a restaurant, more sophisticated shapes come across as mysterious, inviting and comfortable. Finishes and lighting are the best tools in creating atmosphere, so they should align with your brand, too.
Brand captured in materials board for WestPac Wealth Partners office design by Mindful Design Consulting
WestPac Wealth Partners office design, San Diego, by Mindful Design Consulting
You can employ a variety of other artifices to consolidate the idea of your brand in your commercial space. Your logo can turn into a pattern and grace the entire surface of a wallpaper. The curved lines of your packaging can find an excellent counterpart in the curved painted lines on your wall. Your oversized graphics can cover the walls, and so can images of your products. Your soffits, light fixtures or counter can mimic the shape of your logo. A great designer can find unique ways to express your brand in unexpected ways that are fresh, striking and memorable.
Material board for Dance Candy Studio interior design by Mindful Design Consulting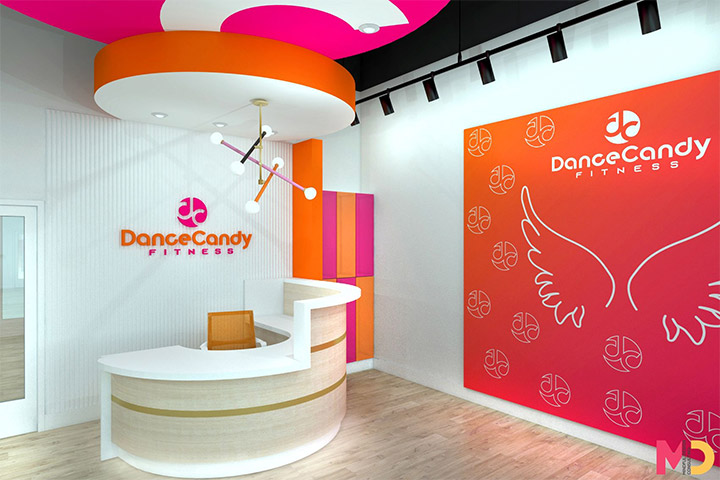 Dance Candy Studio interior design by Mindful Design Consulting
Why is branded interior design important?
Customers can quickly recognize a company with a confused message and unsure practices, and tend to avoid such businesses. By contrast, a branded interior suggests that your objectives are clear, that you know how to implement them, and that you don't leave anything to chance.
Capturing your company brand in your interior design establishes a clear identity and leaves a lasting impression on your customers. By aligning the physical space with your brand's values, aesthetics and messaging, you can offer your customers an experience that strengthens their brand recognition and loyalty. Your thoughtfully designed interior can evoke emotions, communicate a clear narrative and offer a sense of authenticity, which are all part of what customers expect from any satisfying commercial interaction.
Material board for Ding Tea store by Mindful Design Consulting
Ding Tea store design by Mindful Design Consulting
If you are thinking to open a new business or are in the process of rebranding and remodeling your existing business, contact us to get a free consultation from Mindful Design Consulting. Click HERE to price your project design.
Also, take a look at the "Branding By Interior" e-book, the only book written on this subject at this time. It brings insight into how you can turn your business into a market-dominating competitor by using human cognitive responses.
https://mindfuldesignconsulting.com/wp-content/uploads/2023/08/Dance-Studio-Interior-Design.jpg
480
720
M T
https://mindfuldesignconsulting.com/wp-content/uploads/2015/07/mindful-design-consulting-logo.png
M T
2023-08-02 21:29:59
2023-08-02 23:02:57
How to Incorporate Your Company's Brand into Your Commercial Interior Design